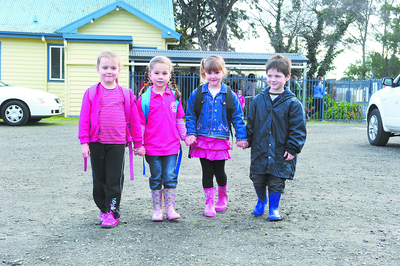 AFTER years of campaigning, Latrobe City Council has finally agreed to fund safety improvements to a Traralgon preschool carpark.
Cumberland Park Preschool committee president Carmilla Jean pleaded with councillors at last week's meeting to approve the carpark works, in order to avoid a serious accident.
"This is a matter of safety," Ms Jean said, during her speech to councillors.
The property has no formal drainage and during rain events water pools into the carpark and forces parents to park on Kosciuscko Street.
"It gets quite wet and deep," Ms Jean said.
"Because of the (state of the) carpark, parents are parking on the street and trying to cross the road with one, maybe two or three kids, without being run over."
Despite requiring more than 27 carparks throughout the day, the site struggled to accommodate more than 15 cars, due to constant flooding.
Councillors voted to undertake $10,000 worth of drainage works immediately and referred the sealing of the carpark to the 2013-14 capital works budget.
However, the committee said it was concerned about the decision after council funding for a carpark upgrade in 2010 was redirected.
"We have been in this position when we were given funding but then it was redirected, we just hope that it does follow through so we are not left with just the drainage works," Ms Jean said.
"Our aim is for it to be sealed."
Council has undertaken works to remove shrubs and trees from the entrance, which Ms Jean said had improved the poor visibility of the entrance.
Latrobe City councillor Dale Harriman said the carpark, which was a "giant swimming pool most of the time", required improvements for the safety of children.
"This is putting our kids in danger because we have no drainage in place," Cr Harriman said.
The drainage works, expected to begin in the coming weeks, will be funded through council's 2012/2013 emergency drainage works budget.