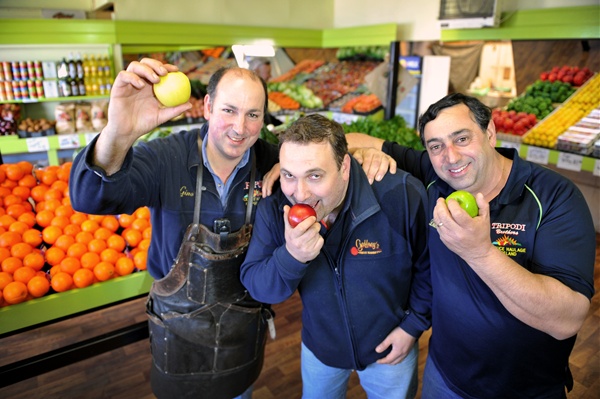 AN "iconic" Gippsland produce store has opened its doors again, ushering in a steady flow of customers on its first day of business.
The Tripodi fruit and vegetable store in Deakin Street, Traralgon has changed ownership, but will operate under the Tripodi family name.
The Tripodi family business was popular among Gippsland patrons, and according to Gino Tripodi, his family "couldn't be more happier" to open the business to its patrons again.
"When Mum and Dad retired we sold the whole store… Commissos (owner of Gaffney's of Warragul) has taken it on, but we're carrying on with the name," Mr Tripodi said.
"People missed the store and asked if it would ever open up again, so I guess you can say it's back due to popular demand."
Federal Member for Gippsland Darren Chester and State Member for Morwell Russell Northe visited the store on Tuesday, commending the business and encouraging the community to support local businesses.
Mr Tripodi said the family's long standing history with the business, and commitment to selling locally produced fruits and vegetables, had proved popular with residents.
"Knowing that we only use local stuff…. with some of our profits going back into the community, has a good feel to it," he said.
With his childhood spent at the store as it moved across Traralgon during it 53-year history, Mr Tripodi said he only had "fond memories" growing up with his parents' business.
"My brother Damian and I were brought up in this store and the stores before we moved here," Mr Tripodi said.
"I run my transport business but I'm still going to oversee and help out in this store till it gets up and running again."
With renovations and new products introduced into the store, Mr Tripodi said he was happy to see his family's legacy carried forward.