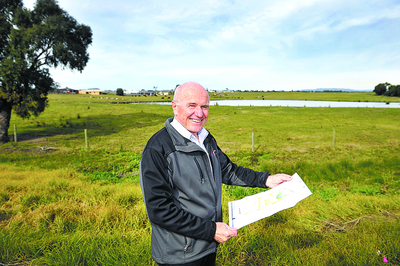 DESPITE "frustrations" with Latrobe City's planning process causing delays, the approval of the Erin Park Lakeside development plan could break the Traralgon land-drought within three months.
Developers are hoping to receive the council planning permit subdivision by October, so they can start selling some of the 135 blocks of the lakeside development on Bank Street, Traralgon.
Beveridge Williams Gippsland development manager Peter Dell said the development was meeting a high demand for residential land in Traralgon.
"There are very few blocks on the market at the moment," Mr Dell said.
"(Earlier this year) there was a lot of land rezoned but this development has taken 18 months so far and will take another three months to get a permit, so the land that was recently rezoned (throughout the Latrobe Valley) is still a very long way off being built on."
The development faced issues with three objections, which have since been removed, as well as environmental management and traffic and pedestrian concerns.
However, Mr Dell said the development had met the requirements of the traffic, flora and fauna and cultural heritage report, and would be undertaking a drainage report following the permit approval.
"We have had preliminary requirements with all the authorities, and it meets traffic flows and it is acceptable to everybody… there is absolutely no reason we won't get a permit," Mr Dell said.
The development has faced planning delays caused by rigorous requirements and three changes to the council planner position, which Mr Dell said would now affect sales because of the tough economic climate.
"We could have sold all those (blocks) 18 months ago, but now with the 130 blocks selling (at a rate of) 30 or 40 a year, it will take a few years to sell," he said.
"The biggest problems and the most frustrating thing from a developer's point of view is the time-frames that it takes to get approval from the council for the development plan overlay."
Echoing Mr Dell's frustrations was BFN Developments director Brett Neilson, who said if he had known of the development challenges ahead, he would not have pursued the Cross's Road, Traralgon development which began in 2010.
"Latrobe City Council keep announcing that they have released 3000 lots in Latrobe but we are still not building on them and I am still shelling out hundreds of thousands of dollars to get a development plan on Cross's Road in Traralgon happening," Mr Neilson said.
He said the bureaucratic requirements came from the state legislation which were then applied at local government level.
"We just really want to work with council to improve the processes and now we think there are genuine attempts by them to make that happen," he said.
Latrobe City Council built and natural environment general manager Peter Quigley said with complex residential precincts the process requires time.
"We have one opportunity to get this right for our community and we will not compromise on quality," Mr Quigley said.
"The Erin Park Lakeside development is a large residential precinct with a range of complex planning issues.
"Council has worked with the landowner to ensure best outcomes are achieved for the community and that there will be a streamlined process for future planning applications."