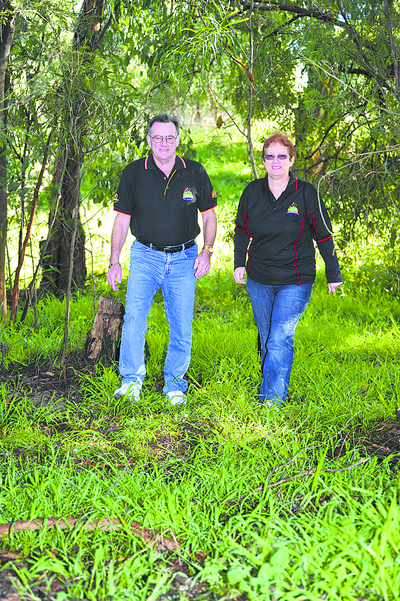 TATTOOED on Linda Welsh's foot is a motivational script which she hopes will help get her through the dense jungle and soaring mountains of the Kokoda track in Papua New Guinea.
Churchill's Ms Welsh and trekking companion John Jeffery began their 10-day adventure yesterday as part of a personal pilgrimage remembering their loved ones.
For Ms Welsh, it was the dream to "finish the journey" which her son had planned shortly before he passed away at 41 years old.
"I just feel this is something I want to finish for my son," Ms Welsh said.
"Now, I have started thinking more about the war history, but initially, that wasn't the reason I wanted to go.
"I know it will be emotional from both aspects."
Etched into her foot is a reminder as to why she is doing the trek; 'Nothing positive comes from negative thoughts'.
Ms Welsh said Mr Jeffery reminded her to "look at your foot" when she struggled with the mountain climbs.
The pair have been rigorously training for the trip for the past five months, doing 12 kilometre hill climbs at Morwell National Park, more than three times a week.
In memory of loved ones as well as recognising Australia's military history, the pair yesterday set off from Ower's Corner in PNG as part of their gruelling 96 kilometre journey which will include a ceremony at the Isurava Memorial on the 70th anniversary of the historic battle fought there on 28 July 1942.
By visiting the battlefields, Ms Welsh said the journey had developed into more than a trek but a journey connecting them to history.
Adorned in his dog-tags, Vietnam veteran Mr Jeffery said their pilgrimage was "payback" for those who fought for Australia.
"It is more or less a huge 'thank you' for what they did," Mr Jeffery said.
"I am doing it for a lot of people who are not here. To me, I always felt a bit guilty that we are here and they are not."
Mr Jeffery's motivation also stems from a manuscript by his uncle Bill McGrath, which depicts his experiences during World War II in PNG.
"I will be carrying a lot of people while I am walking," Mr Jeffery said.
During the trek, the pair will visit the site of the devastating August 2009 plane crash which claimed the lives of Gippsland identities Leanne Harris, her father Max Cranwell and Euan Comrie.
They will also be distributing educational supplies to children in villages as part of an Adventure Kokoda initiative to give back to PNG townships.
"We are more or less moral support for each other," Mr Jeffery said.