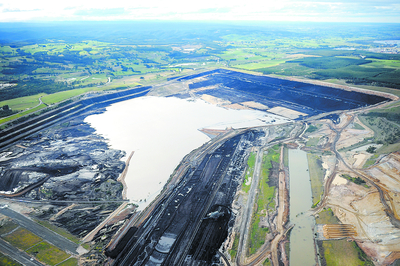 RECOVERY work at the Yallourn mine has progressed, with a partial diversion of the Morwell River now in place.
Water levels in the mines are also reducing, according to TRUenergy group executive manager operations and construction Michael Hutchinson
He said a series of pipes had now been installed, allowing the Morwell River to be partially pumped into the Latrobe River without entering the mining areas.
The full temporary diversion is expected to be finished next month.
Mr Hutchinson said it would allow 120 per cent of the average flows of the Morwell River to be pumped through 3.5 kilometres of pipes into the Latrobe River.
He said the recent reinstatement of a conveyor had also allowed the power station's generation capacity to be increased, with a third unit brought on line last week and coal stocks almost full.
A fourth unit will be brought on line when coal supplies allow.
The work follows a failure in the Morwell River Diversion at the mine last month.
"It's been an extraordinary effort by the workers who, despite facing some cold and wet conditions, have been committed to restoring the mine and power station to full capacity," Mr Hutchinson said.
"The partial diversion of the Morwell River is a major milestone in our recovery work.
"This work, combined with reduced rainfall and river flow, has meant we are now able to pump more water from the mine than what is coming in.
"While the flows will remain dependent on the weather, this is a fantastic achievement.
"More pipes and pumps will be progressively installed during the next few weeks and once the full temporary river diversion is operating, it will allow us to reduce water levels in both mines more quickly.
"This is important so we are able to restore the full operation of the plant before summer.
"A second conveyor will be reinstated once the full temporary river diversion is in place and water levels are reduced further."
Mr Hutchinson said the designs for a permanent repair of the river diversion were still being progressed.
He said pumping to Latrobe River was performed in compliance with EPA discharge approvals, with water quality being monitored regularly.