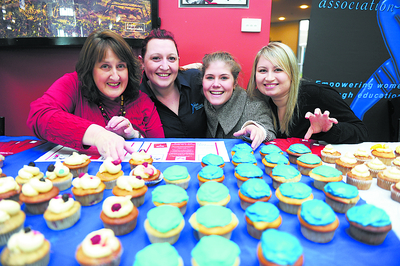 AFTER six hours of baking 257 cupcakes, members of the Blue Stockings Association were thrilled to sell out their fundraiser treats at Monash University Gippsland on Wednesday to help advance women's education and improve employability.
The not-for-profit organisation, which delivers scholarships for women pursuing further education, was hosting a cupcake and clothing drive to raise funds for scholarships as well as assist Morwell's Fitted for Work collect quality business clothes for its clients.
"We were running a cupcake store in conjunction with Monash University Gippsland Student Union's Womyn's Director to raise money for scholarships, and we heard Fitted for Work needed a bigger range of clothing," Blue Stockings co-founder Caitlin Grigsby said.
"We thought we would lend a hand.
"(Blue Stockings) started here in MUGSU in 2007, and wanted to return to our roots."
Describing the reception towards the cupcake sale and clothing drive as "unbelievable", Ms Grigsby said they had hoped to raise $1000 and just an hour into their sales beginning, had nearly achieved the target.
"It has gone 10 times better than what we expected," she said.
Throughout the morning, students and lecturers brought in an assortment of secondhand business clothing, shoes and bags to be donated to Fitted for Work while purchasing a cupcake or two.
"When we got the call from Blue Stockings, we were gobsmacked," Fitted for Work Morwell acting program manager Heather Butler said.
"Usually, we support the university students, but this time it was the other way around.
"It also helped expose (our presence) to students who might come to us needing help in the future."
Fitted for Work provides free fitting as well as personal improvement and employability skill development services to women in Gippsland, catering to women who may have been out of the job market for several years, or young people seeking their first job.
Ms Butler said the organisation was preparing to roll out a mentoring program in six to eight weeks' time, which would expand on its present life skills training.
"It will help women transition to the work place with minimal angst and worry," she said.
Yesterday's event coincided with International Blue Stockings Week, which would be celebrating a century of women being able to pursue education.