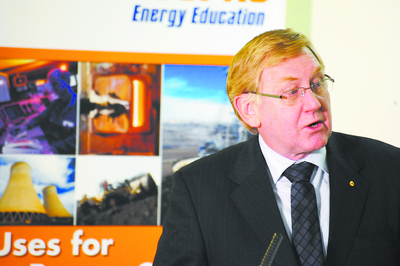 LATROBE City Council has stepped up its campaign to see any money withdrawn from the proposed HRL dual gas project "immediately applied" to Latrobe Valley job creation projects.
Councillor Graeme Middlemiss asked the full sum be directed to clean coal initiatives, saying brown coal remained the region's key "natural advantage" and was it's best chance to secure real jobs.
Cr Middlemiss said Federal Resources and Energy Minister Martin Ferguson advised council, last week, the Federal Government would make an announcement on its 'contracts for closure' process, which could see a local power station close, by 30 September.
Pushing for intense funding assistance to offset the impact of the carbon tax – and any potential closures – Cr Middlemiss said "in simplistic terms", it appeared the Federal Government had earmarked $100 million to the Latrobe Valley, via the HRL project, then withdrawn it and, in its place, allocated $45 million to the Advanced Lignite Demonstration Program announced last Friday.
While he welcomed the ADLP announcement, he said the Federal Government owed the region more, adding "we are morally entitled to the full $100 million in that pot".
"I think the $90 million (ADLP) fund is great…I have been in conversations with many companies who claim they are ready to go and all of them indicate their demonstration plants would also be initial production plants….and if they are commercially viable they would employ between 30 and 50 people," Cr Middlemiss said.
Cr Dale Harriman supported Cr Middlemiss's push to see the Federal Government recommit the $100 million sum to this region but suggested the Gippsland Intermodel Freight Terminal should be one of the first beneficiaries.
"We need to secure immediate, ongoing, well-paid positions to provide a future for workers who are coming out of the power industry and for the kids as well," he said.
Cr Harriman said he would be happy to see the money spent on "buying jobs down here" through incentives to companies to relocate to the Valley.
"We need this whether 'contracts for closure' goes ahead or not…the threat of it has already had a really negative effect," he said.
Cr Harriman said even if the Valley were to secure the full $100 million, the Federal Government would be "getting off lightly".
Meanwhile, State Energy and Resources Minister Michael O'Brien has warned companies seeking government assistance for clean coal technologies needed to "put their money where their mouth is" and ensure they "can deliver on what they've started".
Mr O'Brien confirmed the State Government had "limited capacity" to recoup any of the millions in grant money already spent by HRL on its proposed dual gas plant.
It is understood about $30 million of a $50 million State Government grant had not been spent and Mr O'Brien said his government was still assessing its "capacity to withdraw from the funding agreement" after the Federal Government withdrew its $100 million allocation to the company last month.
"We want to ensure we have the ability to retain as much of the grant money as possible and we are taking advice from professionals….we will make a decision when we are in a position to," he said, adding the funding agreement had been "inherited" from the former state Labor government.
When asked what lessons had been learned from the HRL matter, Mr O'Brien said "certainly we have to make sure that while it is important for government to provide incentives to develop technology…you need to have a lot of buy-in from the companies making the development…they need to put their money where their mouth is and ensure they have the capacity to deliver on what they've started".
He said it was "public knowledge" capital raising had "obviously been an issue in relation to the HRL project".