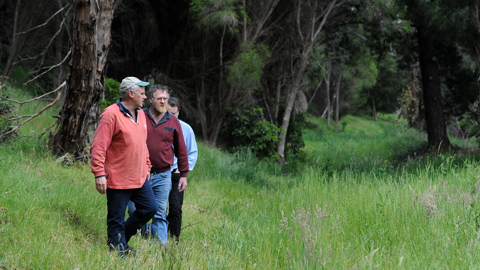 AN ongoing campaign for action on key drainage issues in Morwell has seen relevant bureaucracies agree to several community demands this month.
While an undertaking by the Department of Primary Industries to improve its communication with residents has gone some way to satisfying Advance Morwell's call for transparency over planned works on the Morwell Main Drain, another drainage saga remains the subject of contention.
A long-term push by Wallace Street Morwell residents to have more extensive drainage works undertaken to the rear of their properties attracted the support of Democratic Labor Party Senator John Madigan when he visited the area last Friday.
Senator John Madigan backed a call by resident John Stratford to have the DPI and VicRoads release engineering reports on inspections previously undertaken on the land he feared was unsafe.
Mr Stratford has long maintained drainage works behind Wallace Street have been inadequate, leading to concerns about the integrity of the nearby Princes Highway.
He believes groundwater has been responsible for creating swamp-like conditions behind the local properties and not, as VicRoads has advised, surface water.
Senator Madigan said residents' concerns "regarding the safety of the Morwell open cut mine and ground movement close to their homes" were being "met with silence" from Latrobe City Council, VicRoads and DPI.
Mr Stratford said some of the answers residents had received so far from those sources were "mind-numbingly stupid".
In response, VicRoads regional director Sebastian Motta told The Express VicRoads had committed to "a further geotechnical assessment of the site to determine whether any further works are required." He said the work was scheduled to take place next month.
"Subject to the findings of this independent assessment, VicRoads will review and consider what works, if any, may need to be undertaken to address further drainage concerns," Mr Motta said.
He said previous works had included drilling bore holes beneath the surface to test for water levels and no issues were found with sub-surface water drainage.
Mr Stratford challenged previous findings and called for a rock core trench to be dug behind the sound mound, also to the rear of properties, "in an attempt to restore natural groundwater flow".
Meanwhile remedial work is set to commence on the Morwell Mail Drain site "soon", according to a DPI spokesperson.
Inadequacies with the Morwell Main Drain's function created sink holes and ground movement on a stretch of the Princes Freeway behind Wallace Street in February 2011, after heavy rain, resulting in the closure of the freeway for eight months.
"Hazelwood (power station) is in the process of finalising the works contract, with work on site expected to begin soon," the DPI spokesperson said.
"Work will consist of lining 1.8 kilometres of the existing open drain with a layer of clay.
"An additional layer of flexible waterproof synthetic liner will be used in one section of the drain surface, while work to sleeve part of the underground pipe will also take place."
DPI met with Morwell residents, including Advance Morwell representatives, earlier this month and committed to ongoing communication over plans for the Morwell Main Drain.
Advance Morwell president John Guy told The Express the group was satisfied DPI was "committed to resolve the short and long-term problems with the drain" but said questions raised with the department over who would foot the bill for these works remained unanswered. Mr Guy said he believed debate over who owned the drain had not yet been resolved.