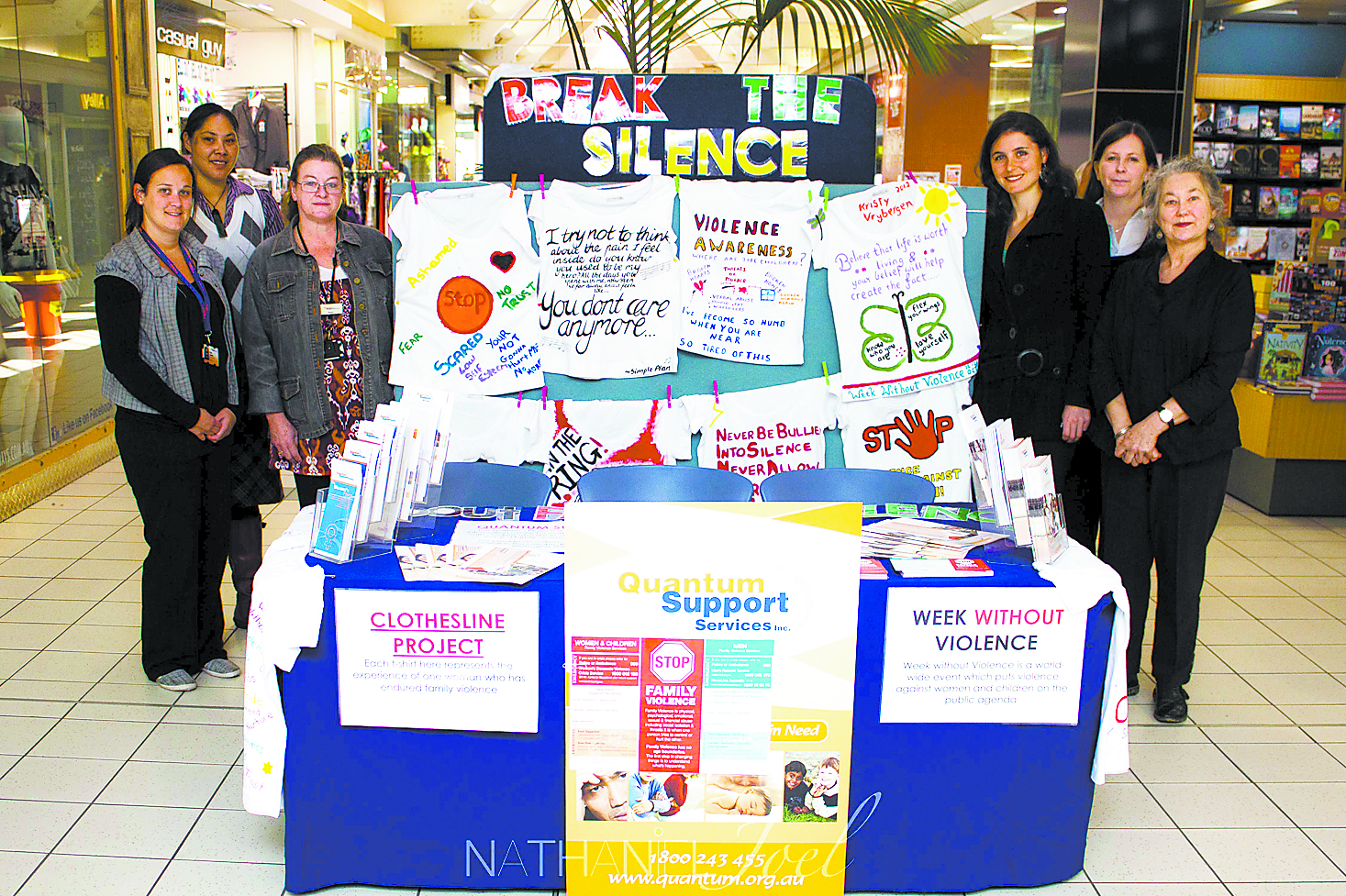 AS White Ribbon Day approaches and local men are asked to "swear" against family violence, Latrobe Valley workers are preparing to attend tomorrow's annual walk against violence in Melbourne.
Representatives from different service providers across the region will make the trip to Melbourne, including several from Anglicare Gippsland.
Efforts to raise community awareness of violence against women were stepped up recently via a successful "Clothesline Project" display, supported by key agencies Quantum Support Services and Anglicare.
Speaking to The Express after helping host the local project at Morwell's Mid Valley Shopping Centre, Anglicare Gippsland Community Legal Service lawyer Jessica McCartney said the display of t-shirts designed by women who attended Quantum's "Inspiring Women's Group" had attracted significant interest from shopping centre patrons.
The awareness campaign launched "A Week Without Violence" and the t-shirts told the stories of local women who had been involved in, or touched by, experiences with family violence.
Ms McCartney said the display enabled people to approach service workers in an environment that was not intimidating.
"We had a lot of brochures taken and that's a good sign that people are interested," she said.
"We also had people asking us questions about what services we offer… I think they were comfortable to come up to us and it didn't mean they were (necessarily) victims of family violence, they may not have even encountered it but, now, if they ever do, they might think back to some of this information.
"We also had some others who shared with us how support services had helped them through their experiences."
Federal Member for Gippsland Darren Chester, who signed up as a White Ribbon Day ambassador during a recent visit to Gippsland Women's Health Service, has urged other local men to also speak out against violence.
This year's White Ribbon Day theme is "Hey mate, let the world know where you stand".
Mr Chester said "too many of our mothers, sisters and female friends are experiencing violence at the hands of men they know, often in their own homes… we need to set an example for young males that they must respect, nurture and care for women in our society and treat them as equals".
For more information on White Ribbon Day visit
www.whiteribbon.org.au