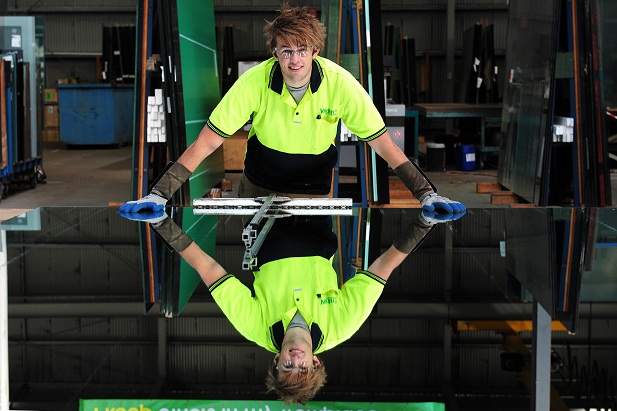 SECOND year glass and glazing apprentice Dean Carter loves what he does.
The Yarragon resident, who is undergoing his traineeship at Viridian New World Glass in Morwell, credits his love for the job as part of the reason why he was named Holmesglen TAFE's apprentice of the year last month.
Asked what he believed led him to be named the winner of the first year glass and glazing category, Mr Carter said "the most effort and the most enthusiasm".
The feat was a pleasant surprise for the glass-cutter, who said he had not expected the award.
"I'm really enjoying my apprenticeship; it's fun and good to work with the guys here," Mr Carter said, adding he had opted to work at Viridian as his father was also employed there.
Despite working under his father's watchful eye, Mr Carter said he received no preferential treatment.
"If anything, I think Dad pushes me harder than the others," the 20 year-old said.
Viridian Gippsland manager Andrew Armstrong praised Mr Carter's achievement.
"Dean is the fourth apprentice of the year we've had; it's a real feather in his cap," Mr Armstrong said.
"Over the years, we have been fortunate to have been offered apprentices of the highest quality, and in tough (economic) times like these, we get an even better grade of apprentice."
Meanwhile, Link Employment and Training field officer Peter Manson said the group training organisation was "tickled pink" with Mr Carter's accomplishment.
"It's a great indication of what apprentices can do; the environment may be tough but it's great to see young apprentices come ahead and it's been a pleasure dealing with Dean," Mr Manson said.