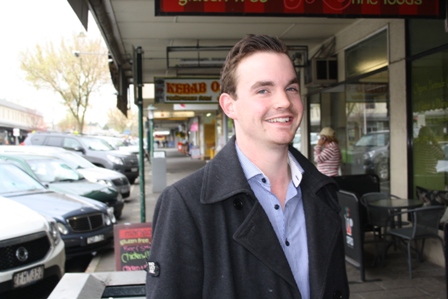 A NUMBER of newly endorsed candidates are gearing up to challenge sitting members of parliament in the Gippsland and McMillan electorates at September's federal election.
While the Australian Labor Party is yet to endorse a candidate in Gippsland, it has named 22 year-old Shady Creek resident Anthony Naus as its candidate for McMillan.
The seat of McMillan has been held by Liberal MP Russell Broadbent since 2004. This week Mr Naus, a Bachelor of Arts student majoring in politics and sociology at Latrobe University, cited the National Broadband Network as a key issue "framing the election" in McMillan.
He said the NBN was about "connecting all Australians to the 21st century, no matter where you live (on a farm or in town)" and compared it with a Coalition plan he said would "only connect 71 per cent of houses, using yesterday's technology to provide one fifth of the speed of the government's network".
The student, who also works part-time at Woolworths in Warragul and on his family's Yarragon rabbit farm, said the National Disability Insurance Scheme and proposed Gonksi reforms were key Labor policies he supported, while he also vowed to support the Moe Rail and Revitalisation Project which had "struggled to get started for over a decade".
Meanwhile, Australian Greens candidate for McMillan Dr Malcom McKelvie said his key mission was to "stand up for the interests of ordinary people who have been forgotten by the old parties".
Dr McKelvie said he had lived and worked in Gippsland as a rural general practitioner for 18 years and had a passion for "protecting the community and the environment".
The candidate lives on a small property near Yarragon and is married with three teenage daughters. "In the electorate of McMillan I know many people are concerned about issues such as coal seam gas negatively impacting on the environment, the lack of a clear transition plan for people moving out of coal-based industries into other employment and support for rural students accessing further education," he said.
Dr McKelvie, a former president of the Baw Baw Sustainability Network, cited marriage equality "for all Australians" and strong action on climate change as key issues.
Gippsland will also be contested by another Greens candidate, Scott Campbell-Smith from Cabbage Tree Creek in East Gippsland.
Independent candidate Peter Gardner, a climate change activist from Ensay, has already announced his intention to contest Gippsland and released a plan for "converting the Valley to renewable energy in an orderly process in 10 years", titled Latrobe Valley Plan 2013. Gippsland was won by The Nationals MP Darren Chester by a margin of more than 5.5 per cent in a 2008 by-election.