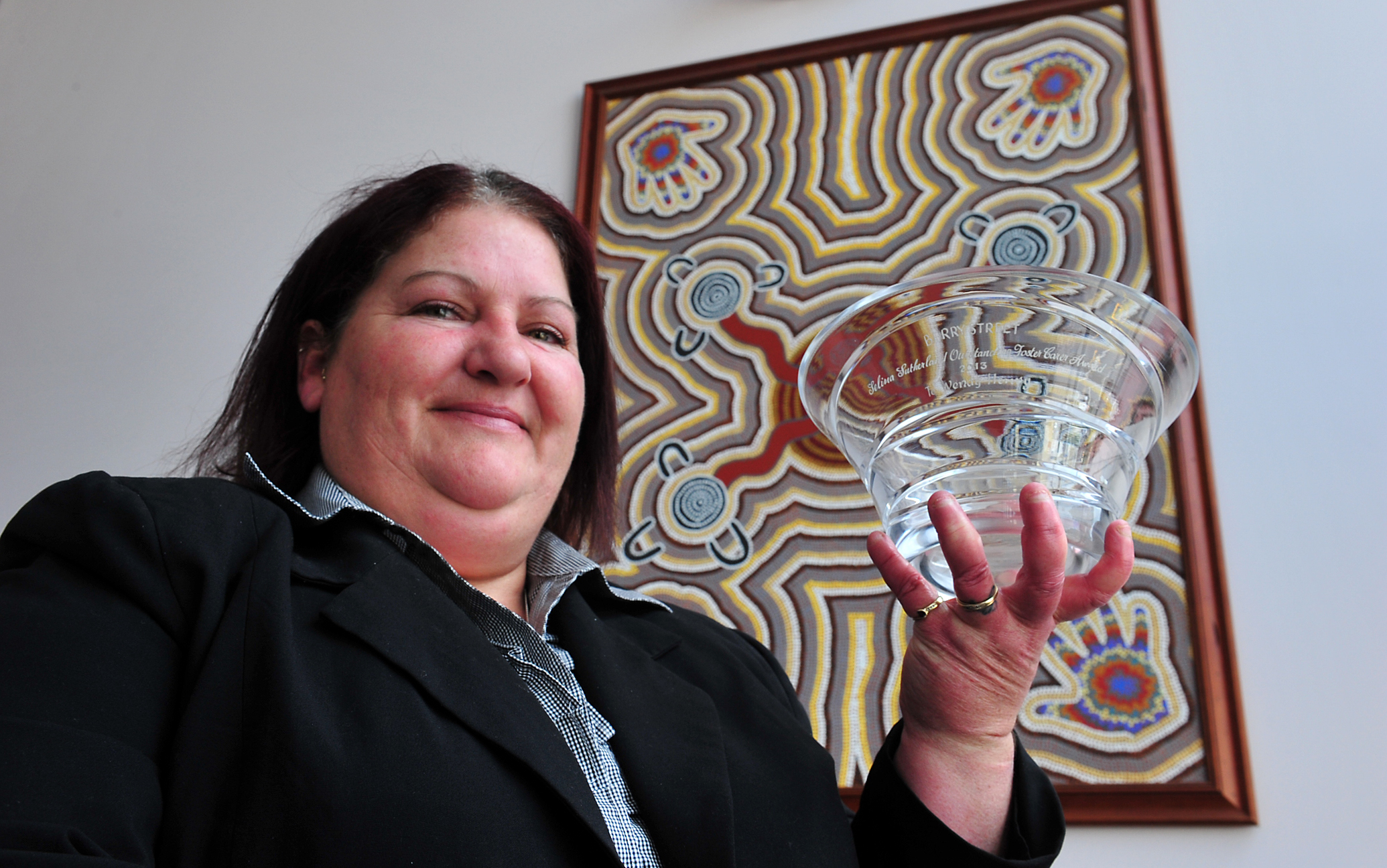 By Lynda McRae
IF there is one thing foster carer Wendy Henry knows for certain, its that "life didn't come with a book".
Formally recognised this week for her years of devotion to some of this region's most at-risk and vulnerable youth, Wendy is a firm believer in the benefit of consistent strategies for kids coming from chaos and dysfunction.
Mostly though, she attributes her success in helping turn the lives of numerous damaged kids around, to instinct.
On Monday night Wendy received the Selina Sutherland Award for an Outstanding Foster Carer at Berry Street's 135th annual celebrations in Melbourne.
Despite having cared for about 45 young people during her stints working in residential care services and opening her home to a further 40 children during many years fostering, Wendy said she was "humbled" Berry Street, "one of the best organisations" she had ever worked with, had seen her "worthy of nomination".
The indigenous woman, who also works for a local Aboriginal co-op, said her philosophy – deemed by those who know her as being remarkably successful – was a simple one.
"I basically build a safe foundation and things go from there," she said.
"Life in general has taught me a lot, I have had my own tough times," Wendy said.
Memories of growing up close to her cousins Carol and Bruce, and the agony of seeing them enter state care as children, has stayed with Wendy.
"It had such an impact on me, and I know it had an impact on their lives, I felt very much alone not having them in my life," she said.
Wendy said this week's award ceremony was all the more emotional for her as Bruce had recently passed away.
A passion for helping the most disadvantaged of kids has seen Wendy care for some with "a whole range of behaviours", she said, including those with criminal histories, others scarred by the loss of both parents, many with special needs and "one indigenous young fellow that no-one in the state would touch".
In every case, Wendy said she had forged connections with those kids and paved the way for positive change in their lives.
"They respect and trust me, I don't give them false hope, I am who I say I am and I certainly won't let them down," she said.
"Life didn't come with a book so I make strategies for the kids to put in place around their behavioural issues and I educate other staff and workers to follow suit, because you need to be consistent.
"These kids haven't had that in their lives and if they know they have someone who truly cares about them, regardless of their issues, that always helps."
Wendy said she used a therapeutic approach to care and believed fostering, over residential care, offered her kids a better chance to heal.
"I just think you get more out of having the children in your own home," she said.
"People have asked me how do I deal with little kids who have been sexually abused or affected by drugs and alcohol and family breakdown and I tell them I look above and beyond what has happened to them and I ask what I can do to equip them with the tools for life."
Wendy currently has five children aged between 10 and 17 years in her care, including four siblings.
Asked if her commitment to so many children left her tired, she said "I like to put in 100 per cent but I never get exhausted… just knowing I am making a difference to someone's life is what keeps me going".
At Monday night's ceremony Wendy paid special tribute to her own son Brandon, now 16.
"He has sacrificed so many hours of our time together in order for me to help other kids and he has never been selfish… I'm so proud of his big heart," she said.
Now an 'Aunty' to about 80 children, many of whom still visited her, Wendy said "if I could have a big mansion I would house a lot more kids".
"I see myself as a jigsaw puzzle and my kids all take a piece of me with them on their life's journey."