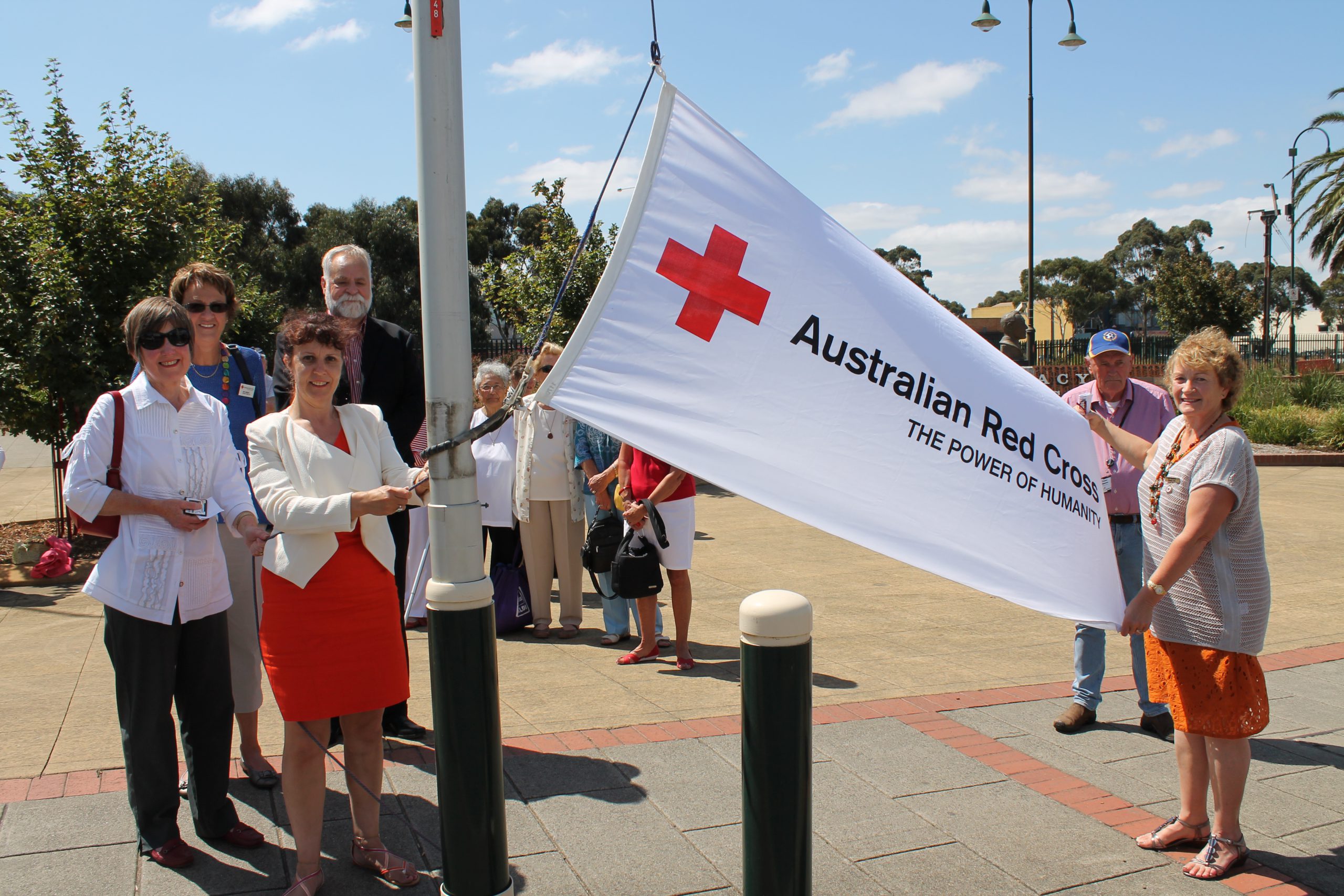 THE Australian Red Cross flag will fly in the centre of Morwell for the next 100 days in recognition of the organisation's 100 years of service.
Amid its ongoing service to the Morwell community during the Hazelwood mine fire, more than 20 Morwell and Latrobe Valley Australian Red Cross members, Latrobe City mayor Sharon Gibson, Cr Peter Gibbons and Cr Graeme Middlemiss attended the ceremony on Friday at Legacy Square.
Red Cross unit chairman Anne-Maree Vella said the celebration was in recognition of the millions of people who had helped make Australian Red Cross what it was today.
Ms Vella said this had been witnessed by the Latrobe Valley community with Zone 8 volunteers helping to man relief centres in Traralgon and Moe, providing three meals a day to the firefighters and staff at the Hazelwood mine for the first two weeks of the fire, and helping at the respite centre in Moe.
"Today we would like to welcome Red Cross members from other units within our zone. These members have joined with the Morwell unit to assist the Latrobe Valley communities," Ms Vella said.
"A lot of the ladies have worked really hard and really long hours to try and help support the citizens of Morwell and firefighters and others working at the mine."
Cr Middlemiss said the Australian Red Cross flag would fly for 100 days from Friday and council also had plans to plant a red foliage tree in the park during the planting season in a few months.
"I don't have to tell you about the wonderful service the Red Cross has provided to our community for over 100 years, and I know everyone is keen to get away because you already have a job this afternoon at the relocation centre," Cr Middlemiss said.
"In the last few weeks of fires, Red Cross has been heavily engaged there."
Cr Gibson thanked present Australian Cross members for their contribution to the community for the past 100 years.
"To have an organisation that's been here for 100 years is a huge thing and you're still about to rush off and help people," she said.
The Australian Red Cross was founded on 13 August 1914, nine days after the outbreak of World War I.
There are currently more than one million Red Cross members, volunteers, partners, staff, donors and supporters, operating from 1250 locations in all states and territories.