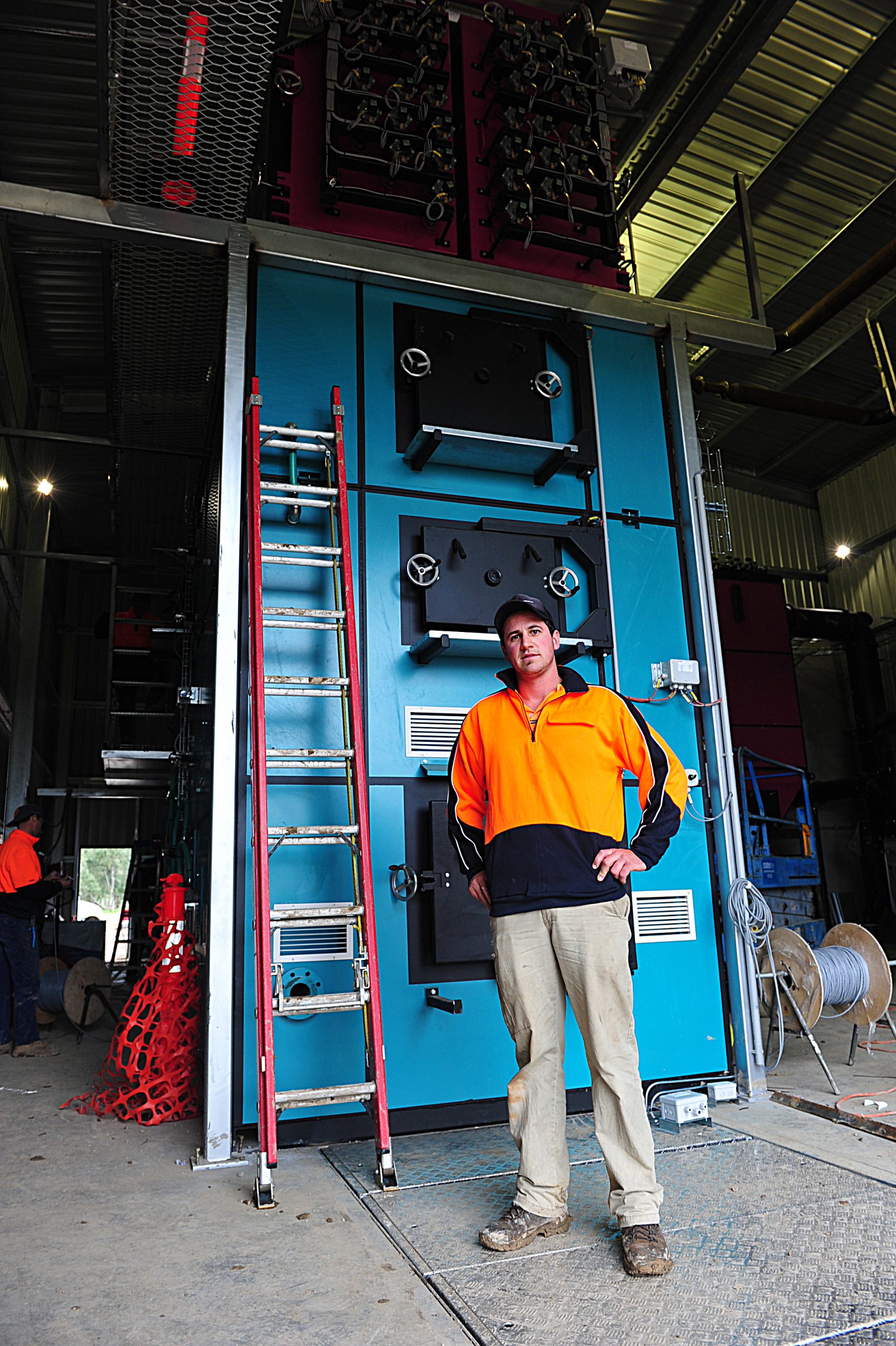 Production workers at the Morwell Energy Brix briquette factory were due to be stood down indefinitely last night, as speculation surrounding the complex's future reached fever pitch.
More stand-downs have been earmarked to follow, in a contractual stand off in which briquette factory operator Mecrus has claimed it has no further production orders.
"Basically we met our production forecast for the year, and that hasn't been revised by (briquette factory owner) HRL, who have not informed us of any additional production requirements," Mecrus managing director Barry Richards said.
Mr Richards said the 40-strong workforce was informed of the impending stand-down yesterday morning; 12 employees were due to be sidelined at 7pm last night.

Production ceased at the operation on Tuesday morning and the facility was put into a full wash, which was due to be completed today.
HRL's Energy Brix power station, which supplies the briquette factory with steam, is understood to have been brought offline in response to the situation.
This morning a spokesperson for Industrial Energy, an arm of HRL which manages briquette distribution and sales, said the company had written to Mecrus requesting briquette manufacturing recommence.
"Industrial Energy continues to meet all of its obligations under the Briquette Manufacturing Agreement," the spokesperson said.
The Express understands negotiations between parties are ongoing this morning.
Meanwhile, the Construction Forestry Mining and Energy Union has challenged Mecrus' move, filing a 'notice of dispute' yesterday afternoon, actioning an enterprise agreement clause designed to prevent stand-downs during workplace disputes.

CFMEU organiser Duncan MacGregor questioned how the situation had developed to the point where Mecrus had been given no indication by HRL as to its operational prospects beyond its current yearly quota.
"It would appear there is some communication problems between Mecrus and HRL," Mr MacGregor said.
"It seems we are now virtually brokering what the businesses should've done between each other."
The stand off has called into question the overall future of about 70 workers employed by Mecrus and HRL across the power station and briquette factory.
Mr Richards said Mecrus "remained in the dark" about whether or not the factory would be recommissioned for a renewed quota.

"The workers continue to ask what our future is, and what is going to happen to us, but when HRL continues failing to inform us what their plans are, people tend to speculate," he said.
HRL's power station operation remains afloat courtesy of a $50 million Federal Government lifeline awarded exclusively to the business in 2012, to allow HRL's briquette customers to transition to alternative fuel sources.
Hazelwood and Loy Yang A power stations are among HRL's customers, who use the briquettes as boiler start up fuel.
However, with the $50 million fund due to expire at the end of June, and Mecrus' lease on the briquetting site due to expire in late August, there is increased anxiety about Energy Brix's future.
"Hopefully this is just a really big hiccup, but it looks like a clear indication of what's to come in the coming months," Mr MacGregor said.
"We are currently in discussions with HRL about their plans beyond August, but there's been no assurances about anything really.
"Because no one really knows what's going to happen at this point in time, there's a real degree of trepidation with regards to all the workers involved in the power station and the briquette factory."
Briquette customers on the decrease
Mr Richards said briquette customers had been dropping throughout the year.
"Our sales forecast from HRL given to us for this year was originally high, but it has since reduced over the year," he said.
Mr Richards said the original sales forecast of 270,000 tonnes of briquettes had subsequently dropped to about 180,000 tonne.
"We've already delivered 172,000 tonnes to customers, and there's about 8000 left in the stockpile."
Mr Richards said Australian Char's Morwell char facility had already taken their last order, while further customers were expected to cease making orders in the near future.
Dairy processor Murray Goulburn, a long-term customer, is currently undergoing installation of gas boilers at their factories in Leongatha and Cobram.
Yarragon tomato and eggplant producer, Gippsland Greenhouse Produce, has recently converted their greenhouse heating facilities from a briquette fuelled boiler to a 'wood and waste' biomass boiler, due for commission next week.
"We've probably got enough briquettes here to manage the transition, there'll be a few issues to iron out, but I reckon I've possibly already made my last order," manager Peter Hobson said.
The facility had initially considered converting to gas heating, however, Mr Hobson said the venture would have proven too costly to hook up to the closest gas main, about two kilometres from the site.