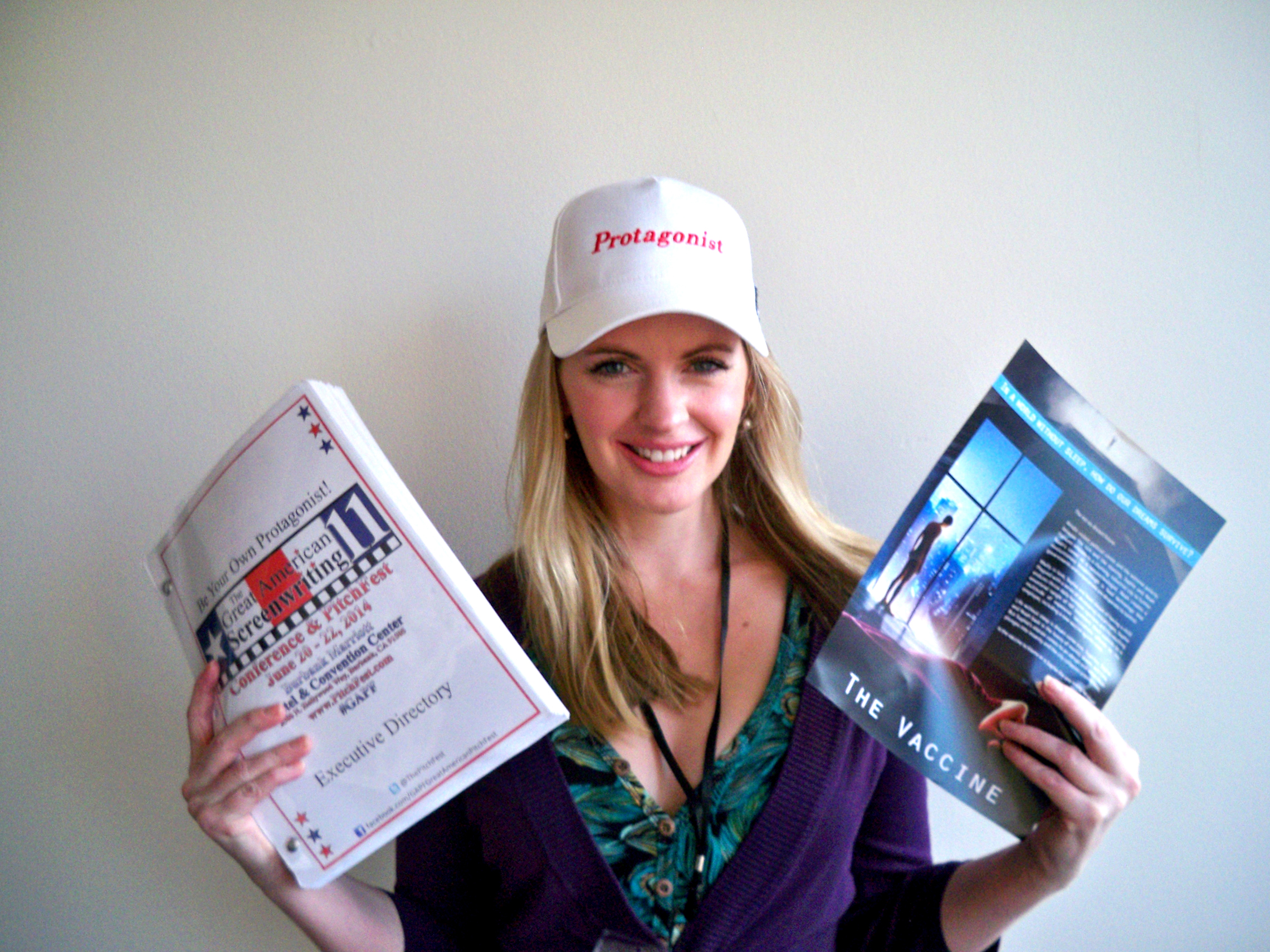 When you are one of 500 screen writing hopefuls baying for the attention of Hollywood power brokers in a frenetic speed-dating forum, you've got to make your pitch count.
That was the high stakes situation faced by Traralgon-raised actor and writer Rachael Blackwood, who pitched to 25 agents, executives and managers at the Great American Pitch-Fest last month.
"It was a pretty full on day the way they run it; there was actually about 120 agents and execs sitting there in a big conference hall, and we were all outside in the foyer, lining up for the person you wanted to pitch to before being ushered into the room," Ms Blackwood said.
"Everyone pitches all at once, and you've only got five minutes, then the bell rings and everyone gets herded out."
With a freshly written feature script under each arm, Ms Blackwood – who has already made a name for herself on the Australian film and television scene – put her salesmanship skills into overdrive to spruik her heist and sci-fi thriller stories.
And contrary to Hollywood's formidable reputation to shatter the dreams of those aspiring to work in front and behind the camera, Ms Blackwood said the festival hosted an atmosphere of camaraderie and support.
"I went over there expecting the worst and prepared for the worst, but I didn't see one shred of evidence of that whatsoever," she said.
"Everyone at the festival was just eager for everyone else to get picked up – it was the type of atmosphere that if one of us succeeded, everyone succeeded."
Camaraderie aside, Ms Blackwood believed she made the most of the opportunity to stand out from the pack.
"We did the five minute pitches all day from 9am 'til 5.30pm. It was pretty exhausting for everyone on both sides of the tables," she said.
"Towards the end of the day everyone started sitting down and getting tired, but I just kept going as some of the competition started winding back.
"The last pitch was one of the more exciting ones; he said, 'look, we are probably not interested in making the film, but we have a writing job you might be suitable for', so building relationships like that can be quite invaluable in this industry."
After 25 pitches, Ms Blackwood had secured 16 requests for script readings.
"It's all about creating the 'buzz' factor – the more people are talking the better your negotiation stance… one manager I hadn't met said 'I've heard about you', so if people are talking it's a good sign," she said.
"Basically at the moment I'm getting lots of emails coming through, signing non-disclosure contracts and release forms for people to read my scripts."
Speaking to The Express upon her return to Australia, the buzz of the experience still fresh on her voice, it has by no means been a flash in the publicity pan for Ms Blackwood.
She recently starred in the feature film 'MurderDrome', released worldwide on DVD in November last year, and recently completed a lead role in 'Sugarplum', by Romper Stomper director Geoffrey Wright. It's part of a prolific portfolio in the Australian film and television industry for the screen writing, acting and dancing 33 year-old, who has also worked in advertising, radio and fiction writing.
She said her love for the written word was cemented from an early age growing up in Traralgon.
"As soon as I could pick up a pen, I was a serious little six year-old writing all these little poems … I had an article published in The Express at eight years old after I did a radio program with (Kosciuszko Street Primary) school," she said.
"With script writing, usually what happens is I get a spark of an idea which sits in my brain marinating for weeks, then a burst of info will come to the fore and I'll write non-stop."
While unable to reveal any details about her new heist script – other than to say it's in the spirit of 'Ocean's Eleven' – her sci-fi thriller explores an uber-productive world in which a vaccine has been developed against sleep.
"It's a world where people want to maximise their time, and follows a couple trying to have a baby; she doesn't have the vaccine, and he does, and ultimately one of them starts to go crazy – you just don't know which one," Ms Blackwood said.
Fittingly, it was an idea which hit Ms Blackwood one night while struggling to sleep…