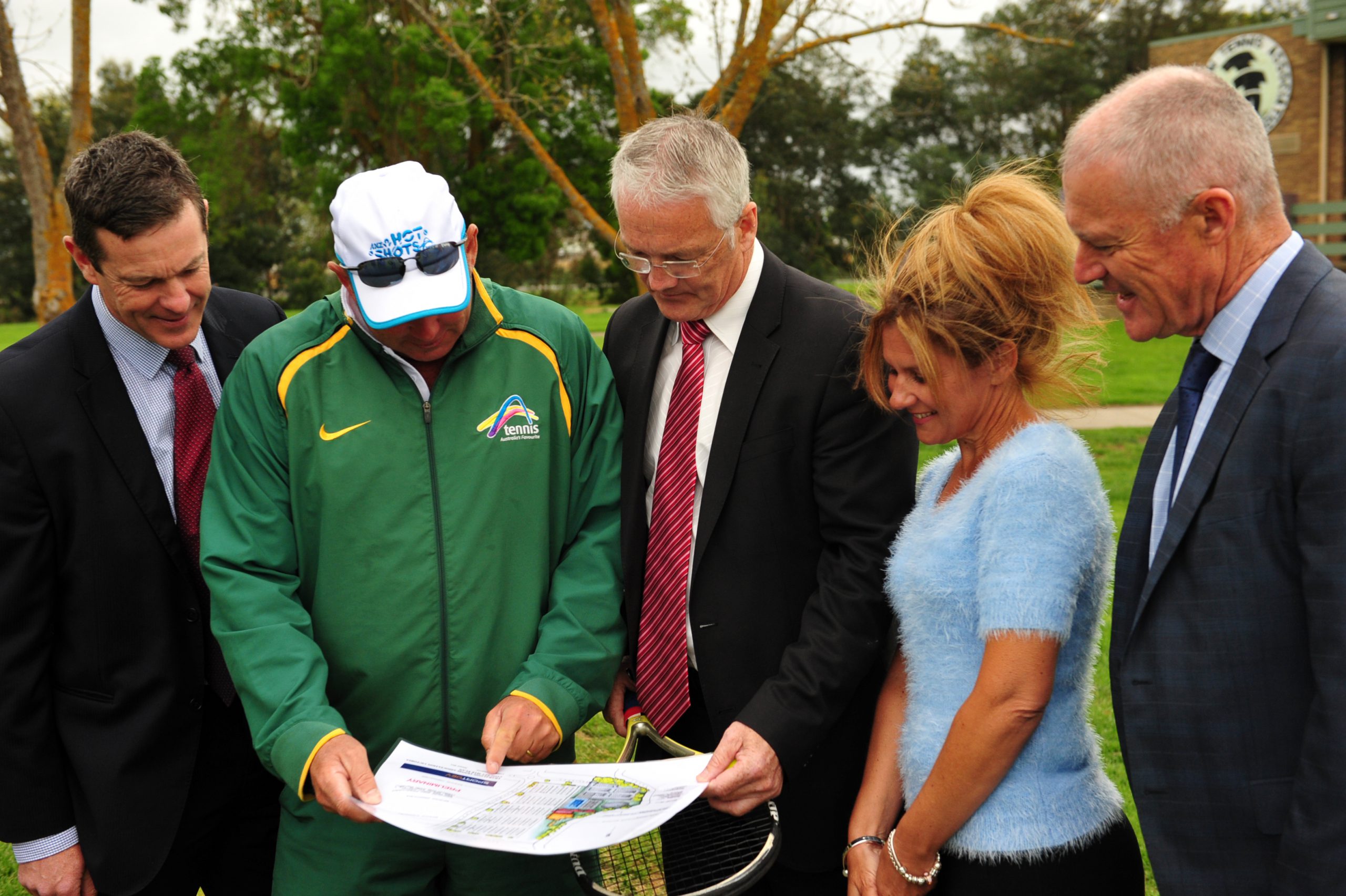 A 3000-capacity show court will be constructed at the Traralgon Tennis Centre, following a $1.3 million funding announcement by Sport and Recreation Minister Damian Drum this morning.
The Valley's version of Rod Laver Arena is set to be built in front of the TTC clubhouse and over a portion of the existing carpark, with a start work date slated for next year.
The multipurpose facility will feature a Plexipave surface, lighting, fencing and permanent seating, funded by $650,000 from the State Government, $550,000 from Latrobe City Council and $100,000 from Tennis Australia.
The project has been in the pipeline for about 12 months, but Traralgon Tennis Association manager Susie Grumley admitted it began as more of a pipedream.
"Quite a while ago they came down and said what do we see for the future here, and we said we would love to see a show court built, and a big clubhouse redevelopment if possible, but we felt it was really just a dream in a pipeline at that stage," Ms Grumley said.
Tennis Australia championed the cause and developed a plan for the facility to present to the government, before discussions with council led to consideration for a Community Facility Funding Program – Major Applications grant in April. The complex will complement the 24-court precinct and add market clout for attracting major events, many of which require a show court in their application criteria.
"My aim is to secure a Davis Cup tie or a Fed Cup tie here," Ms Grumley said.
"It will hopefully improve our chances of having a Davis Cup tie or more events, we want to have as many events as we can and bring these events to Traralgon and Gippsland."
The show court will be capable of hosting a range of other spectacles, including netball and basketball exhibitions as well as potential for stadium entertainment and performing arts shows.
"It's not only fantastic for us here at the tennis club, it's for the whole community because it can be used for many different things," Ms Grumley said.
"To have that sort of thing in a country town is just amazing."
Comparable to some of the side courts used at Melbourne Park during the Australian Open in size and scope, the Traralgon show court comes as a huge boon for tennis players of all levels.
"Today's announcement takes the centre to an even higher level by providing the vital show court required for major events, while also giving local players the experience of playing on a bona fide show court with the capacity to house thousands of spectators. Major tennis events in Traralgon not only deliver great sporting moments, they attract thousands of visitors, boost the local economy and showcase Latrobe Valley tourism to people from around Australia," Mr Drum said.
Council may only submit one project for the Community Facility Funding Program each year it is offered. The show court was selected over the Moe Netball Courts Resurfacing Project, the Latrobe City Synthetic Sports Field Pavillion, Moe Rails Revitalisation Youth Precinct Project and a multi-use facility as part of the Gaskin Park Master Plan.
Traralgon Tennis Association was the beneficiary of LCC's only other CFFP major application made in the last decade, when it attracted $400,000 in State Government funding for a $720,000 court resurfacing project in 2011.
The two international events Traralgon secured as a result of the project each year attract more than $1 million in direct spend during the events, and more than $2 million in indirect spend. The show court announcement headlined a raft of funding initiatives unveiled across the region today.
The government will also provide $50,000 to resurface the damaged oval and upgrade drainage at Duncan Cameron Park,Traralgon, $40,000 to install drainage to improve the pitch quality of Morwell Park Oval and $50,000 to upgrade the pavilion at Agnes Brereton Park, Traralgon to include change room facilities for players and umpires.