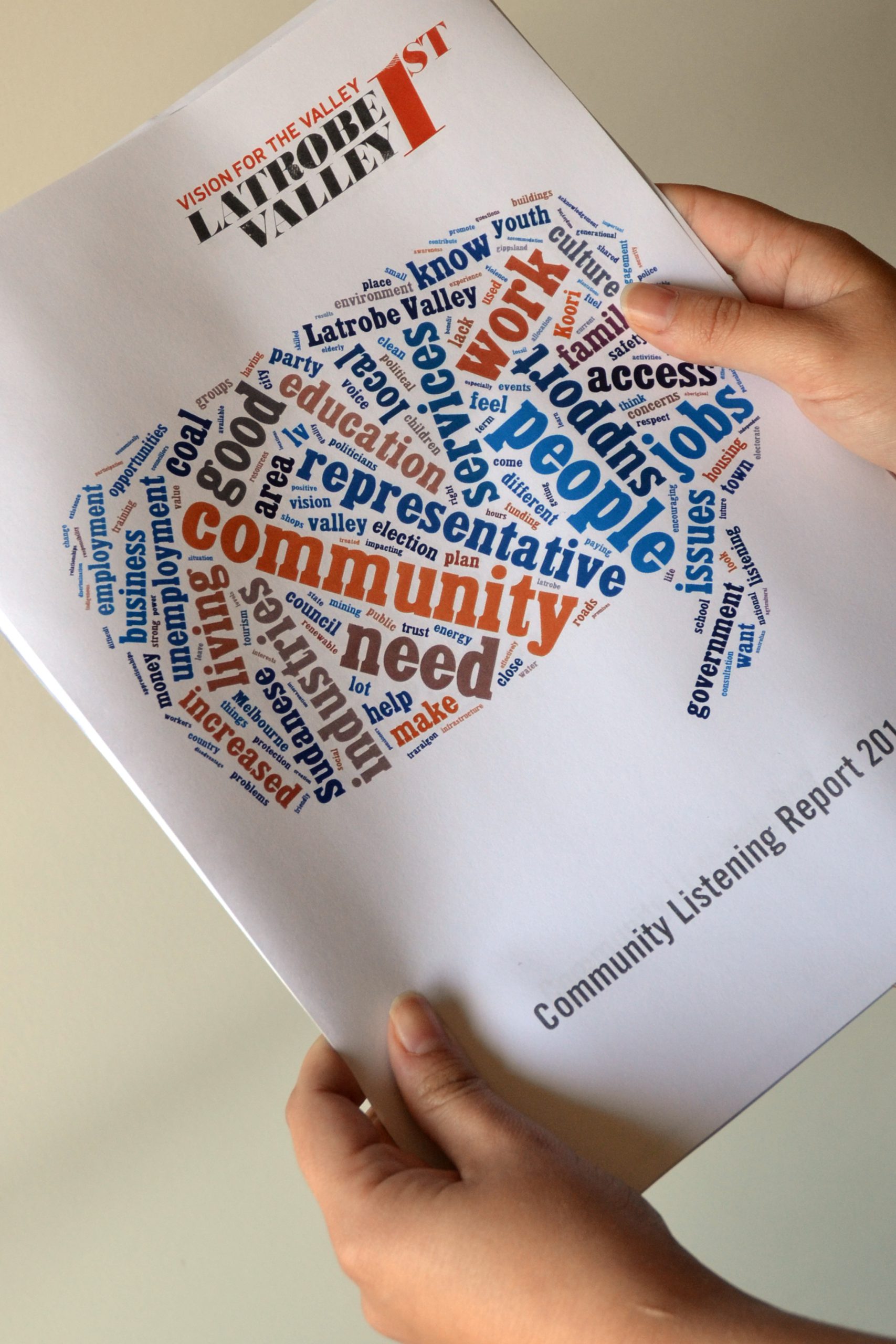 Community group Latrobe Valley 1st has released the results of a series of public consultation initiatives it has taken since forming in the wake of the Hazelwood mine fire.
Information from the group's 'kitchen table conversations' in July and August, along with two community surveys, are contained within the 'Community Listening Report', which will ultimately dictate the position of the group's endorsed independent candidate for Morwell Tracie Lund.
The kitchen table conversations were modelled on a similar approach by residents of the federal seat of Indi.
About 160 people from the Morwell electorate met in small groups to discuss issues affecting the Latrobe Valley through a series of set questions.
The unconventional nature of the initiative has extended to the report, where answers to the kitchen table questions have not been collated or grouped numerically, rather they are printed as a long list of points in their raw format.
"It had to be the voices of the community so we needed to capture exactly what they said and how they said it," Ms Lund said.
"There's no point in going through the process and changing everybody's words, we wanted to reflect that back exactly as it was said to us."
Pride, purpose and the celebration of cultural diversity were among the things participants listed a making a strong community.
A slower pace, proximity to natural attractions, the city and university, along with a feeling of equality were some of participants' favourite things about living in the Latrobe Valley.
Job opportunities, improved public transport, support for carers, increased cultural activities, a lack of political engagement within the community and violence in the Traralgon central business district were listed as matters needed to be brought to the attention of elected representatives.
A separate survey of 175 VCE and university students sought to give the government a 'report card' on various sectors.
Public transport, education, healthcare and social justice were graded C+, while environment was graded C and job creation C-.
Sixty-one per cent of respondents said they did not trust political parties to genuinely represent the interests of young people, 13 per cent said they did and 26 per cent were unsure.
Phone surveys conducted by Latrobe Valley 1st in August to 500 households in the Morwell electorate asked residents which areas were most important, 45 per cent of which said support for jobs and businesses in the local area.
Hospitals and healthcare drew the next highest result of 19 per cent.
"I don't think anyone can say we've got all the answers, but I think it's about navigating a new way of doing things," Ms Lund said.
"I believe, unlike the big political parties where their policies are already formed, this is an example of the platform coming from the community."
Copies of the report will be available at a launch of Ms Lund's campaign tomorrow night from 7pm at the Premier Function Centre, Traralgon, or at www.lv1.org/report