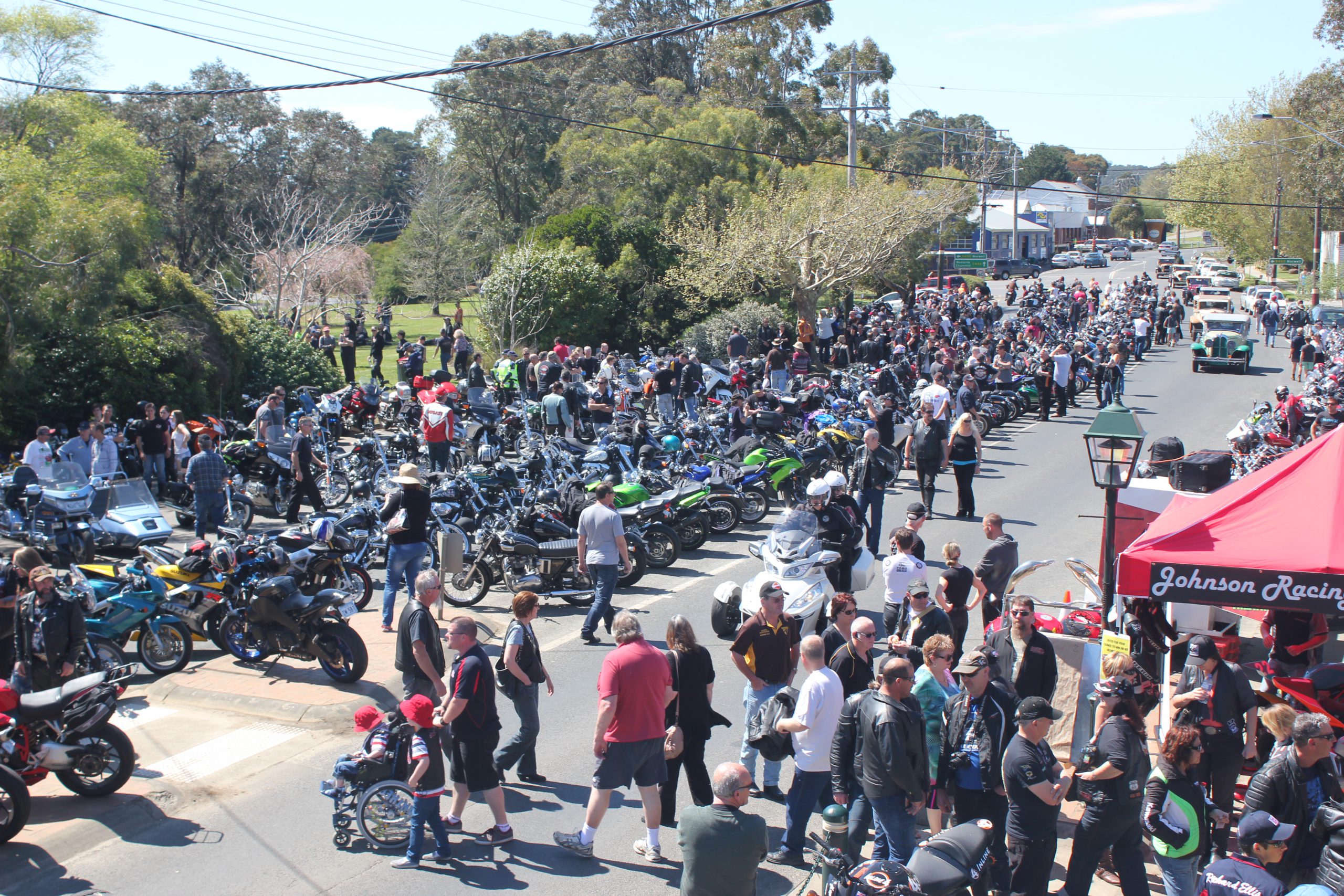 A high octane meeting of the motorcycle faithfuls transformed Mirboo North like never before at the weekend, when Gippsland's inaugural 'Blessing of the Bike' ceremony brought in the 2014/15 riding season.
Bringing the European tradition of motorcycle camaraderie to the sweeping roads of the Stzrelecki Ranges, the 'blessing' saw in excess of 1500 bikers wish each other good luck and remember fallen comrades.
With estimates putting the bike count as high as 1700, and "countless hundreds" of onlookers, organiser and Swiss national Marcel Widmer said he was truly ecstatic with the turnout.
"It was absolutely mad I tell you, we honestly are all speechless by the day. Everyone has raved about it," Mr Widmer said.
Under the monitoring assistance of the Bass Coast Highway Patrol, which directed regular traffic through the town's back streets, Senior Constable Allan Piening said the main street Mecca was "very well behaved".
"Weren't expecting those numbers, but we were prepared for it and everyone was really good," Const Piening said.
"We are very happy about anything that promotes the message of safe riding on the road, it's about wearing the right gear, finding a bike that's comfortable to ride and riding to the conditions."
After a range of speeches about biker safety, riders with family and friends lost to the lifestyle took a flower back to their respective bikes in memorandum.
Armed with a 20 litre oil drum, the bikes were blessed with holy water by Valley based pastor David Holt and former MotoGP and World Super Bikes chaplain John 'The Rev' McMahon.
"Mate, I was pleasantly surprised, while I knew there would be a lot of bikes, I was expecting about 300 or something like that, so this certainly went above our expectations, we had someone there from Western Australia," Mr McMahon said.
"There was such a cross section of the motorcycle community, there was club and cruiser riders, classic, sport and adventure riders, but all of us sharing in the fact that we all love our bikes and we want to ride safe."
Preparations are already in place for next year's event, set for 10 October 2015, which Mr Widmer said he hoped would attract up to 5000 riders.
Mr Widmer paid special tribute to his wife and co-organiser Sabine, who ensured the crowds were catered for from their Mirboo North motorcycle-themed caf .
"She was such a big part of this event, but on that Saturday while I was outside in the crowd she was in the shop working hard. I'll make sure she can enjoy it more next time," he said.