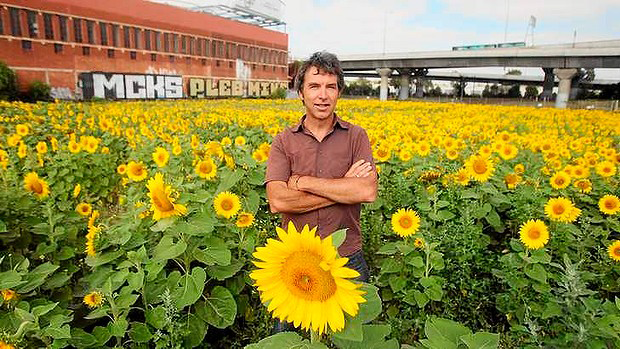 Unused, unfavourable spaces will become a happy and vibrant trail when thousands of sunflowers are planted across the Latrobe Valley.
As part of RMIT's ReActivate Latrobe Valley project, the Get Sunflowered project will transform eyesores into bright yellow eye openers with strategically planted sunflowers.
After completing similar field works in Kensington last year, artist Ben Morieson jumped at the opportunity to design the spaces.
"Based on past experience through various forms of publicity, there were about 40 to 50 people a day visiting that particular site while the flowers were blooming and even after," Mr Morieson said.
"They're quite uplifting flowers and I think they more or less bring some joy to people as they connect with the work."
Mr Morieson said each site would be designed to specifically enhance the appearance of the space and navigate visitors with flowers planted in differing patterns.
"They're very specific sites and they vary from the most basic paddock to that of a ruined hotel site," Mr Morieson said.
"We're going to try and create a variety of approaches that will allow people to have different experiences at each site and allow people to reflect on the site itself, the flowers will be used in a way to map the terrain."
ReActivate Latrobe Valley is calling on local farmers to help plough the areas and volunteers to help plant seeds and keep an eye on the sites as well as residents who would like to plant sunflowers in their own gardens.
Volunteers will plant the seeds mid November, the flowers will bloom in February and will be harvested in March.
RMIT associate professor Rosalea Monacella said sunflowers were in alignment with ReActivate Latrobe Valley's mission to clean up sites, making them more appealing.
"In a way sunflowers clean soil as well, it's the nature of them, they slowly remove toxins out of soil, they're a happy flower, but they also remediate the ground," Associate Professor Monacella said.
"It acts as an attraction to the Latrobe Valley, but it's also a trail."
Get Sunflowered sites:
The Old Baw Baw Hotel, Lloyd Street, Moe
Old Moe hospital, Narracan Drive, Moe
Princes Drive, Morwell near former KFC site
Corner of Church and Buckley Streets, Morwell
Princes Freeway, near Greencross veterinary clinic, Traralgon
VRI Hall, Queens Parade, Traralgon