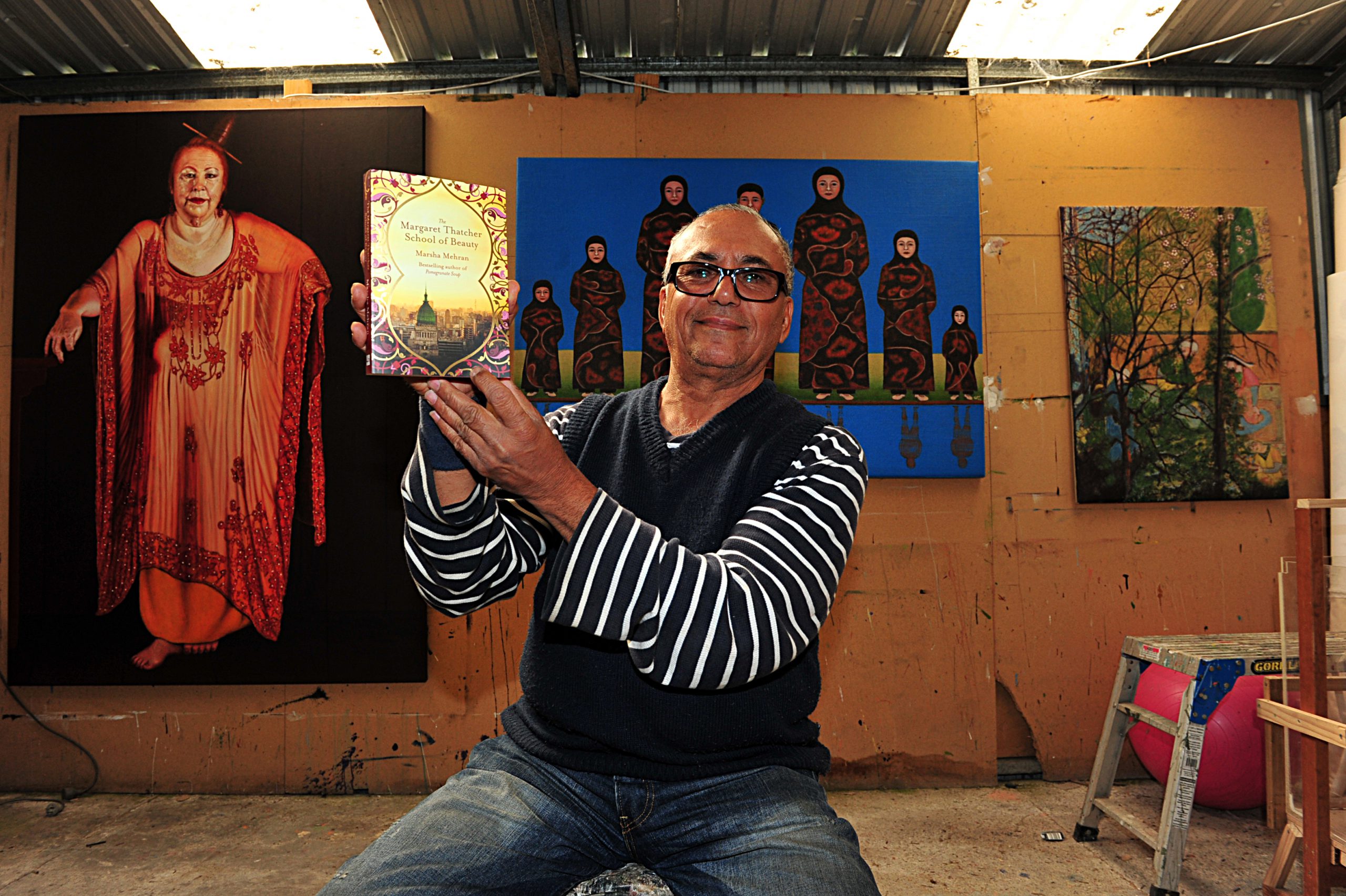 A LANDLORD seeking rent in the Irish seaside village of Lecanvey was confronted with a sign on the door, 'Do not disturb. I'm working.'

Behind the threshold was Iranian-born author, Marsha Mehran, who was tormented trying to finish her third novel, 'The Margaret Thatcher School of Beauty'.
In a telephone message to the landlord, Marsha said she had been vomiting blood for weeks.
Later, after three attempts to visit his tenant, the landlord forced entry and found the 36 year old's body in her bedroom.
That was in April this year.
In the back shed of his Boolarra home, Marsha's father Abbas Mehran now holds the published novel.
For the past six months, he has set himself the emotional task of finishing the book that his daughter never realised when she was alive, and probably resulted in her sickness and death.
"I had lost my precious daughter, and I didn't want her six years of intensive work to perish forever. I knew Marsha's desire to give this book to the world, and I became determined to deliver it for her," Abbas said in his 'Afterword'.
Abbas' familiarity with Persian language makes the novel a kind of collaboration, but he is firm in his belief that the book remains Marsha's work.
He reviewed the many versions and her hundreds of scattered notes. He checked the English translations of Iranian poems to ensure they were true to the meaning of the original Farsi.
"In undertaking this task, I experienced many mixed emotions. I repeatedly found myself crying, either as a proud or as mourning father – sometimes as both," he said.
Similar to Marsha's international bestseller, 'Pomegranate Soup' and its sequel 'Rosewater and Soda Bread', the novel reflects on her exposure to Iranian culture as an immigrant.
Born in Tehran on the eve of the Iranian Revolution, Marsha moved with her family to Buenos Aires, Argentina when she was two years-old.
The family established a Middle Eastern cafe, sublet their fifth floor rented apartment to other expatriates, shared Persian poetry, food and the ancient treatment of hair threading, or 'band andazi'.
Other major countries followed, the United States, Ireland and Australia.
"She learned about Iranian traditions, and Iranian culture outside of Iran. One of the major parts of the culture is poetry, to read poems to reflect upon," Abbas said.
While these childhood memories of Persian culture inspired the book, embellishing the book with Iranian poetry proved difficult.
"As she put it later, when the idea first reared its mutant head, it was not so much a book as an elusive mental image of a scene – a meshing of childhood memories and imagination," Abbas said.
He was aware of Marsha's engagement in writing the book right from the beginning, but his 'real' involvement began when she stayed in Boolarra for six months.
"Marsha used to read her text out loud and I was to listen carefully and criticise it, although she did not like criticism, especially from her father.
"Then, she gave me a copy of the transcript to read and invited me to offer suggestions, if I dared," he said with a knowing smile.
He said Marsha rushed to Persian literature and found an ocean of love, beauty, meaning and mystery, but had not lived in Iran long enough to learn the language and had not been fully immersed in the culture of her birthplace.
Her commitment to this "formidable task" preoccupied her and became a major cause of her lack of attention to her mental and physical health.
In 2009 she wrote:
"I've spent the last five months working on the edit of my third book. It has been a painful process to say the least. Hardly a night has passed that I have not woken up midway through sleep, body drenched in sweat, heart beating out the rhythms of some ancient tarantella inside my chest. My legs throbbed, both during the day and at night – the kind of throbbing that shook whatever seat I was on – and I looked like I had aged 10 years, eyes drooping, skin ashen, a vague recollection that I had not washed my hair for a week straight."
Abbas said he believed he succeeded completing the book because of his closeness with his daughter and their passion for Iranian culture.
He said she "always wanted to do everything her self", but the book could be described as a contemporary allegorical narrative, similar to 'The Conference of the Birds', written by Persian poet Attar in the 12th century.
Like the birds that go in search for their legendary leader, and discover God is within them, the Iranians in Marsha's book discover that in concert they can search for divine inspiration.
"It's been a turning point in my life and the first thing I want to do is write about Marsha, maybe a (fictional) book, or maybe biographical," Abbas said.
Harper Collins Australia will release 'The Margaret Thatcher School of Beauty' on 1 December.