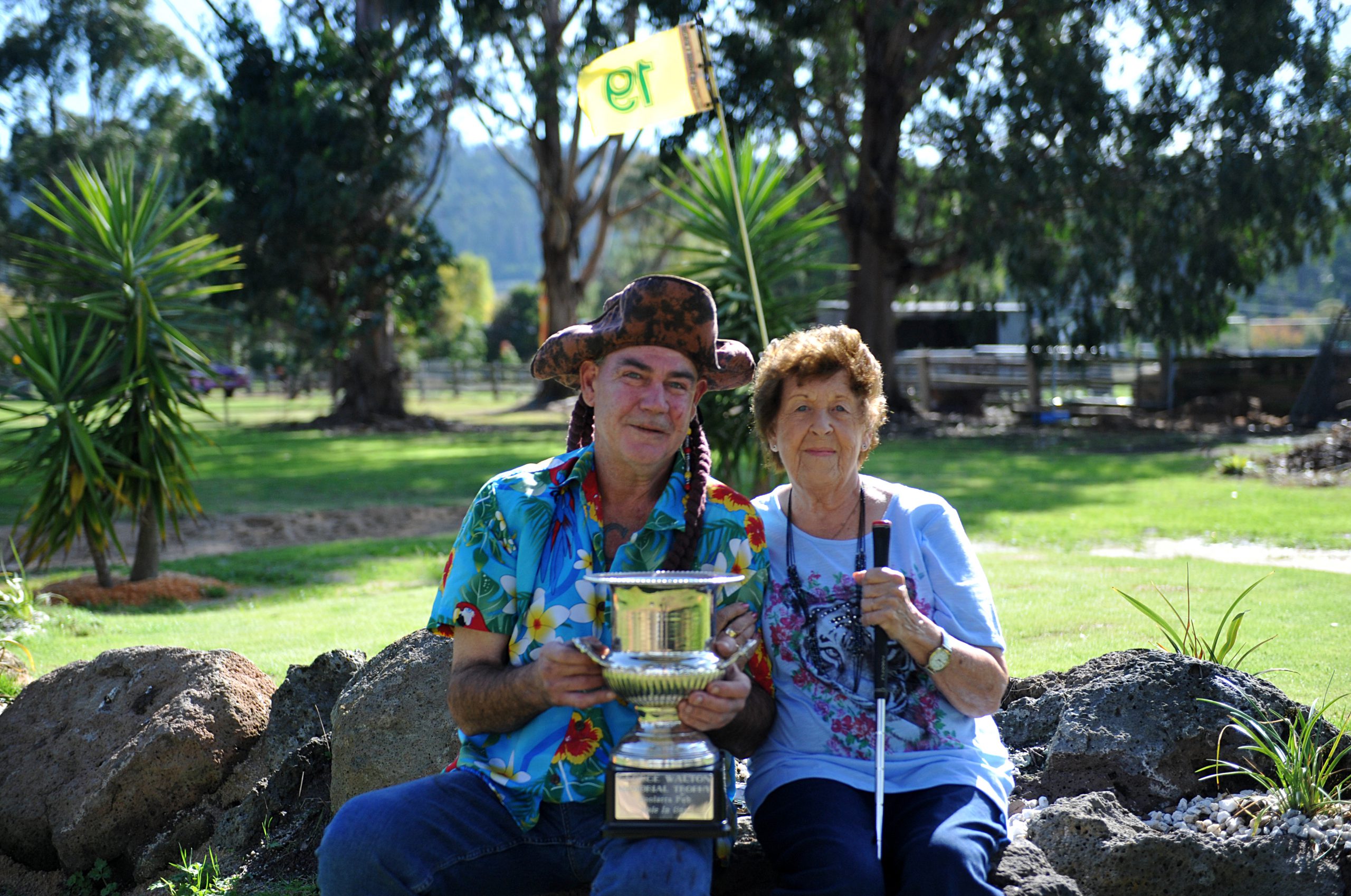 A GROUP of blokes walk into a bar dressed in Hawaiian shirts and pirate hats, grab a wedge and head for the 19th tee.
It sounds like the start of a joke the late Boolarra Pub patron George Walton would have told, but it's fast becoming a Sunday tradition at his favourite watering 'hole'.
For the decade or so he lived in Boolarra, Mr Walton visited the pub each and every day – down to just about his last – sometimes riding his scooter, others hitching a ride with wife Marj.
Following his death to asbestosis in 2014, fellow regular Nick Buxton has been working toward a tribute for his departed mate.
What began as hitting golf balls into the paddock behind the bar for a laugh soon became a community project, culminating in the creation of a 55 metre long hole-in-one challenge.
Landscaped by Mr Buxton and the Boolarra community, with the flag and cup donated by Churchill Golf Club, the short wedge of hole, complete with its own tee, became a $5 shootout.
Nearest to the pin has prizes down to four places, and the hole-in-one money jackpots until an ace is hit, which still hasn't happened.
This Sunday will see the debut of a 92m second hole, featuring an elevated green, rock retaining wall and its own water feature, dedicated to the memory of Mr Walton.
The flag, donated by Mirboo North Golf Club, flutters with a fitting number '19' on the green, right in front of an undercover viewing gallery.
Mrs Walton, who was married to Mr Walton for more than 50 years, will officially open the new hole with at least one of her daughters also in attendance.
"He would absolutely love everything that Nick's done… he's done all that for George and he would just love it," Mrs Walton said.
"If Nick had started that while he was alive he would have been into it too, he'd been helping you dig and everything."
Mr Buxton said he only knew Mr Walton for about five years, but that everyone had a soft spot for the ex-boxer who told "every joke under the sun".
As part of the tribute, anyone who hits an ace will get their name and the date engraved on the new George Walton Memorial Cup, which takes pride of place at the bar its namesake once occupied.
The second hole requires a little knock down draw, with the high fade out thanks to a strategically placed tree on the left side.
It's not an easy approach – in about a dozen balls this reporter only managed to get one on the dance floor.
Having spent countless hours sculpting the mini course, Mr Buxton hopes to expand to nine holes around the pub in future, with proceeds from the shootout to go toward a community project in the town.
"It was just good that everyone chipped in and helped," he said.
"There has been money already donated to charity but as it grows the aim is to find something in Boolarra we'll donate to."
Tee off is 4pm Sunday and dress code is Hawaiian. Don't be late.