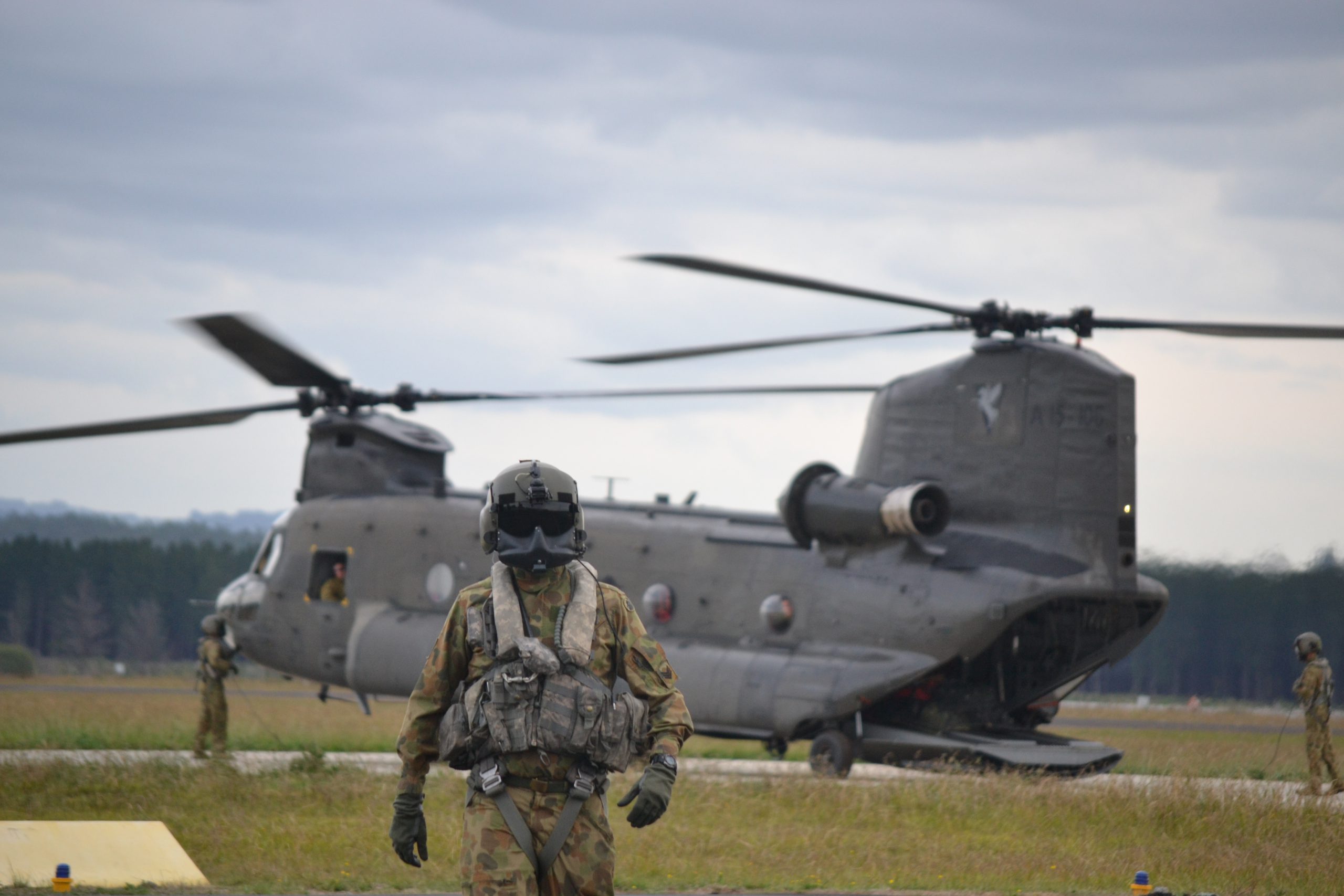 The intimidating sight of a twin rotor military helicopter thundering across Latrobe Valley skies last week had a much more personal story than met the eye.
A handful of witnesses were on-hand for an exclusive touch-and-go landing at Latrobe Regional Airport on Thursday afternoon, after the Chinook helicopter approached from northern skies.
After landing on the oversized helipad traditionally reserved for the 'Elvis' water bomber during fire seasons, the 20-tonne chopper dominated the airport as the twin rotors eased to idling speeds.
Within a matter of seconds a suited up serviceman emerged, complete with high altitude breathing apparatus of Stormtrooper likeness, approaching the cluster of onlookers with purpose in his stride.
The crew's Morwell born 'loadmaster' had convinced his colleagues to make a friendly stopover to visit loved ones on the Chinook's swan song mission to the Point Cook RAAF museum.

The loadmaster's father and ex-airforce reserve man Bernard could not have been prouder.
"It's pretty special visit. We are all very proud of that boy. His late mother … would've been over the moon, crikey she would've loved it," Bernard said.
Commissioned in 1973, 'Chinook 106' served in the air force until 1985, before returning to service in 1995 as a 'Delta' model, clocking up 6500 hours of flight time, including missions in Jordan, Iraq and Afghanistan.
Recently decommissioned, the exclusive stopover came part of the chopper's very last voyage from Townsville to Point Cook RAAF museum, where it arrived on Friday and will become the first Chinook to go on display in Australian air force history.
As one of LRA's first air cadets, where he has served as part of the air training corp for 31 years, Bernard said the Chinook was an integral player in Australia's air force capabilities.
"They've played a very high visibility role and have done some wonderful things over the years including rescue, troop movements, and disaster relief," Bernard said.
After a few minutes of hugs and banter, the loadmaster refitted his breathing apparatus and reboarded the chook, taking off over the Latrobe Valley skyline as quickly and as formidably as it had arrived.
*The identity of the loadmaster has been withheld for security reasons