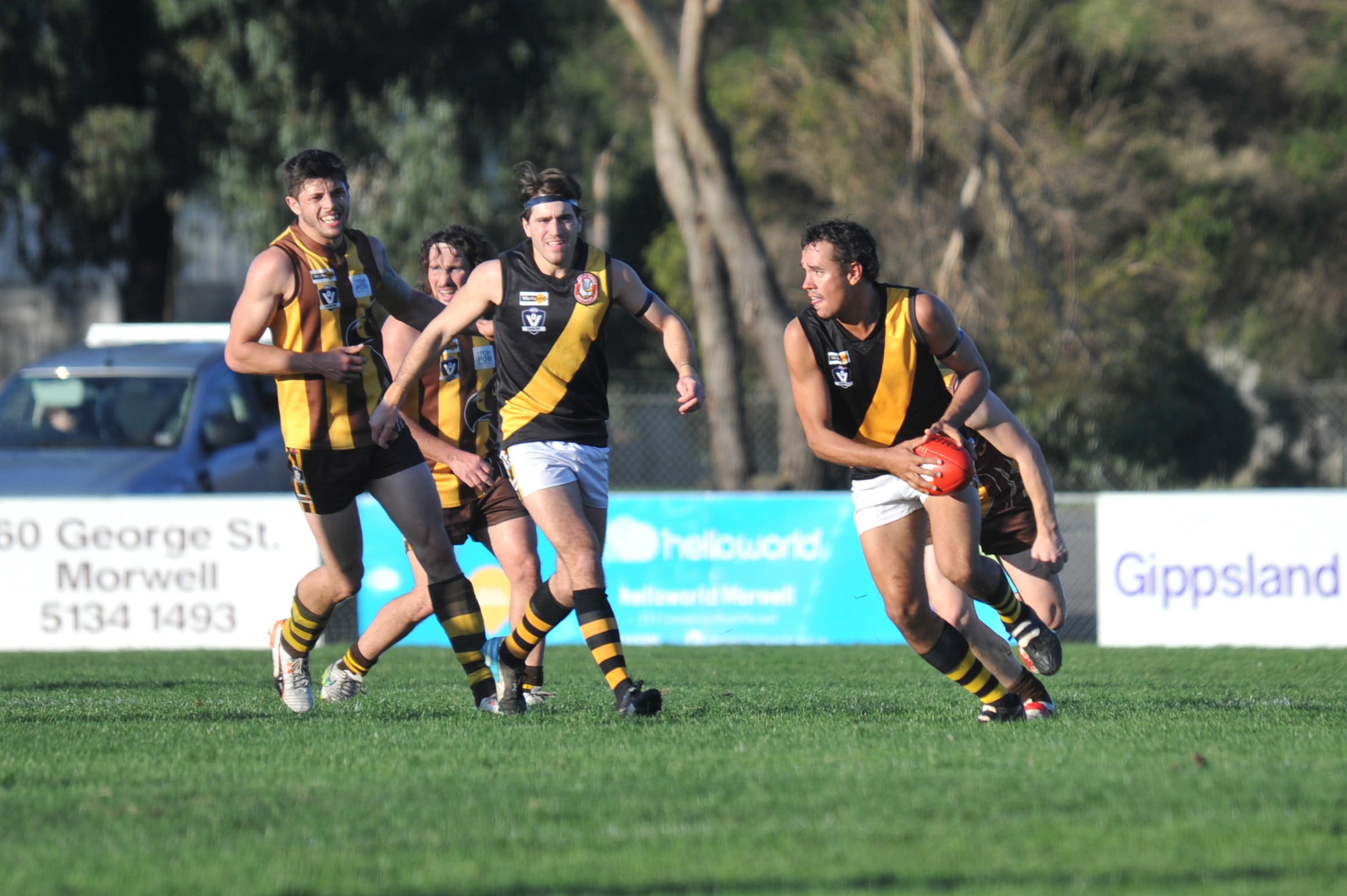 MID GIPPSLAND FOOTBALL LEAGUE

YALLOURN-Yallourn North recorded its fifth consecutive win on Saturday, accounting for Newborough by 58 points in round six of Mid Gippsland football.

The Bombers wrestled the Energy Australia Cup back from the Dogs and also secured second position on the ladder, four points adrift of Yinnar.
YYN started well with quick goals while Newborough found itself always second to the ball.
By half-time the Bombers led by 24 points and extended their lead after the main break, thanks to a mobile forward line.
Thomas Hutton starred for YYN and his two goals helped the Bombers pull away from the Dogs.
Bombers' Barrie Burnett never put a foot wrong with strong, gutsy play.
Newborough was on the end of a mauling by three-quarter-time, trailing by 50 points.
The hero of the Hill End match, Liam Carolan, tried hard for Newborough, but too many of his teammates seemed overawed by the occasion.
YYN reaped the benefits of good play with a further four goals in the final quarter, winning 17.5 (107) to 7.7 (49).
Bombers' Darcy Shelcott scored four goals, while Tyler Brown, Adam Bailey and Campbell McInness were among the best.
Newborough was well represented by Carolan, Daniel Halstead, Josh Whittaker and Tyler Mander.
Thorpdale v Boolarra
In the closest encounter of the round Thorpdale continued its run of success with a 49-point win against Boolarra.
The Blues needed the points to stay in touch with the top five.
In a fairly even first half, Thorpdale just kept ahead and by half-time the margin was in its favour by nine points.
The Blues' forwards ran riot after the long break, but full credit also goes to their defence who kept repelling Boolarra's attacks.
Thorpdale's tally of 16.11 (107) was its highest result against Boolarra since 2011.
Thorpdale's Ilan Osman was again on target with a five-goal haul, while Sam Mazou scored two for Boolarra.
Nicholas Brown, Daniel Martin, Corey Celima and Osman were best for the Blues.
For Boolarra it was a hard day out with Matthew Buglisi, Daniel Wilson, Nick Hider and Chris Riseley its best.
Mirboo North v Morwell East
Mirboo North shook off the shackles of defeat with a well earned 73-point win against Morwell East.
After wasting scoring opportunities in the opening stanza, where the Tigers boasted most of the play (15 to eight inside 50s), they could only manage 1.6 in a poor display.
However, Morwell East made the most of its forward entries with two straight goals by the first break.
Mirboo North reversed the trend in the second term and was slightly more accurate with 4.4 (28), but its scoreline of 5.10 (40) to 4.0 (24) did not look too impressive at half-time.
After the long break it was a different ball game as Mirboo North got its act together.
Tim Traill kicked five of his best for the season and Jack Robertson chipped in with two.
Brandon Francis scored a couple for Morwell East but the goals were too few.
The Tigers' best players in their 17.18 (120) to 7.3 (45) win were Robertson, Joshua Taylor, Traill and Dane McGennisken.
Trafalgar v Hill End
Trafalgar retained the Balfour Trophy against Hill End with Mathew Robertson shining for the Bloods.
Robertson kicked eight goals in his best effort of the season, backed with four from Blake Slater as the Bloods pulled out their best win of the year, 15.13 (103) to 4.4 (28).
A seven-goal opening term for Trafalgar crippled Hill End who was unable to get back into the game.
However, the Hillmen held Trafalgar to only 1.2 (8) in the final term, but the damage had been done.
Robertson received the top trophy award for the Bloods along with Wade Kelly, Damien Mann and Blake Slater.
Hill End has now lost its past 22 games against Trafalgar, who last won in 2004.
The Hillmen's best were Kris Ayton, Richard Horton, Simon Fairbairn and Jack Duncan.
Yinnar v Yarragon
Yinnar continued its unbeaten run with a convincing victory against Yarragon.
The Magpies remain at the top of the ladder thanks to a blistering seven-goal, first-quarter effort.
Yinnar applied the breaks in the second and third quarters, with the Panthers lifting their game through the brilliance of Troy Lehman.
However, Yinnar's forward-line was too powerful with Cam Harwood kicking five goals.
Yinnar finished more strongly than the Panthers to win 19.11 (125) to 10.4 (64).
Lehman was the standout with a bag of seven, one short of the record against Yinnar of eight set by Terry Kilday in 1980, Shane Webster in 1987 and Graham Lake in 1988.
Harwood finished with five and Aidan Quigley four for Yinnar.
Kade Grinstead-Jones, Cam Harwood, Luke Linton and Jesse Sleswick were Yinnar's best, while Paul Harvey, Lehman, Devin Pollock and Joel Kilday starred for the Panthers.