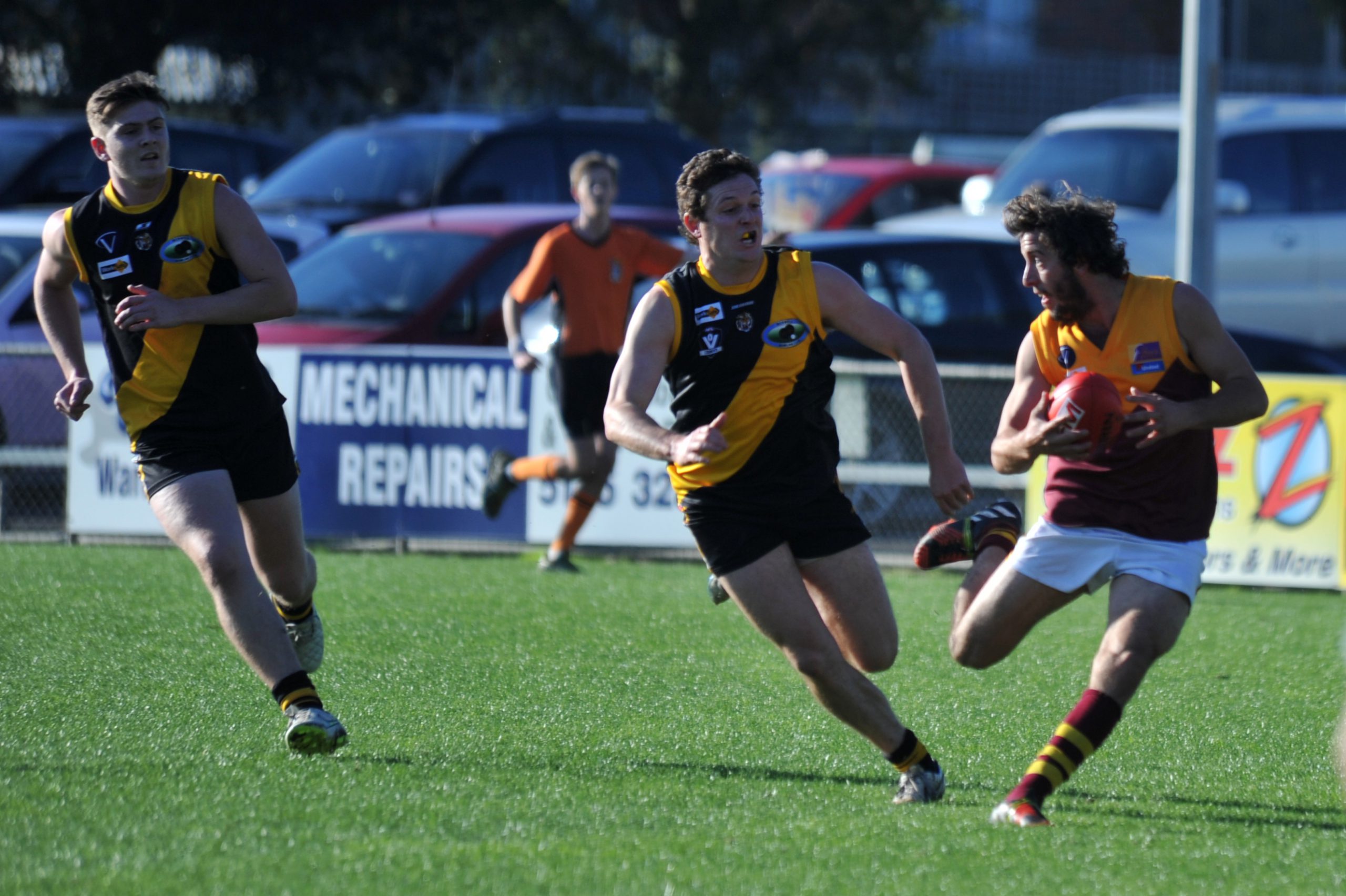 GIPPSLAND FOOTBALL LEAGUE
Morwell's unbeaten run under coach Joel Soutar's leadership has come to an end, with the reigning premier succumbing to Drouin on Saturday.
"Very disappointing, obviously credit to Drouin, they came out to play today and used the ball a bit better than us and got the result," Soutar said, who coached from the sidelines for a second week, due to a foot injury.
"We did the hard yards last week against Maffra to put us in a good spot and today we have let that fly out the window."
Its fourth for the year, the 30-point victory earned the Hawks a spot back in the Gippsland League's top five.
Coach Bob McCallum described it as the win his club needed.
"Four-two sounds much better than three-three, we will definitely take a lot of confidence out of this going forward," McCallum said.
The Tigers booted five goals to the Hawks' three in the opening term to lead by 12 points at three-quarter-time.
"We started really well. We just had a few missed opportunities," Soutar said.
"We had 10 inside 50s early in the second and they had four and kicked three goals, so that definitely cost us."
Drouin led by nine points at half-time and 12 at three-quarter time, before running out winners by 24 points.
"We have worked pretty hard on our fitness and it's starting to show through," McCallum said.
For Morwell it's back to the drawing board.
"We will re-group, hopefully get a few back and look at a few things over the next fortnight," Soutar said.
Moe v Maffra
Third-placed Maffra fought off a defiant Moe to notch up its fourth win of the year to the tune of 20 points.
"We worked really hard and we were in the game for the majority, we just couldn't bridge that gap and get close enough to win," Lions coach Adrian Burgiel said.
The visiting Eagles got the jump on their opponent, booting four goals to two in the opening term.
By half-time Maffra's lead was out to 29 points.
Moe slammed on five goals to two in the third to get within two goals at three-quarter-time.
Moe and Maffra booted a goal apiece in an inaccurate final term for the visitor. Burgiel said it was the turnovers that cost his side the four points.
"It would have been nice to try and knock them off, however it gives the boys confidence that we can match it with the top sides," Burgiel said.
Darren Sheen kicked a bag of five for Maffra, a haul almost matched by Moe recruit Mark Engley.
"He kicked four but he missed a couple that he probably would normally kick," Burgiel said.
"It could have been a big day for him had he kicked straight, but he gave us a good option down forward and got a lot of the ball."
Wonthaggi v Traralgon
Traralgon has conceded its first loss since round one, going down to Wonthaggi by 12 points in a tight contest, plagued by injuries which left both teams with limited interchange.
"It was one of those games, it sort of ebbed and flowed," Wonthaggi coach Rob Railton said.
"One minute they had momentum, then we got it back. They came again at the end and it was a really gutsy win by the boys, I was really proud."
It was a win that earned the Power second spot on the ladder, behind Leongatha.
Despite losing Joel Liddle to a knee injury in the opening 30 seconds of the match, the Power got the jump on the Maroons early and led by 12 points at quarter-time.
The visitor fought back to within three points of its opponent by half-time.
Wonthaggi came out firing in the third, booting six goals to Traralgon's three, to lead by 21 points at three-quarter-time.
The Maroons won the last quarter but it was too little too late for the visitor, which fell 12 points short.
Bairnsdale v Sale
Despite a slow start Sale notched up its second consecutive win on the road against Bairnsdale.
Magpies coach Travis Ronaldson said it was a good follow-up performance from last week's three-point victory against ladder leaders Leongatha.
Just five points separated the Redlegs and the Magpies after a hard fought opening term.
It was a similar margin at half-time, after another even quarter, which saw both sides add three majors to their tallies.
The visitors kicked away in the third with four goals to one.
The Redlegs won the last quarter on the scoreboard, however it was not enough to win them the match.
John Gooch and Rhys Carter were among the standouts for Sale with four goals each.
Warragul v Leongatha
Leongatha bounced back from its first loss of the year to beat Warragul by 68 points.
The Parrots came out firing in a six-goal-to-two opening term in a bid to put its three-point loss to Sale behind them.
Warragul matched its opponent on the scoreboard in the second and trailed by 25 points at the half.
However it was all Leongatha in the third.
The visitors slammed on eight majors to two to lead by 10 goals at the last change.
The ladder leader added another five majors in a more closely contested last term, which saw the Gulls boot four of their own.
Jake Best top-scored for the Parrots with seven goals, while Aaron Hillberg kicked four and John Ginnane, three.