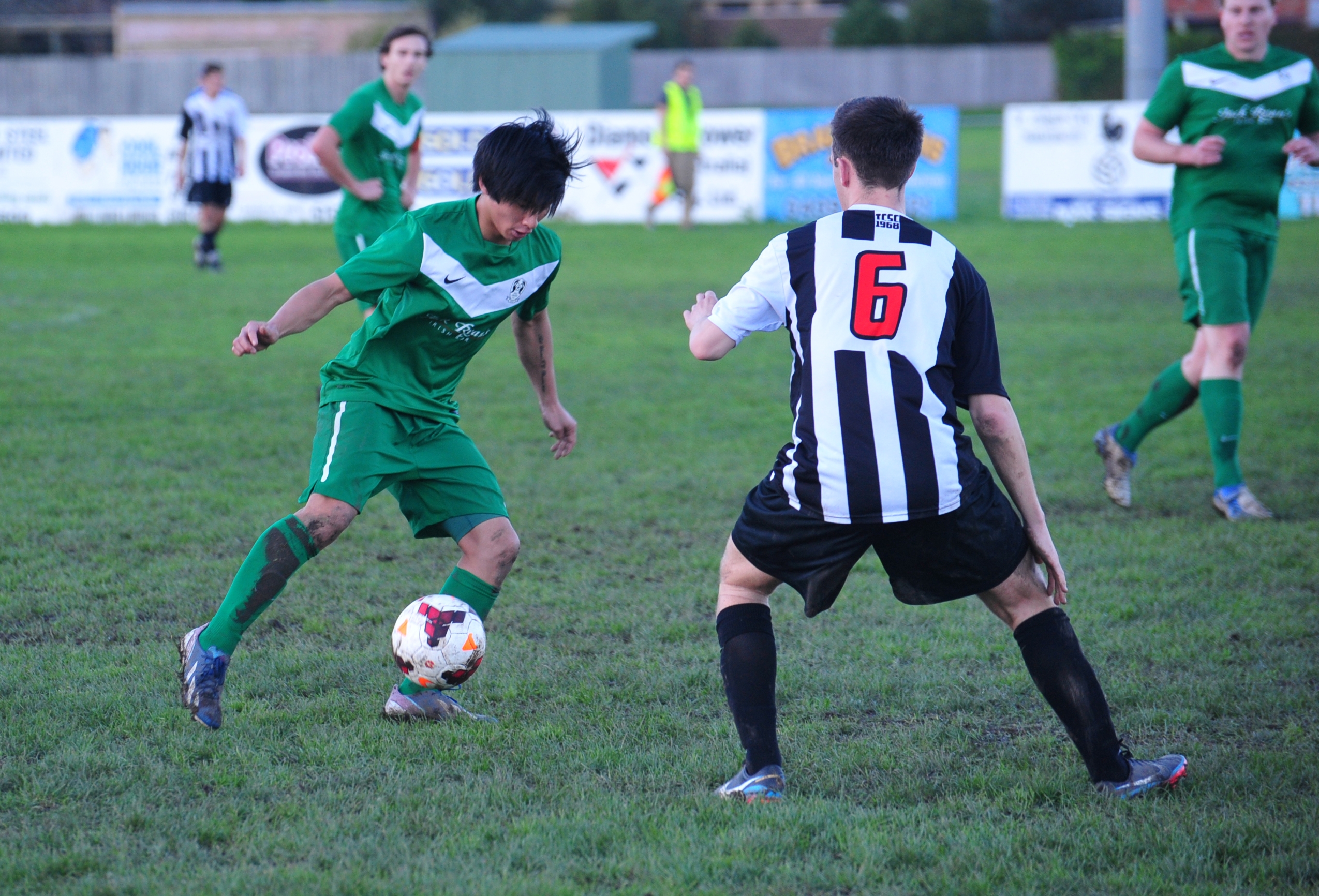 SOCCER

Gippsland Soccer League
MONASH continued its Gippsland Soccer League mid season resurgence, returning from Churchill with a 3-1 win.
The Wolves should have taken the lead early but Ty Christy was unable to make good contact in front of goal.
The Rams' best chance of the half fell to Tyson Webb, whose header grazed the upright, but neither side troubled the scorers by half-time.
The deadlock was broken early after the interval when Monash's Mark Kasprowicz broke down the left flank and slotted past ex-Wolves keeper Ross Johnson.
Johnson was proving a tough nut to crack as he repelled his former teammates on many occasions to keep his team in the game.
Churchill hit back via the penalty spot on the half hour mark as Paul Riess nestled his shot into the top corner.
The Rams had barely enough time to finish celebrating before Monash reclaimed the lead.
Churchill failed to clear its lines and substitute Daniel Abela saw his effort well saved by Johnson, but the rebound fell to Wally Noppert who steered it home through a sea of bodies.
Things immediately got worse for the defending league champion with Riess sent from the field for remonstrating.
Monash wrapped up all three points through Callum Polo, who capped a fine display with his first senior goal.
The result saw the Wolves join the seventh-placed Rams on 17 competition points.
Falcons v Trafalgar
UNDEFEATED Falcons 2000 maintained top spot on the GSL table with a thumping win on the road to Trafalgar.
The afternoon was one for the record books, as the Morwell club claimed its biggest victory in GSL history; a 16-0 whitewash left the home side powerless to stop the rout.
The tone of the game was set within two minutes as wing back Kevin Carcellar tore down the flank to set up Jesse Kennedy who made no mistake.
Kennedy was later to miss a spot kick opportunity but that did little to halt his or the Birds' onslaught.
By afternoon end Kennedy had helped himself to six goals while Gianni Salvatore and Nick D'Alessandro scored two apiece.
Sam Amaira and Isaac Abas also chimed in with single strikes.
Conor Clarke returned to senior ranks and did not miss a beat when substituted on at half-time, scoring four goals in an efficient performance from the league leaders.
Sunday sees Falcons face fellow GSL central league newcomer in East Gippsland.
Fortuna v Olympians
THE battle for fifth place on the GSL ladder fizzled out into a draw as Olympians snared a second half goal to grab a share of the points against Fortuna.
A goal to James Gatt salvaged a point for the Traralgon side, in a feisty clash which saw several cards handed out including a red to Olympians striker Heydan Cook.
The match was the last for Fortuna find Bailey Mangano, who departed for the United States this week to pursue a soccer scholarship.
Sale United v Traralgon City
SALE returned to the winners' list after a patchy few weeks, accounting for Traralgon City 2-0 away from home.
Coming off losses to Falcons and Newborough Yallourn United in recent rounds, the Swans regained second place on the ladder over Moe United on goal difference.
Tyers SC v Moe United
MOE United was at its imperious best on Sunday, punishing Tyers SC 8-0.
Luke Bathgate grabbed a bag of five in the rout, with support from Matt Shearing (2) and Joel Baldwin (1).
EGUFC v Morwell Pegasus
A MORWELL Pegasus skeleton crew made the journey to West Bairnsdale, and was met with no mercy from East Gippsland United.
With all but three players backing up from reserves, Pegasus was unable to repel the home team, going down 6-2.
Callum Clancy was in fine form, scoring five times for EGUFC.
In one bright spot for the visitor regular Pegasus goal keeper Leon Cook scored a cracking long range goal, his first for the senior team.