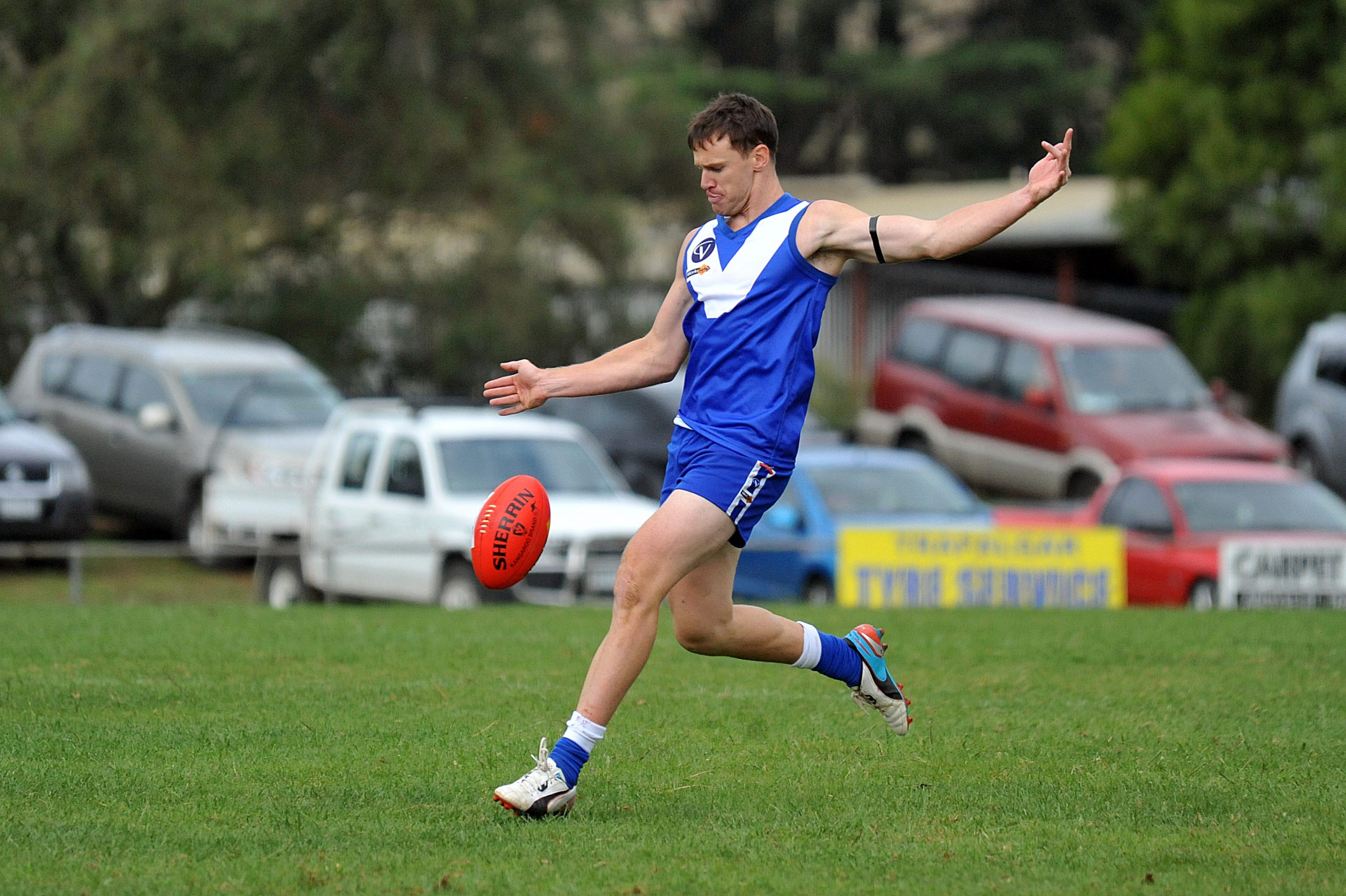 THORPDALE toppled Yinnar for the first time in five years to produce the upset of round 11 in the Mid Gippsland Football League.

The Blues' 8.14 (62) to 5.6 (36) win on the road to one of the competition's powerhouses saw it retain a spot in the five with a six-point buffer over Morwell East.
An opening stanza of 3.8 (26) was the start Thorpdale needed, while at the other end Yinnar was misfiring in front of goal.
The Magpies registered their worst opening quarter for the year, posting 0.1 (1) in a horror showing.
Yinnar came back in the second, but it was a tired looking black and white outfit while Thorpdale looked to have more legs and clung to a 17-point lead by half-time.
With Yinnar's regular routes to goal being blocked off, Thorpdale kept the Pies under constant pressure.
Kris Bedford, Nick Brown and Jack Yelland were proving handy players for the Blues but their efforts around goals were marginal.
By three-quarter-time Thorpdale was in a strong position to enact a big upset and they finished the job, restricting Yinnar to its lowest score for the season, 5.6 (36), to win by 26.
Ilan Osman and Nathan Scurrah both scored twice for Thorpdale while Yinnar scratched around with five goal kickers.
After occupying top spot for much of the first half of the fixture, the Magpies have now tumbled to fourth.
YYN v Trafalgar
YALLOURN-Yallourn North retained top spot with its ninth straight win, breaking a 10-year hoodoo, this time at the expense of Trafalgar.
Again the scoreboard calculations came under a cloud but this week it made little difference to the outcome.
In a high pressure game, Trafalgar was without up to 15 regular senior players due to injury or work commitments.
The Bloods' coach was also away on family business in Albury and Dale Burridge stepped into the breech.
YYN was almost full strength and needed all its firepower as Trafalgar came out hard in the first term, making it difficult to score.
Backlines were on top and it took a lot of effort to get through the tough defences.
Tim Phillips opened the scoring for YYN but equal to the task was Trafalgar's Brendan Dawson and by the quarter's end the score line looked like an under 12 match with YYN 1.2 (8) just ahead of Trafalgar with 1.1 (7).
The Bombers stepped up in the second term; Luke Norder and Derk Pol did the bulk of the heavy work while Tyler Brown was busy.
Matt Swenson and Hayden Farrell were on song for Trafalgar, but YYN was on target and with five goal kickers in the term led 6.2 (38) to 3.4 (22) by half-time.
Trafalgar came out hard in the third and exerted renewed pressure on the Bombers largely through Ash Payne, who helped restrict YYN to 1.4 (10) for the term after being shifted to defence.
However the Bloods were wasteful, turning over possession five times which allowed YYN to get the easy run-on.
Goals to Joel Bragagnolo and Blake Slater brought the Bloods a bit closer but they still trailed by 10 points at three-quarter-time.
Darcy Price was good for the Bombers, rover Tyler Brown proved an opportunist and Jamie Hines was good across half-back along with Wade Kelly.
The final term saw Trafalgar spray some relatively easy shots as they peppered the goals, underscored by three strong marks by Dylan Farrell with no conversions.
Among the best on ground was Bomber Campbell Macinnes, who was able to touch on Trafalgar's wayward approach to goal and drive from defence.
The Bombers overran the tired Trafalgar and sewed up the match with a 7.2 (44) last quarter to win 14.8 (92) to 6.12 (48).
Mirboo North v Boolarra
MIRBOO North moved into second position with a powerful 18.12 (120) to 8.6 (54) win over Boolarra.
The Tigers were never in trouble and set out from the start to build percentage.
An opening term of 4.3 (27) to 1.0 (6) set the pattern for a good day for Mirboo North, which secured the Greg Lewis Trophy by game's end.
Ruckman Don Webb was a tower and rarely beaten around the ground, Jack Robertson was steady and the forwards Paul Hinkley (4) and Tim Traill (3) provided a good avenue to goal, with nine players coming to the party.
Boolarra did not give up but found it difficult to pass a strong defensive Mirboo North side.
The Demons shared their goals between seven players, with their best Gene Iorangi, Daniel Metcalf, Tim Dowe and Matthew Buglisi.
Morwell East v Hill End
MORWELL East kicked the highest score of the round with a 76-point win over Hill End.
The East enjoyed an excellent start and by half-time it was a one-way parade with the Hawks in season-best form.
Players were disciplined and reaped the rewards of positional play without crowding their forwards, which allowed Nick Toderico and Paul Henry to kick four goals each.
Hill End appears destined to sit last with a potentially painful seven weeks ahead.
Morwell East kept its chances of a final five appearance alive but must bridge a six-point gap to Thorpdale.
The final result of 18.13 (121) to 6.9 (45) was Morwell East's best return of the season.
The Hawks' best were Henry, Eric Semmler, Frank Marks and Brandon Francis.
For Hill End, Kris Ayton, Ben Noy, Richard Horton and Jace Paulet all tried hard.
Newborough v Yarragon
NEWBOROUGH snuffed out any chances of Yarragon causing an upset despite a closely fought first term.
The Bulldogs were pressured by a determined Yarragon side early but the Doggies regrouped in the second to post a mammoth 7.2 (44) to all but kill off the challenge.
Adam Kennedy (5) and Chris Handcock (4) provided the bulk of the goals as Yarragon had little answer to bigger bodied opponents.
Dillon Smith scored three for Yarragon but there were too few to back him up.
For Newborough it was a jump of one rung on the ladder to put pressure on the two teams above them.
Best for the Bulldogs were James Todd, Adam Kennedy, Liam Carolan and Anthony Rosato.
For Yarragon James Harvey, Ben Damschke, Dillon Smith and Sebastian Ryan received votes.