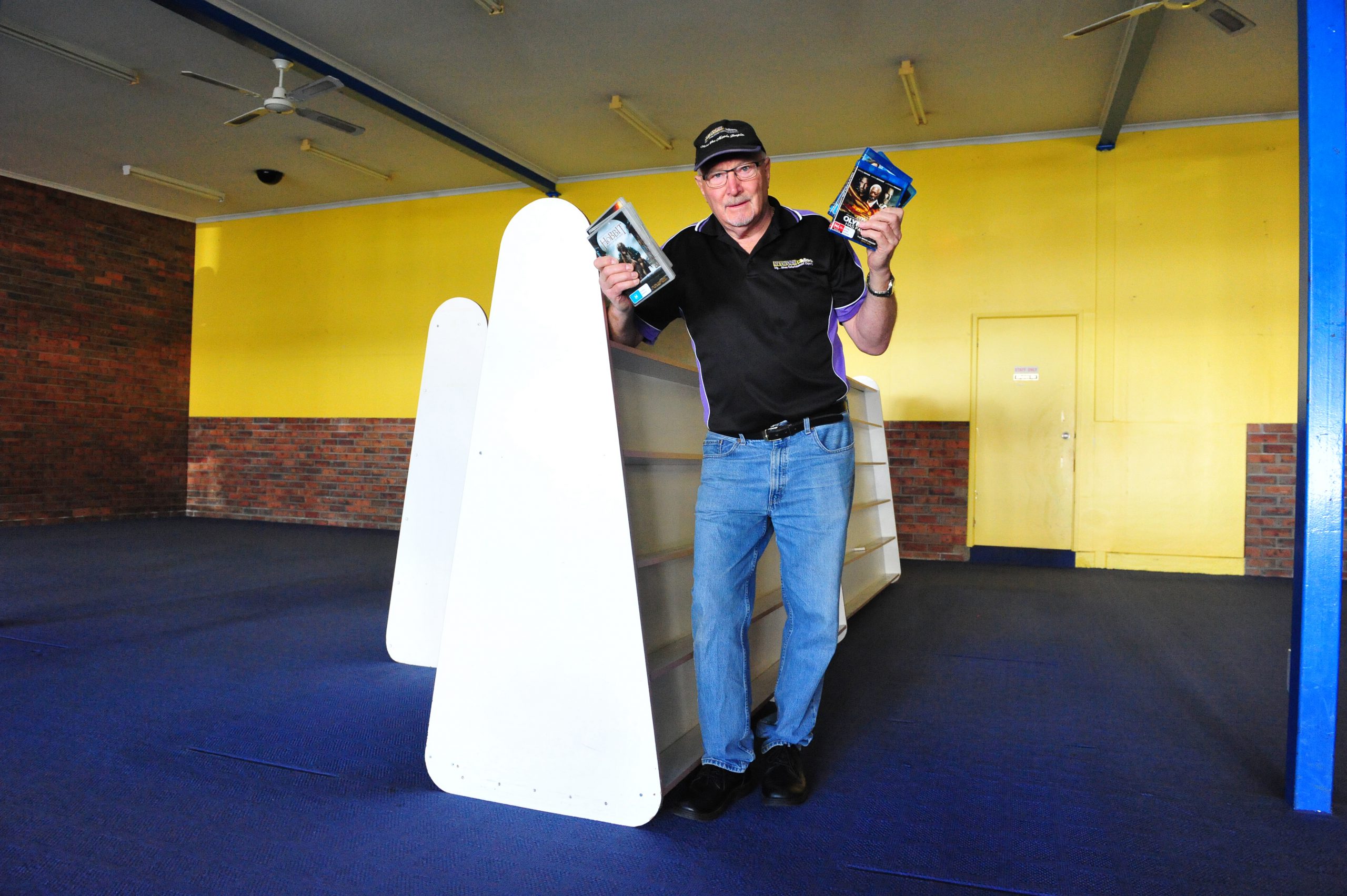 Jock Eastham began to notice a curious shift in his Morwell video store clientele.
Since the early 1990s, his core business had consisted largely of 15 to 35 year-olds, keen to snatch up the latest Scorsese epic or Russell Crowe biopic.
But three years ago, the face of the average renter began to age.
His loyal base of younger customers – once 85 per cent of his market share – were quickly turning to the convenience and ease of online downloading.
The writing was on the wall; Mr Eastham knew his DVD rental market was quickly heading the way of Adam Sandler's career.
"The last two years it's been a steep decline, in particular this year," Mr Eastham said.
"I decided that was enough, it was no longer manageable and continuing to stay open meant I would basically be going into a total loss.
"It's a sad day because it's been big part of my life."
Sunday marked the last day in the video clerk's quarter century career, when he closed the return shute to Morwell's Network Video for the last time.
Reflecting on the challenge posed by the ever growing availability of online video content, Mr Eastham, who counts Terminator 2 among his all-time favourites, doesn't mince his words; internet piracy has 'decimated' the industry.
"We've absolutely been fighting an uphill battle on this. When you want to hire out the new season of Game of Thrones, but it doesn't actually come out on DVD until next year but is already available online, you can't compete with that," he said.
"There seems to have been an attitude that pirating is okay, that 'if everyone else is doing it than so can I'. It's an attitude that's sort of coming into mainstream population."
Network Video's Morwell closure falls between the demise of Churchill's 'Future Flicks' store in May, and the pending closure of Traralgon's Video Ezy store, as the national franchise moves to rollout DVD 'kiosks' across the town.
With stores still open in Moe and Warragul, Future Flicks owner and manager Rick Dyt said he lamented the decision to close his Churchill doors.
"It was disappointing for the staff over there. I worked out that I had 45 different staff members in the 11 years I was there, so that's a loss to the community for jobs in future, and not good for the town to lose something the people like coming into, like browsing through a record store," Mr Dyt said.
"Churchill was a mixed situation where a number of things forced our hand. "The lease was running out, and we couldn't justify continuing amid all the challenges we were facing.
"You've got the illegal downloads, pirated copies at markets, new releases at discounted prices at supermarkets, and new online content providers like Presto and Netflix. All those things add up."
Acknowledging the future uncertainty, Mr Dyt said he wasn't ready to capitulate to the market's rapid transformation.
"I'm confident physical DVD shops will still be there for some time, but now it's about co-existing with other forms of movie watching," he said.
"I've still got confidence in it otherwise I would have gotten out of the whole lot."
In the 'heyday' of the DVD store, 85 per cent of Mr Dyt's turnover consisted of new releases; today, that rental ratio has shifted dramatically, with television series titles now his key earner.
"We've been working hard to have a wide range of TV on DVD, we got into it early and it's a big part of business now, which reflects the change in viewing habits," Mr Dyt said.
The gradual demise of the DVD ends a 25-year career for Mr Eastham, which began in 1991 with Pax Hill Video in Traralgon, when owning a video store was a 'licence to print money'.
"The period from when a movie screened in a cinema to coming out on video was two years. If you missed it at the cinema you had to wait," Mr Eastham said.
"You could put anything on the shelf, I mean you could put a 'D-grade' movie out there and anyone would rent it."
When the video industry faced its last major transition – the worldwide replacement of the retro plastic brick that was the VHS tape – Mr Eastham said initial apprehension quickly turned to enthusiasm for the digital optic technology.
"It was a very unusual transition. People at that stage were still unsure about the new format and about what was going on. "I would still buy, say one DVD copy, and still six to eight VHS tapes," he said.
"Then all of a sudden in about 2003, the whole scene flipped within 12 months and DVDs absolutely exploded.
"At first manufacturers were charging about $1000 per DVD player. All of a sudden prices started to decrease as more makers came on board. The price of players reduced and it just boomed. Within two years I stopped buying VHS copies."
With his life as a video clerk behind him, Mr Eastham the movie-lover lives on, and will continue enjoying the silver screen from his pimped-up entertainment system in the comfort of his own home.
"The greatest thing we all love is movies, it's one of the biggest loves of our lives. Life can become fairly hum drum, so to view the world through someone else's eyes is escapism that we all need sometimes," he said.