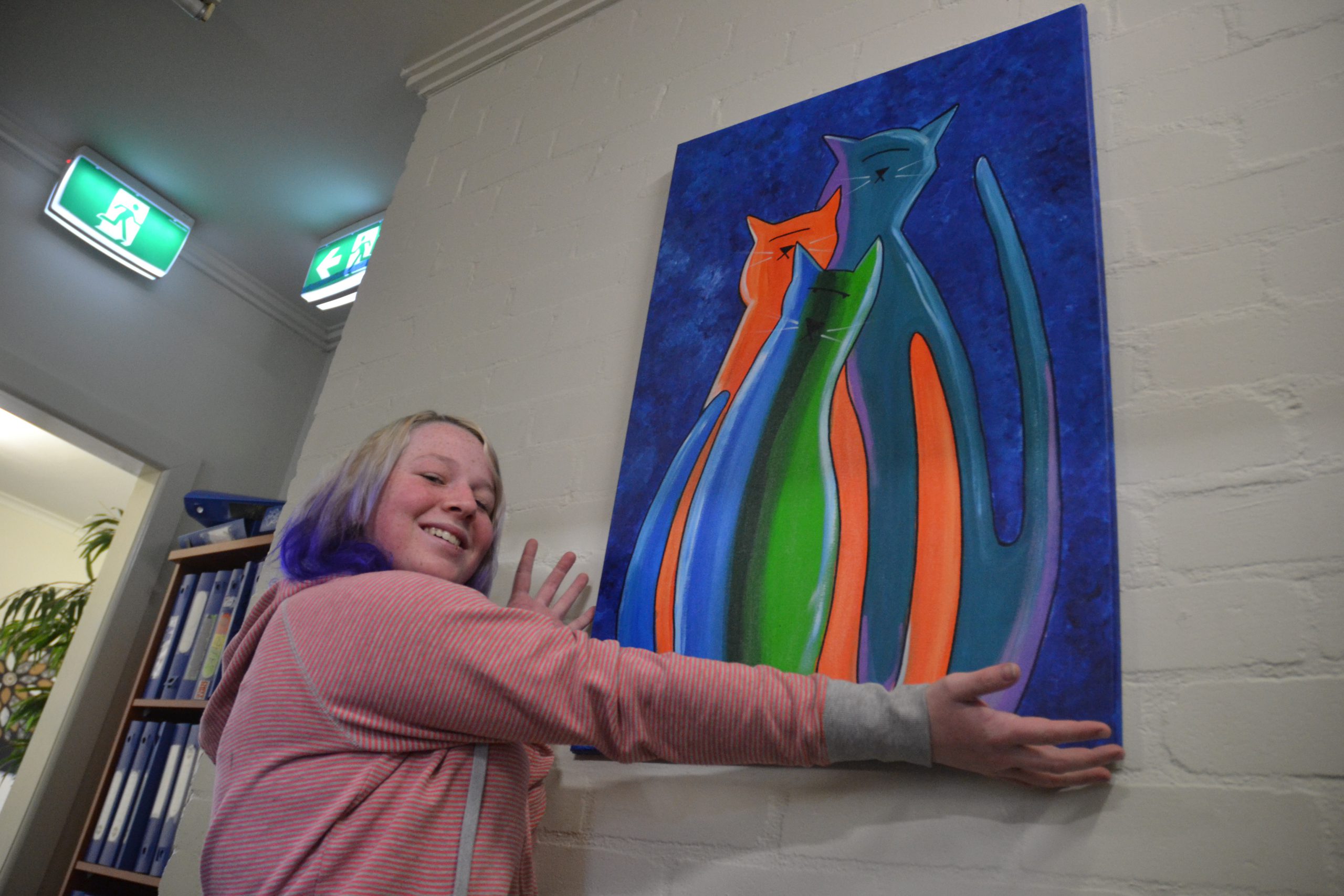 North of the tracks in Morwell, hope is being returned to the lives of some of Latrobe Valley's most vulnerable teenagers, where an abandoned medical clinic is becoming host to an emerging tale of 'hard knocks' success.
This school term the Latrobe Valley Flexible Learning Option – a 'safety net' for teenagers falling out of mainstream schools – celebrates not only its first birthday, but the successful reintegration of 15 troubled students into education or training.
Tasked with reconnecting 'at-risk' youth – whose lives are often marred with disruption, crime or family breakdown – with the structured settings of society, the 'FLO' has found an unlikely ally in artistic expression.
"We are completely rapt. It's exceeded our expectations, and the proof is in the results of the amount of kids that were at severe risk of being lost, who have now reconnected with education," principal Brett Pedlow said.
It's a bold call for an educational experiment still in its infancy, but after a tour of the school, one can't help but sense the potential.
In a visit to the FLO on a "quiet day" by The Express last week, the hallways were bustling with activity, their lengths adorned with colourful eye-catching works of art.
Sixteen year-old student Danielle was only too happy to pose for the camera with her colourful rendition of sleek cats, before taking it home for her mum, much to the protest of arts teacher Adel Zamer.
"It's okay, I'll make another one," Danielle assured enthusiastically.
Appetising scents of pizza wafted down the hallway from the kitchen, where students can cook meals at their leisure.
"It's little things like that here that makes students feel more adult, it's about respect and it allows them to connect with us more on the same level," Mr Pedlow said.
It's a setting far progressed from The Express' last visit 12 months ago, when the FLO was still adjusting to the confines of a half acre corner block on the Princes Highway.
It had been 18 months since the controversial closure of the indigenous Woolum Bellum College, a development which sparked education stakeholders into action for the Valley's at-risk youth and led the FLO's ultimate realisation.
At the time, Mr Pedlow said the school's goal was to "ultimately" facilitate 60 students at any one time; as of last Thursday, that target was already being met.
"We've had 75 students through here, 15 have already gone back to high school, found training or apprenticeships in TAFE, SEDA education, or been placed in other pathways."
"Of the 75, 21 have been indigenous and out of the education system for an average of three to four months.
"To give this cohort of students tangible outcomes for their future is terrific. It's a real value to the Latrobe Valley as a whole."
Individualised learning programs are applied to each student's needs through a network of consulting size rooms, where sessions of sport, art and other electives flesh out core literacy and numeracy classes.
Outside, an old car park has become a basketball court, while a shelter and garden shed have been built with the students' hands-on involvement.
"This has really become 'their' space, it's allowed them to take ownership of it," Mr Pedlow said.
Staff numbers have grown from a "bare bones" allocation to six full-timers and a handful of part-time teachers, with a transition and welfare officer position soon to commence.
An education liaison with the Latrobe Valley Children's Court has based his office on site, allowing him to serve the legal needs of region's troubled youth from "the coal face".
Specialist teacher Adele Zamer has come to fully appreciate the potential of creative expression since students began responding to the FLO's hands-on art sessions.
"We didn't know it was going to happen like this. These rooms started as blank canvasses, but now they are completely covered," Ms Zamer said.
"Many of these kids are angry, frustrated and withdrawn. The art gets them socialising with their peers, they start to relax and come out of their shell.
"It's a great space to find out what troubles are going on in their world, and then we can work out how to cater for their needs."
She recalled the initial reaction of a new arrival last year, who sternly told her he had "decked his last teacher with a T-square" before announcing he was "not doing any f***ing art".
Within a handful of sessions, the once defiant student "could not get enough of it".
"(Engaging in the creative process) teaches them it's okay to make mistakes, and when it doesn't work out, they don't have to implode, they don't have to storm out the door, they don't have to throw that chair through the window," she said.
"Risk for them is vulnerability. So this is about teaching them it's okay to take risks in life, it's okay to have a go at something you're not confident in, to apply for that job."
Nationals Member for Morwell Russell Northe threw his passionate support behind the school's development after the Woolum Bellum closure in 2012.
Last week, he described the school's progress as a "terrific positive result in a relatively short space of time".
"They are making headway, but the challenge of at-risk kids in need remains and the challenge is vast. Brett and his team are extremely supportive and working to get these kids back on track and thrive into the future," Mr Northe said.
With 18 Lowanna students having transferred in the past 12 months, assistant principal Joel Blythman applauded the FLO's inter-school collaboration with Lowanna, Kurnai and Traralgon colleges.
"Obviously there's been a real need for an environment such as this in the Valley for some time, it gives these students a skill set so they can flourish in their own lives," Mr Blythman said.
"We would love to see the FLO developed until there potentially is a campus in all three towns. There is certainly a need for it and we have seen strong outcomes with some students where this is proving to be the ideal environment."