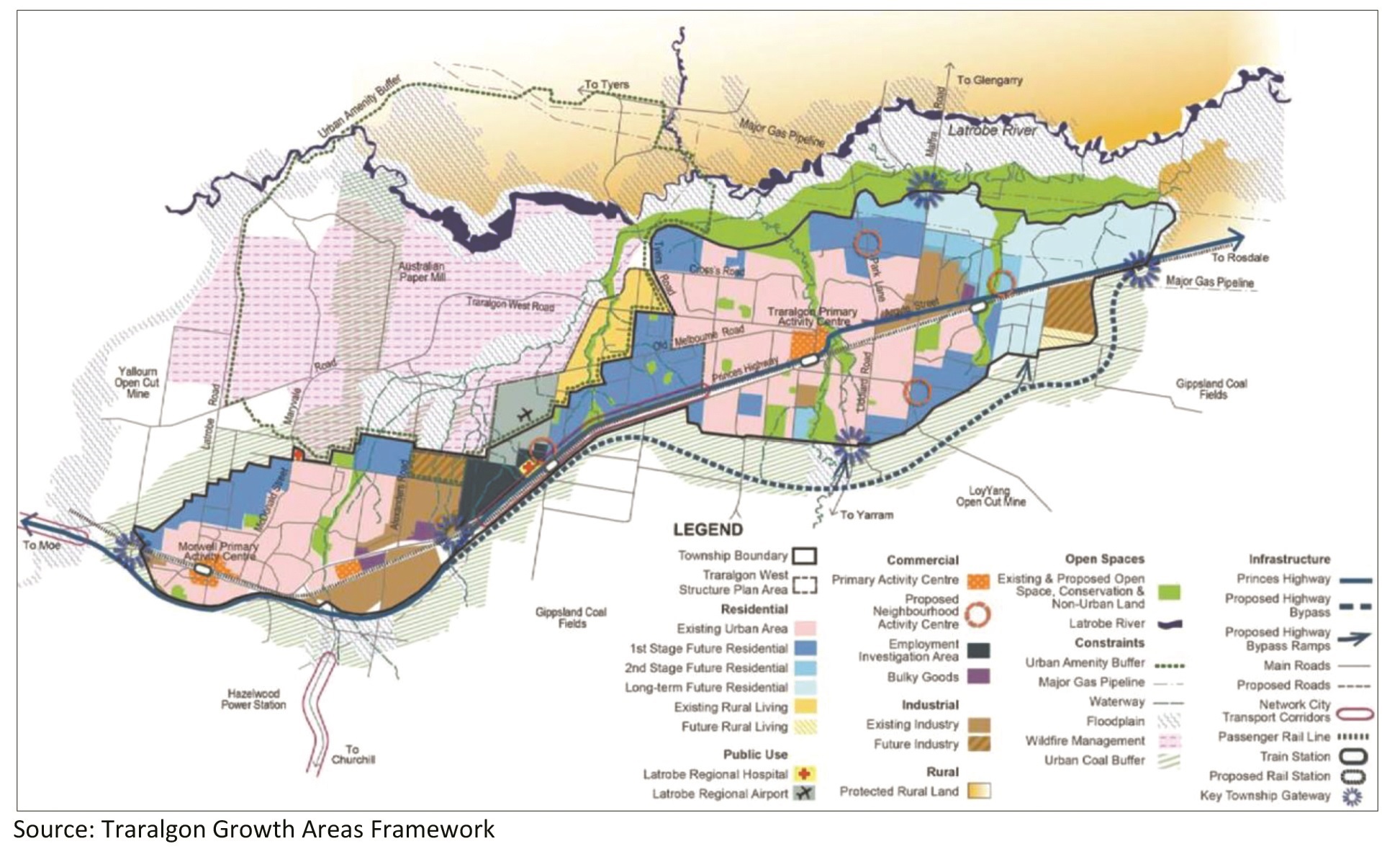 Multi-million dollar development opportunities in Traralgon's south east could be scuttled by an expansion to Loy Yang's coal mine buffer recently proposed by Planning Panels Victoria.
Latrobe City Council has called for an urgent peer review into the recommendation, made in PPV's June report on the Traralgon Growth Area Review, calling for an "interim" doubling of an existing one kilometre 'Environmental Significant Overlay' around the mine.
PPV's recommendation drew considerably from a submission by Loy Yang owner AGL, detailing mine-related ground instability stretching into Traralgon's established urban areas.
"While there may be strategic support for residential expansion through future rezoning towards the Loy Yang mine, the particular geotechnical circumstances and the associated significant risk to life and property do not appear to support this outcome," the PPV report stated.
A two kilometre buffer would put a key tract of land earmarked for development and future rezoning off limits, and could have significant design ramifications for the proposed Traralgon Highway Bypass, which would flank the town's southern side.
PPV's recommendation drew significantly from geotechnical evidence submitted by AGL, compiled by engineering consultancy Pells Sullivan Meynink, which found ground instability caused by Loy Yang mining activity already extended "well into the Traralgon township".
AGL's evidence, submitted late in the panel's submission period, has blindsided council officers, who until now were planning Traralgon's future growth with the understanding an existing one kilometre-wide barrier was an adequate fail safe against mine stability issues.
Latrobe City planning general manager Phil Stone said AGL's evidence had taken council officers by surprise.
"Until now we saw this as an issue which required us to maintain a balancing act, but it seems we had assumed incorrectly the coal buffer was adequate," Mr Stone said.
"Council has been a bit blindsided by this and the community will be justified in feeling like that too."
Council's planning department will consider PPV's findings with the assistance of an 'urgently sought' third party peer review, before making its own recommendation to councillors, who will ultimately make the final decision.
The process could become the first true test of the community's willingness to increase its coexistence with mining since last year's Hazelwood mine blaze, where coal fire took root some 500 metres from Morwell's southern fringe.

"It's important for the community to understand that the report is not binding on council or the community, but we do have to consider the recommendations, take further advice and continue discussions with other stakeholders in order to get the best result for the community," Latrobe City issued in a statement.
"(Vertical ground movement) is presently in excess of 0.4 metres beneath Traralgon and even more beneath Morwell. The magnitude of vertical settlement increases toward the mine batters," PPV's report stated.
"Increasing urban development and residential density as is proposed represents risks that are unacceptable and probably in excess of societal norms."
"(The existing buffer) should be increased to provide at least a 50 per cent safety factor".
While stopping short of making additional recommendations on mine proximity, PPV advised the application of similar buffer zones around the Hazelwood and Yallourn open cut mines.
The panel also recommended implementing a wider odour buffer around the Maryvale Mill, which could affect more than 1000 dwellings, rather than the 200 currently under a boundary put forward by Latrobe City in agreement with Australian Paper and the Environment Protection Authority.
Councillor Graeme Middlemiss said if adopted in its entirety, PPV's advised buffer zones would almost cover the entire Morwell township, jeopardising a proposed housing development on the western fringe and subdivision plans at the golfing range.
"One of the problems here is planners and government departments think the easiest way to solve mine stability problems is just to put buffers in and limit expansion of towns," Cr Middlemiss said.
"But they've got to bite the bullet and rehabilitate mines properly so there wont be stability problems in future."
Cr Middlemiss questioned the timing of AGL's last minute submission.
"I'm a bit of a conspiracy theorist, but I honestly believe Loy Yang's application was really about avoiding another mine fire scenario, and the risks associated with mining right next to a town. I don't think the underlying reason was stability," he said.
"I think they've made a fire risk assessment after the Hazelwood fire, and said 'we need a bigger buffer'. I would be very surprised if housing stability is the reason. It's hard to imagine stability can affect houses two kilometres away."
AGL did not respond to questions about the timing of its submission, however Loy Yang general manager Stephen Rieniets said the company planned to meet Latrobe City to discuss its submission.
"Allowing residential development to encroach closer to coal mining activities generates an increased risk of land use conflict," Mr Rieniets said.
"Mining and the community can co-exist, however recent events in the Latrobe Valley such as the Hazelwood mine fire and the Morwell freeway closure highlight the potential risks from allowing urban developments close to open cut mining operations."
A State Government spokesperson said its primary consideration was ensuring mining operations are safe and stable, including the surrounding land.
"It is appropriate that the matters raised through the panel process are addressed by the council in consultation with relevant Government departments and agencies," the spokesperson said.
The spokesperson said the proposed Traralgon by-pass route would not be affected by proposed ESO changes as the two km buffer would only apply to urban/residential development.
The Department of Economic Development, Jobs, Transport and Resources will seek advice from the Technical Review Board on the matter.
Meanwhile, Latrobe City has called on the community to "take interest" in the issue, considering the "significant" implications an expanded buffer could have on the Valley's future development.
"PPV has recommended the buffer as an 'interim' measure, so the community needs to be asking 'for how long?'. Council is trying to grow the community and Traralgon is constrained geographically by mines, the paper mill, plantations, and gas," Mr Stone said.
"This is essentially council taking leadership here, and stepping forward to provide certainty for the community and its future."