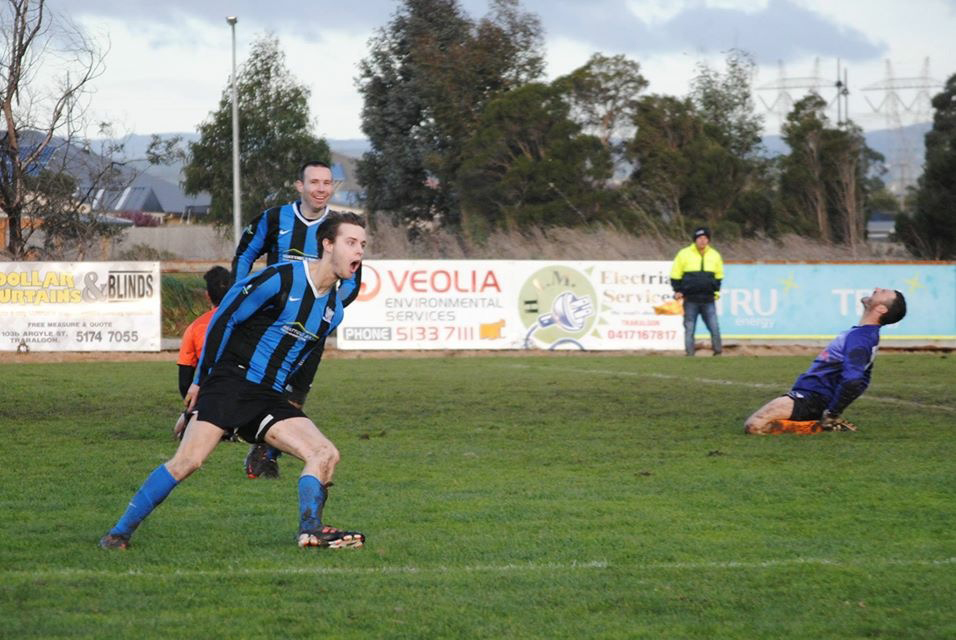 SOCCER

GIPPSLAND SOCCER LEAGUE
IN conditions that can only be described as unconducive to flowing football, the often heated Morwell derby between Fortuna 60 and Falcons 2000 proved yet again to be a tight affair.
Knowing that any slipup would put its Gippsland Soccer League title hopes in jeopardy, Falcons were hell-bent on taking all three points away from the Orangemen, who have the wood over the league leaders in recent memory.
Sunday's encounter also saw Falcons playing coach Nick D'Alessandro notch up his 100th game for the club and his charges would ensure the result would complement this milestone.
The early exchanges of the contest had the home side fashion two half chances, but Falcons muscled its way into the contest and soon took charge.
Falcons almost took the lead prior to half-time when striker Conor Clarke first saw his glancing header cleared off the line and then minutes later he skied over from close range to leave the score deadlocked at the break.
With the wind behind them, Falcons went on the offensive knowing nothing less than three points would suffice.
Fortuna created their first and only clear-cut chance of the game when Ivan Vekic was thwarted by Falcons goalkeeper Adam Brooker with a magnificent save at his near post.
The away side continued to press, however, try as they might, chance after chance went begging and with 15 minutes remaining it looked like Falcons' luck had run out.
With minutes to go a long racking goal kick eluded the home side's defence, with league top goalscorer Jesse Kennedy running in behind the Fortuna defence to astutely finish from close range and hand all three points to the league leaders.
Next week Falcons host Tyers Lightning in their second Friday night fixture, kicking off at 8pm at Latrobe City Sports Stadium.
Monash v Sale United
SECOND-placed Sale United kept in touch with league leaders Falcons with a 4-1 victory against Monash.
The Wolves and Swans were level 1-1 going into the half-time break, but Sale switched on in the second to pile on three unanswered goals.
Moe United v Olympians
TWO first-half goals to Luke Bathgate and Ashley Birrel was enough to secure all three points for Moe United against Olympians.
Moe remains level on points with Sale United, but sitting third on goal difference.
Despite the loss, Olympians still holds on to fifth position, one point clear of Fortuna.
Traralgon City v East Gippsland United
TRARALGON City leap-frogged East Gippsland United into 10th position with a 4-1 victory.
The game started well for EGU, with Ben Gillard finding the back of the net.
However, EGU's celebrations ended after half-time with Kehinde Aliya scoring his second hat-trick for the season as the Roosters steam-rolled the visitors 4-1.
Trafalgar Victory v Newborough-Yallourn United
BOTTOM-placed Trafalgar had no answers for Newborough-Yallourn United as the Combine demolished victory 5-0.
A red card to Connor Wyatt did not help Victory's cause as fourth-placed NYU went nine points clear of fifth-placed Olympians.
Tyers v Morwell Pegasus
TYERS' 2015 season improvement continued as it piled on the goals to defeat struggling Morwell Pegasus 5-2.
A hat-trick to Mark Pavich was the highlight of the match, with the Lightning climbing to ninth position on the ladder.
Churchill United had the bye.