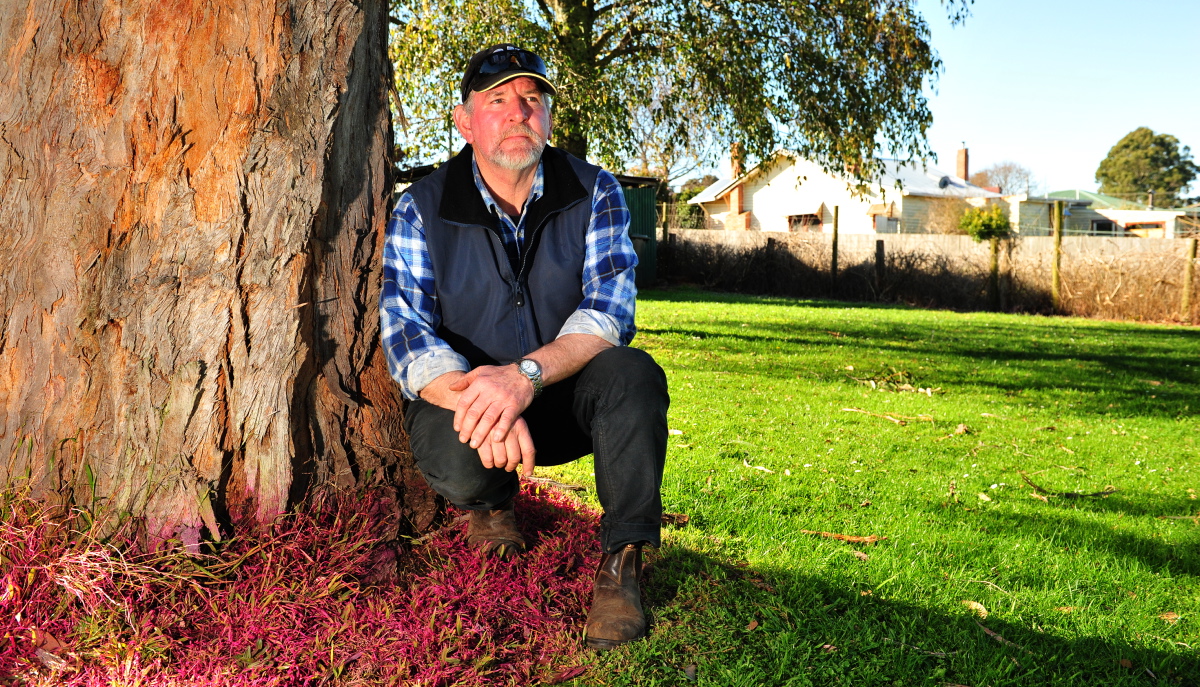 A medical test before starting work in the Hazelwood mine shows David Briggs had a healthy lung capacity.

The former RTL Mining and Earthworks employee never questioned potential health risks or the basic gear provided to him working in a crew of 12 to 16 men in the early stages of the Hazelwood mine fire that shrouded the town in ash and smoke for 45 days.
As the fire took root in the northern batters, the team worked in the early hours of the morning excavating and stockpiling the coal to stop faults and fissures burning deep into the ground.
"We were physically digging up the fire so you've got the ash pluming really thick all of the time, but you're actually agitating a massive, burning fire, which is the worst thing you can do," Mr Briggs told The Express this week.
Fifteen months on, the Moondarra resident's lung capacity had dropped by more than half.
He was diagnosed with life-threatening pulmonary fibrosis – a scarring of the lungs – in January this year.
The 55 year-old said respiratory apparatus or masks were never considered or mentioned by his employer.
Armed only with a hard hat, safety glasses, ear protection and steel capped boots, he said he returned home every night with work clothes covered in black soot.
"We thought they would have considered those things, but obviously not in hindsight. It's been a big mistake," Mr Briggs said.
On 3 March 2014, a pre-start medical requested by RTL at Gippsland Lung Function at Maryvale Private Hospital showed all parameters were more than 100 per cent, with a top lung capacity value of 144 per cent and average value of 114 per cent.
A more recent test on 10 June this year by the same practice showed one value as low as 34 per cent with an average of 58 per cent.
Pulmonary fibrosis was diagnosed by the family's general practitioner Dr Eddie Foo of Caringbah Family Practice in New South Wales, where the family used to reside.
"Initially I had come down with flu-like symptoms in October, but I progressively got worse and worse," Mr Briggs said.

"We were scratching our heads in disbelief."
In medical documents obtained by The Express, Dr Foo said interstitial lung disease was usually caused by exposure to environmental irritants including coal, sand and silica.
"Apparently Mr Briggs had a medical check in March 2014 before he started working at Hazelwood mine, he was considered fit at that time," Dr Foo wrote.
In the document addressing questions if Mr Briggs had any other underlying issues which may have caused his illness, he said: "I cannot see any other causes".
Mr Briggs is a non-smoker.
Dr Foo said the patient's occupation as a plant operator could be a valid cause to the interstitial lung disease.
In a subsequent document, Dr Foo said the diagnosis of pulmonary fibrosis "is not entirely clear to what is the main cause".
Mr Briggs said he had never been exposed to asbestos or other associated pulmonary fibrosis causes, such as psittacosis or 'parrot fever', a lung infection caused by the bacterium in wild or domesticated birds. A family history of lung disease was also ruled-out.
The family has filed for workers compensation with WorkSafe Victoria and is engaged in a conciliation process.
A WorkSafe Victoria spokesperson said for privacy reasons it was inappropriate to comment on individual claims.
Today, Mr Briggs said he was on "extremely light" duties and odd jobs at his 18-hectare Moondarra cattle property, but the family was struggling financially no longer able to engage in contract work.
He continues to receive regular lung function testing, blood tests and a swathe of prescription medications with long-term side-effects and has a palliative care team at West Gippsland Healthcare Group in Warragul.
The CFMEU has provided the family with financial assistance through the National Assistance Fund, which provides funds to members during disputed compensation workers claims.
In a response to the "seriousness" of Mr Briggs' health, CFMEU organiser Duncan McGregor sent a letter to the union's 1200 members last week to avail themselves of health services, lung tests and to participate in the long-term Hazelwood Health Study.
Maurice Blackburn principal Gino Andrieri said Maurice Blackburn was in the early stages of investigating a claim on behalf of Mr Briggs and was seeking information about his medical condition from his treating doctors.
Mr Andrieri said anyone who worked at the Hazelwood coal mine during the fire that believed they had an illness or symptoms associated with the fire should seek medical help as soon as possible.
He said members of the community should also get in touch with the Hazelwood Health study team, who are investigating the long-term health impacts of the fire.
RTL and Hazelwood mine operator GDF SUEZ have declined to comment.