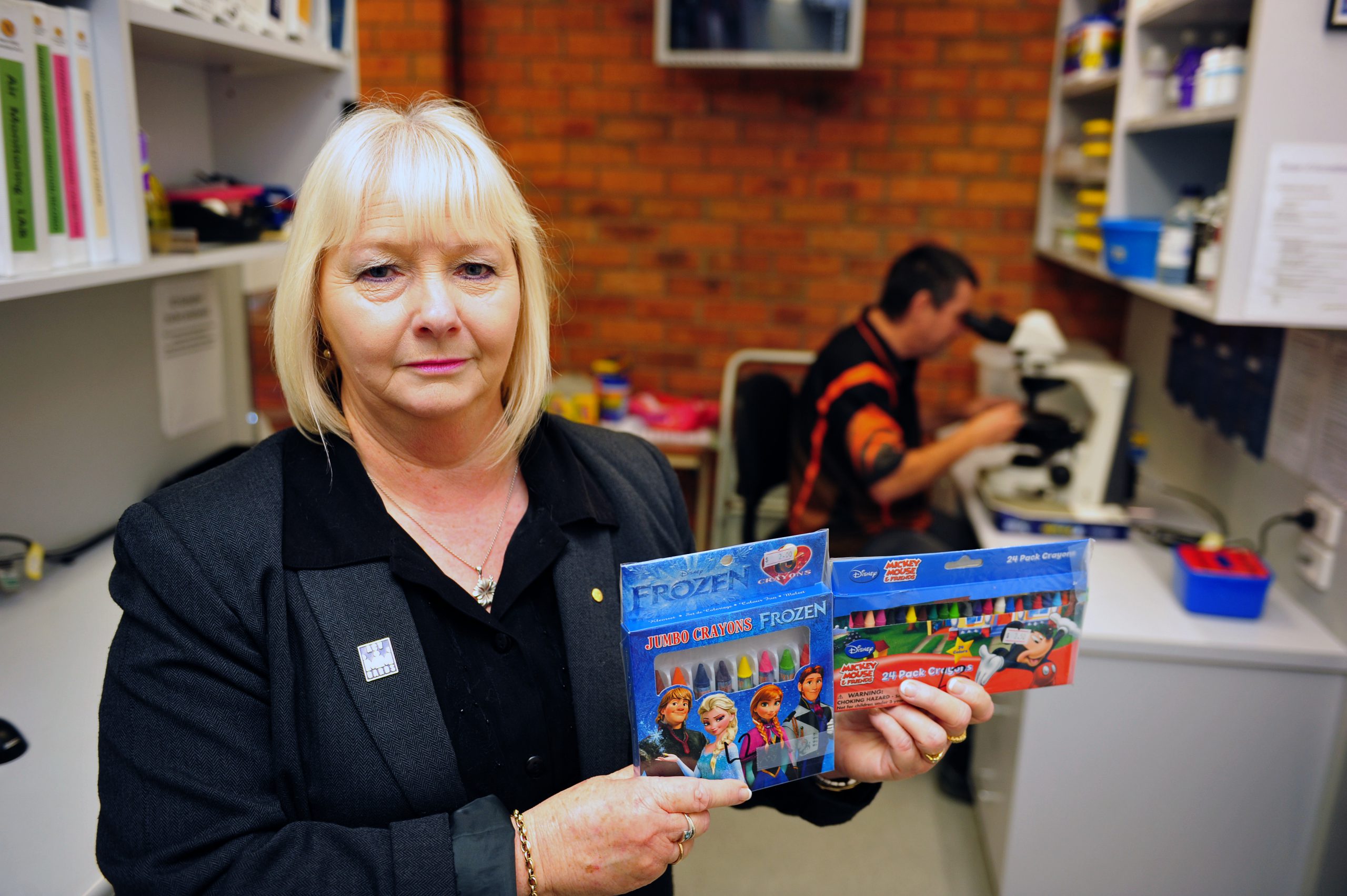 The Asbestos Council of Victoria fears children may be exposed to harmful asbestos fibres following recent testing of crayons purchased in the Latrobe Valley.
A West Australian laboratory tested samples from two different packets of crayons made in China and found fibres with an elemental composition indicative of types of asbestos.
One of the crayon packets tested featured pictures of characters from the Disney movie 'Frozen', the other was marketed as 'Mickey Mouse and Friends'.
ACV chief executive and long-time local anti-asbestos campaigner Vicki Hamilton said she was sickened by the test results.
"I feel sick to my stomach," Ms Hamilton told The Express.
"This is so wrong on so many levels and I want to see government departments take some initiative and start doing something around all of this stuff.
"I don't want to see any children being exposed to this sort of thing."
The Australian Competition and Consumer Commission told The Express this week it was in the process of testing a range of crayons, but has not confirmed whether the type of crayons tested in WA would be included in these tests.
Moe-based asbestos testing laboratory Mairin OHS&E Consulting conducted tests on crayons purchased off the shelf in the Latrobe Valley following reports in July of a discovery in the United States that asbestos fibres were found in a range of children's crayons.
Those crayons were made in China and reportedly available in Australia through online retailers.
"We put (the local crayons) in the oven at 400 degrees for 24 hours," Mairin operations manager Damian Murphy said.
"All the volatiles and waxes burn away and you're left with a creamy white powder, basically the talc is all you're left with.
"You start sifting through that talc and then you can start pulling out fibres and then you look at the fibres under the microscope."
Mairin found that fibres showed characteristics of asbestos, but it was unable to make an unequivocal determination.
It then sent the samples to West Australian lab Microanalysis Australia, which uses different technology.
The company's lead consulting scientist Nimue Pendragon said when asbestos was in unusual matrices, such as crayon wax, it was harder to distinguish using optical testing techniques.
She said Microanalysis Australia used technology that allowed it to analyse the elemental composition of fibres to determine whether they matched asbestos.
According to the Microanalysis report, in the sample taken from crayons in the packet marketed with pictures from the movie 'Frozen', the lab found some of the observed countable fibres had an elemental composition indicative of chrysotile – white asbestos.
In the sample taken from crayons marketed with pictures of Mickey Mouse, most of the observed countable fibres had an elemental composition indicative of tremolite (another type of asbestos) or chrysotile.
Microanalysis Australia has been operating for seven years and says about 30 per cent of its testing is asbestos-related, however it is not accredited by the National Association of Testing Authorities.
Principal consultant Rick Hughes said the lab's technology was high-resolution and in-depth.
"There are no standards for doing what we're doing, we are a step in front of that, so getting that accreditation is a little bit more difficult," Mr Hughes said.
He said different processes were used depending on the type of material being tested and as a result it would take a lot of work to develop an all-encompassing in-house asbestos testing method accredited by NATA, however the lab was working with NATA towards that.
Mairin OHS&E is NATA accredited.
While the crayon packets bought locally are labelled 'Disney Frozen Jumbo Crayons' and 'Disney Mickey Mouse and Friends', this does not necessarily reflect the name of the manufacturer.
The back of the 'Disney Mickey Mouse and Friends' packaging included the name National Design San Diego, which The Express is attempting to make contact with.
According to its website, National Design is a manufacturer and supplier of "stationery, coloring, craft items, and writing instruments to the Retail and Promotional Products markets".
It is unclear exactly what its role is in relation to the local crayons.
Mairin OHS&E principal consultant Darren Carman said in some areas where talc was mined, asbestos was present as a "naturally occurring contamination".
Talc is used in crayons and Mr Carman said asbestos found in crayons could be the result of contaminated talc having been used.
Ms Hamilton is calling for all crayons made in China to be taken off Australian shelves until an investigation is carried out.
The ACCC said the presence of asbestos in consumer products was "unacceptable" and it was testing a number of "these products" and assessing what steps needed to be taken to minimise any possible risks to consumers.
"Where our testing identifies asbestos we will ask suppliers of those goods to stop supplying them," an ACCC spokesperson said.
"We expect that any suppliers notified that their goods contain asbestos would cease supply and offer a refund or replace the product with another that doesn't contain asbestos.
"The ACCC would expect the recall of any unsafe goods found."
A Department of Immigration and Border Protection spokesperson said the Australian Border Force had been actively working with industry, consumer groups and the ACCC to ensure any imported crayons or other products that may contain asbestos were identified, traced and responded to appropriately.
"The ABF has stood up a multi-stage operation that, in the first phase, has had its officers working in partnership with importers and retailers to establish immediate assurance about products of concern through accredited testing," the spokesperson said.
"This is a priority matter for the Department."
The Victorian Department of Health and Human Services declined to comment at this stage.
Members of the public are encouraged to report any information about imported products of concern to the Department of Immigration and Border Protection on 1800 009 623.