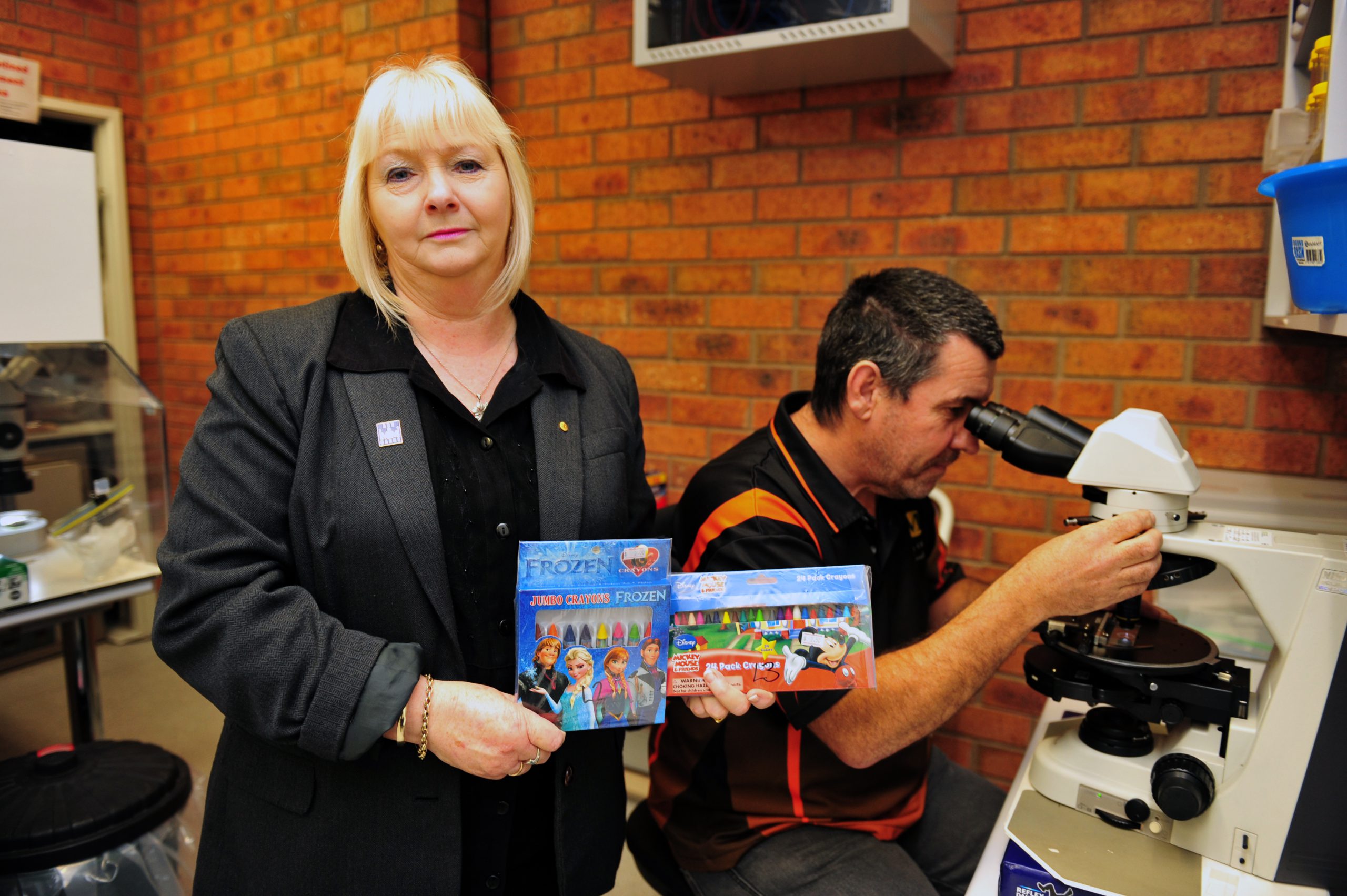 Types of children's crayons are being pulled from shelves and crayon imports from China have been halted, amid the detection of traces of asbestos.
It follows calls last week by the Asbestos Council of Victoria, headed by local anti-asbestos advocate Vicki Hamilton, for federal action following tests on samples from two different packets of crayons made in China and bought off the shelf in the Latrobe Valley.
The crayons, marketed with images of Mickey Mouse and the Disney movie 'Frozen', were found by a West Australian laboratory to contain fibres with an elemental composition indicative of types of asbestos.
On Friday, the Australian Competition and Consumer Commission counted these crayons among a group of six different packets found to contain traces of asbestos, placing an alert on its website.
Authorities are requesting that suppliers of those goods stop providing them and offer consumers a refund or exchange for a product without asbestos.
Ms Hamilton said while she was happy with a whole-of-government response, it did not go far enough.
"They need to do a total recall, that is the only way to know you've got them all," she said.
Yesterday, the Latrobe Valley store where the 'Frozen' and 'Mickey Mouse' crayons were purchased appeared to have taken the products off the shelves.
On Thursday, stationery retailer Officeworks revealed it had removed all its crayons from stores while "rigorous testing" was carried out.
The crayon brands it lists for sale on its website were not included among those brands that tested positive for asbestos.
The company said any customers with concerns could return crayons to stores.
The ACCC urged the public not to panic, saying it does not believe traces of asbestos present a safety risk to consumers because it is fixed within the crayon wax.
The Asbestos Safety and Eradication Agency said on its website studies had shown as a result of being bound in the crayon, asbestos fibres would not be released during normal use or as a result of ingestion.
"This is because the melting point of crayon wax is well above body temperature. Accordingly, these goods are considered to pose a very low risk to humans," the agency's website stated.
Ms Hamilton challenged this.
"Would they allow their children to have those crayons and put them in their mouths?" Ms Hamilton said.
"It beggars belief they can say that."
Employment Minister Eric Abetz said on Friday, the Australian Border Force had decided to detain imports of crayons from China that may contain asbestos fibres, "until adequate assurance is provided that the products are free from asbestos".
"The ABF will also continue to target high risk entities, including particular manufacturers and certain import and distribution companies, both overseas and in Australia," Mr Abetz said.
The ACCC said concerned consumers should return or dispose of the crayons, either by placing the crayons in a sealed plastic bag or in their original packaging and return them to the supplier and ask for a refund or replacement; or taking the crayons to an authorised asbestos disposal facility, which can be found by searching on the Asbestos Safety and Eradication Agency website.

A WorkSafe spokesperson said the authority was working with other government agencies to ensure distributors removed the brands from sale and warning retail outlets that have bought the crayons they must be returned or disposed of appropriately.