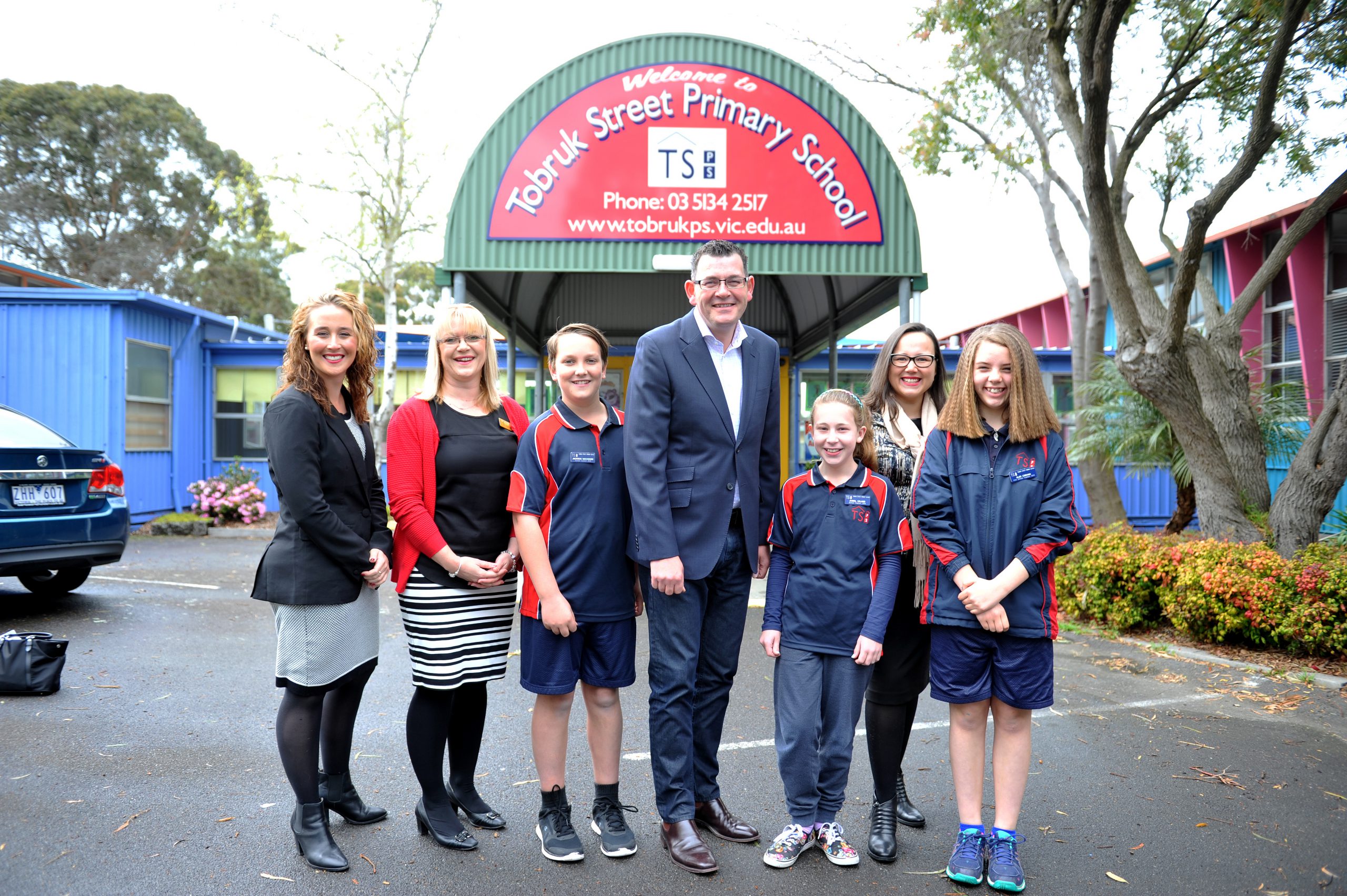 The State Government hopes to start construction of the long-awaited merger project of three Morwell schools next year.
Premier Daniel Andrews has also committed to funding an upgrade of Morwell Park Primary School, but this will not occur until after the merger project's completion.
Visiting Tobruk Street Primary School on Friday, Mr Andrews spruiked Labor's budget allocation of $10.45 million for the Morwell Schools Regeneration Project.
This includes the construction of a new school at the old Kurnai College site on McDonald Street to house Commercial Road, Tobruk Street and Crinigan Road primary schools.
"I'm really very proud to be here today to, this is a great school, but it's going to be even better when we take the best teaching and learning, the best staff, great kids, a fantastic parent community and give them the buildings and the facilities that they are absolutely entitled to," Mr Andrews said.
"I'm very pleased to say because the money was provided in our very first budget, we'll be able to start construction hopefully next year."
Tobruk Street principal Melissa Rock said the new school would allow "amazing" collaboration opportunities for students and staff in a 21st century learning environment.
"Since this school was built in 1954 there's been no renovations as such, so the buildings are the original buildings as they stand… students being able to collaborate in flexible spaces is really difficult for us to do," Ms Rock said.
"It's going to enable quality teaching and learning across the schools and this is something that the three schools are looking forward to and we're already actually starting to work together."
Prior to the election, the Coalition pledged $13 million for the schools project, which included $4 million for the revitalisation of Morwell Park Primary School.
Labor's $12 million pledge did not include a breakdown of how the money would be divided, but at the time, candidate for Morwell Jadon Mintern said it would encompass Morwell Park.
Mr Andrews said the government would fund Morwell Park into the future as part of a second stage after the merger was completed.
However, Nationals Member for Morwell Russell Northe said he was concerned about this timeline.
"My concern remains that once the Morwell primary school project has been constructed, which will be of terrific benefit, Morwell Park may be disadvantaged in that their redevelopment has not occurred simultaneously," Mr Northe said.
"We don't want to see students from Morwell Park deciding to enrol at the new school."
The government also announced an $82 million Regional Support Initiative to establish 17 new local area-based education support teams, employing more than 150 staff across regional Victoria.