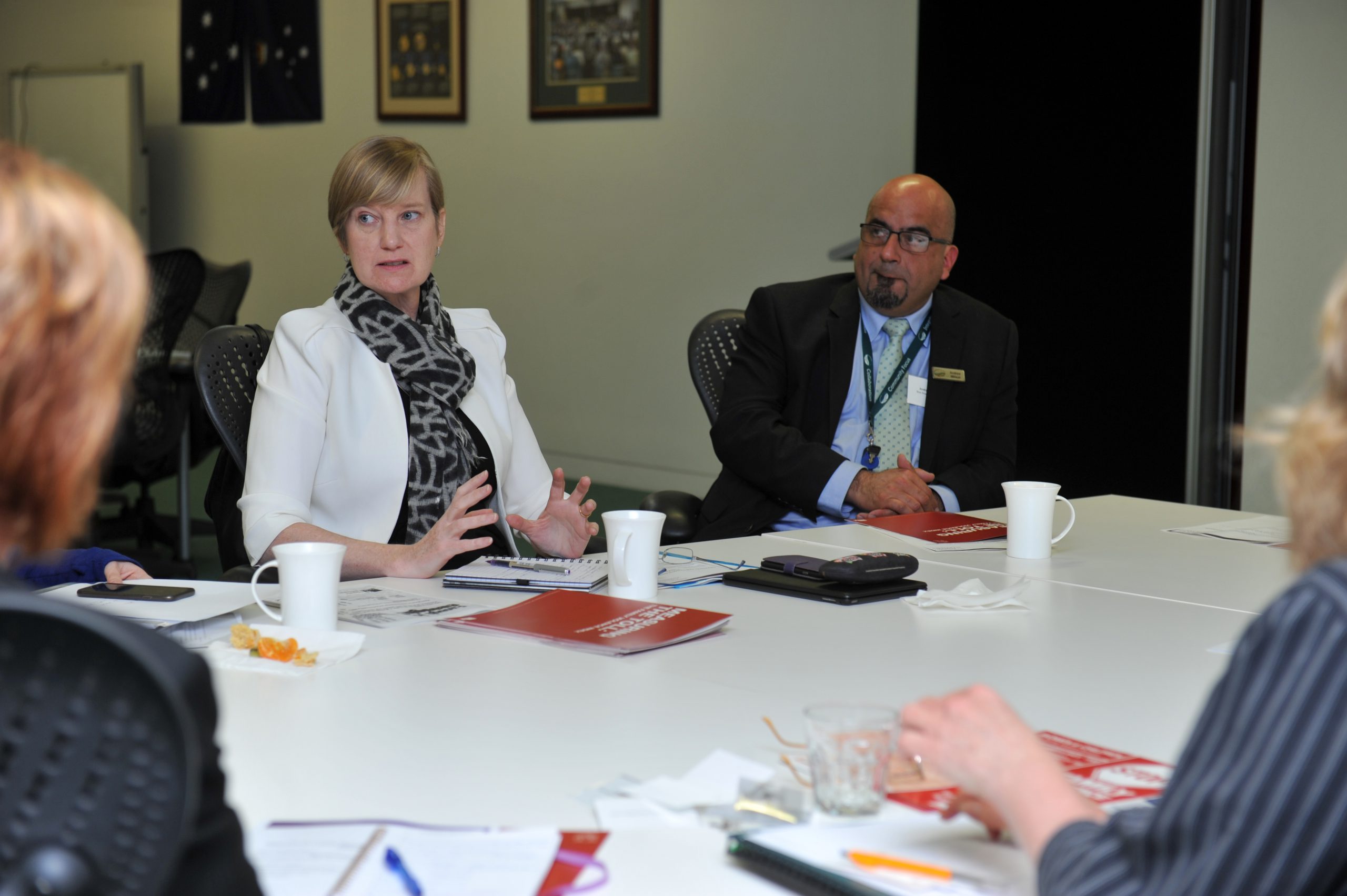 Family violence funding needs to be based on demand, rather than population.
That's the message being given to the state's Prevention of Family Violence Minister Fiona Richardson as she meets with stakeholders across regional Victoria.
Topping the list of the state's family violence 'hotspots', the Latrobe Valley was no exception.
"One of the problems we've always had is that funding is population-based, not demand-based," Quantum Support Services chief executive Alan Wilson said.
"Until we can turn around the rates of incidents and occurrence of family violence, there certainly is need for more investment in crisis management and case management support."
Ms Richardson met with Quantum late last week – the primary provider of family violence services in Latrobe, Baw Baw and Wellington – along with representatives from all of Gippsland's six councils.
Mr Wilson said in the past financial year, Quantum received more than 2800 police referrals for family violence, however with current funding and staff, the organisation only had the capacity to work with about 400 clients.
"We're prioritising our case management support to those most at risk," he said.
Between April 2014 and March 2015, the Latrobe Valley topped a list of family violence hotspots, with a rate of 2993 per 100,000 population.
It was followed by Mildura, Horsham, Swan Hill, East Gippsland, Central Goldfields, Wodonga, Greater Shepparton, Benalla and Ararat.
After meeting with Gippsland stakeholders, Ms Richardson told The Express calls for an increase in service funding had been a consistent theme locally and across the state, acknowledging the need to fund services "not just on population, but also on demand".
"Keeping services integrated and having services that keep the perpetrator in view is something we've also heard," Ms Richardson said.
Ms Richardson said through work by the Royal Commission into Family Violence and submissions received, the government had gleaned "we can't have a one size fits all approach to tackling family violence".
"The system has predominantly not been nuanced enough in order to deliver different services to different communities.
"Local government forms a really important role in the early childhood years and these are the years where some of our lifetime attitudes are actually set and gender stereotypes are set."
Ms Richardson said while she could not explain why one region sat at a particular point on the hotspot list, there were challenges expressed more broadly across regional and rural communities regarding access to services.
"The geographical isolation and access to legal services is often raised, access to refuges is often raised as a barrier to women seeking the help that they need.
"There's also a number of women who raise with me stories like, 'the perpetrator is also playing footy with the local policeman', so the closeness and the fear of not being able to protect your privacy through family violence incident reporting that's often raised as a challenge."
Ms Richardson said the government would pull together information gleaned from all local government areas and use it as a foundation to help implement the recommendations of the royal commission, which are due to be handed down by 29 February.
Ms Richardson's visit coincided with Prime Minister Malcolm Turnbull's announcement of a $100 million Women's Safety Package including $21 million for indigenous women and communities and $12 million to trial with states the use of technology like GPS trackers for perpetrators.
"I think the most significant outcome of today's announcement was hearing our Prime Minister, our male Prime Minister, speak about the causes of family violence which are of course gender inequality and attitudes towards women," Ms Richardson said.
"The Labor Government obviously welcomes any partnership that we can build with the Commonwealth or any other state and territory government to tackle family violence."
Mr Wilson described the federal announcement as "a fantastic start".
"Some of the things announced, that's going to boost current programs, that will certainly improve capacity in those areas," Mr Wilson said.
"The issues around looking at how we track and monitor recidivists is a great opportunity."
? If you are experiencing family violence, phone 000 for immediate assistance. For counselling and support phone 1800 737 732.