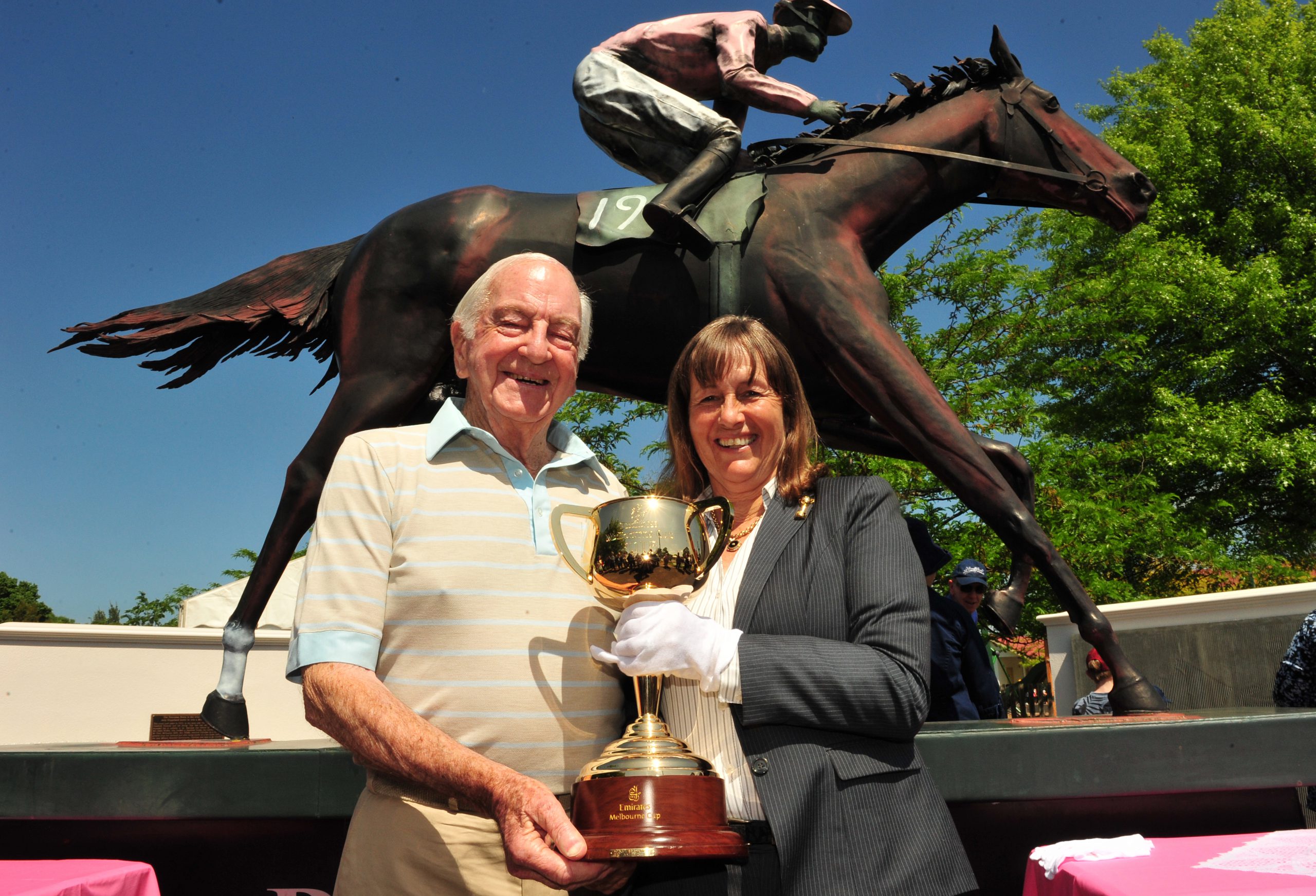 WOMEN have come a long way in the world of horse racing.
Michelle Payne became the first female jockey to win the Melbourne Cup after she guided 100-1 outsider Prince of Penzance to the finish line at Flemington on Tuesday.
"To those who say women aren't strong enough, get stuffed.. women can do anything and we can beat the world," the 30 year-old jockey said.
But she is not the first woman to challenge the "chauvinistic sport" she described.
Exactly 100 years ago, 51 year-old Edith Widdis of Rosedale was the first female owner to win the Melbourne Cup with her horse, Patrobas, in 1915.
If this wasn't coincidence enough, Patrobas and Prince of Penzance shared the same number 19 blanket.
Mrs Widdis' now 96 year-old grandson, John Leslie of Sale, said his grandmother was not allowed to sit in the owners' reserve at Flemington and his grandfather was presented the Melbourne Cup on her behalf.
"Women didn't own race horses so she was not allowed to be in the owners' reserve. She and one of her children were in the stands during the race," Mr Leslie said.
"She tried to get down closer to the finish line… everyone was waving their hands, she said 'excuse me, I need to receive the cup', but of course nobody believed her."
He said his grandmother chose Patrobas among three horses from a Sydney stud broker and sent it to trainer Charlie Wheeler, who led the horse to victory.
"My grandfather said to her 'I don't think it's the best one, but it's your choice, that's fine'," he said.
An age-old tradition of the Melbourne Cup winner's owner buying a round at the Australia Club the day after the 'race that stops the nation', also proved challenging for a woman.
Mr Leslie said his grandmother was not allowed into the purely male establishment and instead donated 200 pounds to a patriotic fund for the World War I effort.
"Women didn't go to bars in those days," he said.
Last month Rosedale residents celebrated the centenary of Patrobas' win when Caulfield and Melbourne cups winning trainer Sheila Laxon visited the town, along with the 2015 Melbourne Cup.
Margaret Lobley, who was among a group of residents who fundraised for the beloved racehorse to be cast in bronze at Prince Street Reserve, said Patrobas was an unlikely winner like Prince of Penzance.
Ms Lobley said Patrobas won the Melbourne Cup, Caulfield Guineas and Derby in 1915, after losing a two-horse race at the former Rosedale Racecourse.
"It's a great coincidence on the 100-year centenary, but by the sound of Michelle, women still haven't got much of a go," Ms Lobley said.
The Rosedale Lions Club will hold a celebration on Tuesday at the Rosedale Tavern from 7pm. Booking are essential by Friday; phone Dawn Molden on 0448 992 714.