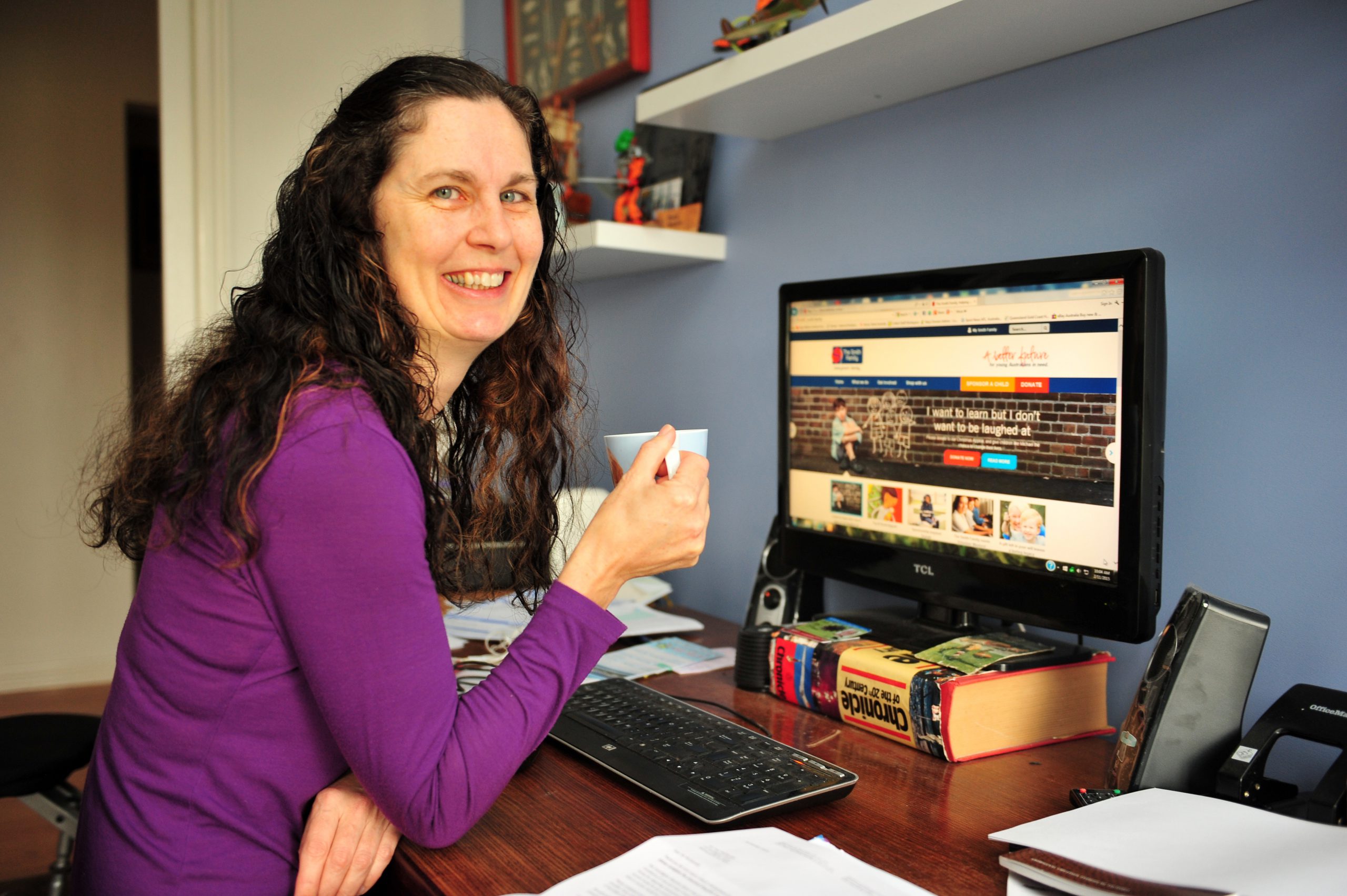 Sonya Karo is considering becoming a foster carer at the age of 51.
The Latrobe Valley resident has been inspired through her volunteer work with the Smith Family, mentoring students in years nine to 11 who do not otherwise have strong support networks.
Ms Karo spends an hour each week chatting with a student from anywhere in the country, acting as another trusted adult that young person can turn to.
It all began while participating in a community program at her former workplace, where Ms Karo was presented with the opportunity to join the Smith Family's iTrack program.
"I've got an instinct for taking time out to help other people," Ms Karo said.
"I used to be a school teacher and I've got a couple of kids of my own, and I said, 'I can do this; it'd be fun to have a chat'."
For the past five years Ms Karo has logged onto a secure online application, chatting with a student over two terms "about anything in particular".
"It's very driven by what the student wants to talk about," she said.
Allocated a different student each year, the topics of conversation usually start with general interests and lead into personal aspirations.
One particular girl, living in a rural area, walks at 3.30am to help train racehorses nearby before returning home to exercise her own horse.
She would then help her younger sisters get ready for school, go to school herself and afterwards help her disabled mother prepare tea.
"And she did this everyday, cooking tea, and she was only 15," Ms Karo said.
"I was so amazed that a child, a teenager, would do that."
Another student, under the care of a guardian, spoke to Ms Karo about his desire to gain an apprenticeship.
"He was such a beautiful boy – such a humble, shy boy and he had goals and ambitions," Ms Karo said.
"He was doing work experience and trying to work out what sort of area he wanted to work in.
"It was like, every time you gave him some encouragement, he'd grab it and keep going."
Ms Karo stressed the simplicity, portability and confidentiality of the iTrack program, with the application able to be accessed anywhere an internet connection exists.
And as the Smith Family searches for more volunteers to become mentors, Ms Karo is encouraging anyone, either working or not at all, to set aside an hour of their week.
"It doesn't take much of your time," she said.
"I just find it really satisfying to be able to help someone, just by being yourself.
"And you're giving quite a lot for such a small amount of time, I think."
Last year 810 students were involved in the iTrack program, with almost 90 per cent stating their mentor had helped them feel more confident about their career goals.
"It's just nice to think – just by chatting with them and being there for them, being that non-judgemental voice – it just gives them a bit of joy," Ms Karo said.
The Smith Family is still looking for mentors to help students from across Australia in next year's program.
To register your interest visit The Smith Family's website www.thesmithfamily.com.au