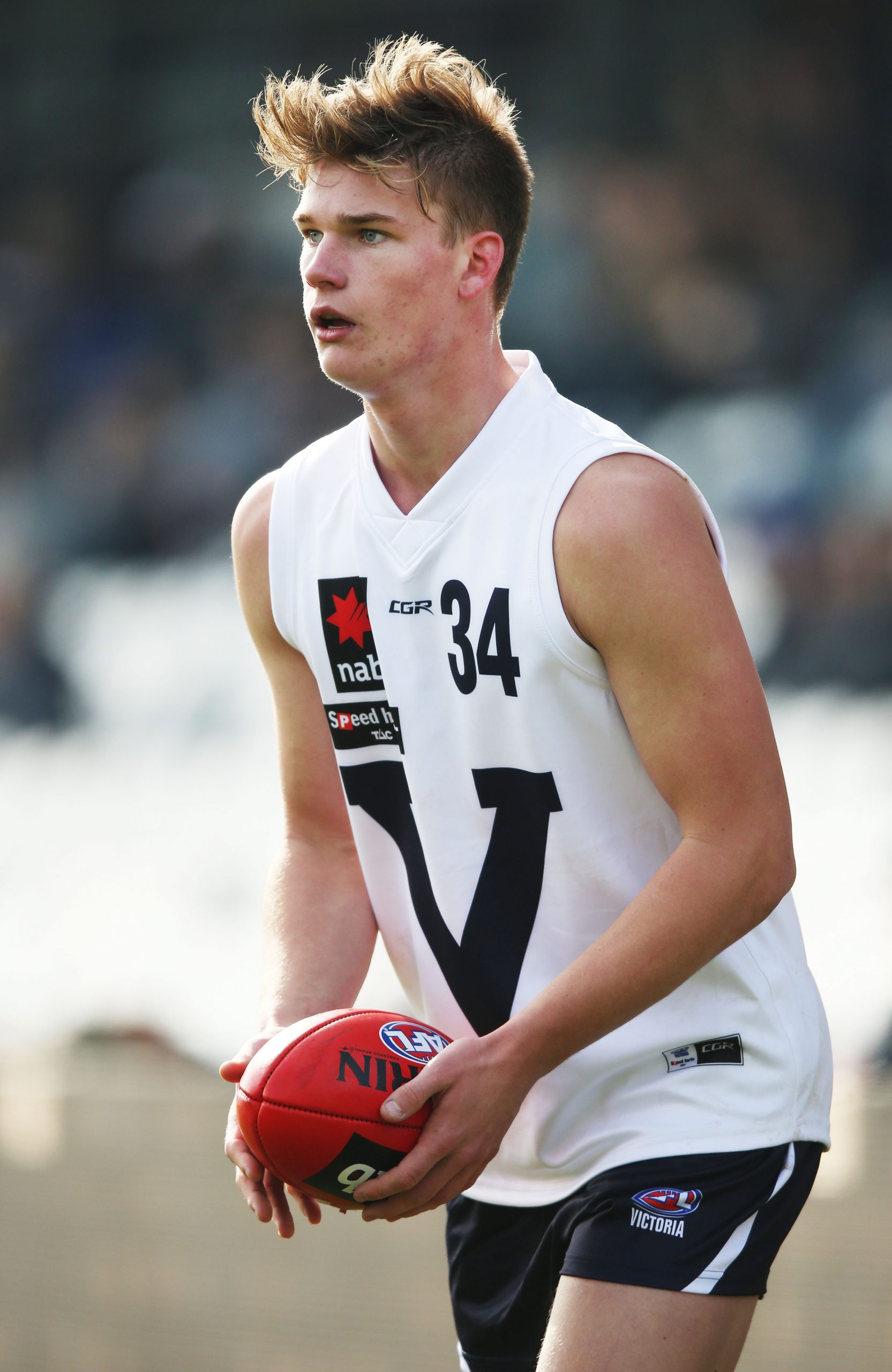 ANXIETY is ubiquitous among all in contention on AFL draft night, but pangs hardest at those like Newborough's Sam Skinner who missed the majority of their 'proving season' through injury.
The 196 centimetre Gippsland Power ruckman-cum-defender tore his ACL playing for Victoria Country in early May, derailing his draft year just as it began.
He waited patiently from the sidelines all year long, assisting Power coach Leigh Brown from the coaches' box while his contemporaries made their case to recruiters, and waited patiently again on Tuesday night as three of his teammates' names were read out in the top 25.
Towering Warragul twins Harry and Ben McKay went at 10 and 21 to Carlton and North Melbourne respectively after breaking into the Power system just this year.
Then came Skinner's AFL Academy teammate and Power skipper Josh Dunkley of Sale at 25 to the Bulldogs, despite his nomination for father-son selection at Sydney last Friday.
When the Brisbane Lions called Skinner's name at pick 47 a long-withheld sigh of relief was well warranted.
"Leading up to it I was trying to do as much as I could to keep my mind off it, then watching the draft was even more nerve wracking, so once my name was called out it was a sigh of relief," Skinner said.
"I'm just looking forward to getting up there and putting my best foot forward as all the boys will be doing, I'm just stoked that despite the injury it all went to plan and has all worked out at this stage anyway, so I'm feeling pretty lucky."
The former Newborough Bulldogs junior has been on clubs' radars for a couple of years as a member of the AFL Academy program and on the back of strong performances for Victoria Country.
However being sidelined for the majority of the TAC Cup season and unable to test at the Draft Combine weighed heavily on Skinner's shoulders.
Side projects like guitar and sketching provided some solace, as did his support network of family and friends, but it'd be fair to say the 18 year-old is feeling a little lighter after Tuesday night.
"I was very anxious, it was sort of hard watching the boys, especially your mates – it's been good watching them do their best – but it's been sort of hard when you're sitting there and you can't do much about your future," he said.
"It's been hard in that aspect because I just haven't been able to prove to the clubs what I can do in the last eight months, but it's obviously been enough before then and I'm stoked to have my name read out."
Skinner has no qualms about heading north to the Sunshine State, where he will be joined by close friends from Vic Country and the Academy Josh Schache, who went at pick two to the Lions, and Rhys Mathieson.
"We're all pretty close mates so it's going to be good heading up there and having those people to sort of support each other, it'll be a little group inside the group," Skinner said.
Now more than five months into his recovery, Skinner is back to running and will soon start agility work, just in time for pre-season at an AFL club.
Power coach Leigh Brown described Skinner's selection as the "real good luck story of the draft", and said his leadership had grown immensely around the club while not able to play.
"He's still had a very good year, he's been a real leader," Brown said.
"It was a very different call I made to congratulate him last night (to the one I made when he did his knee)."
Four draftees marks the best result for Power in recent years, and although they would have liked a couple more to go, Brown said the club was "really proud and really pleased for the boys" who did.
Gippsland Power and Skinner are now sweating on the future of overlooked draft prospects Christian Buykx-Smith, Nash Holmes and Tom Papley in Friday's rookie draft.