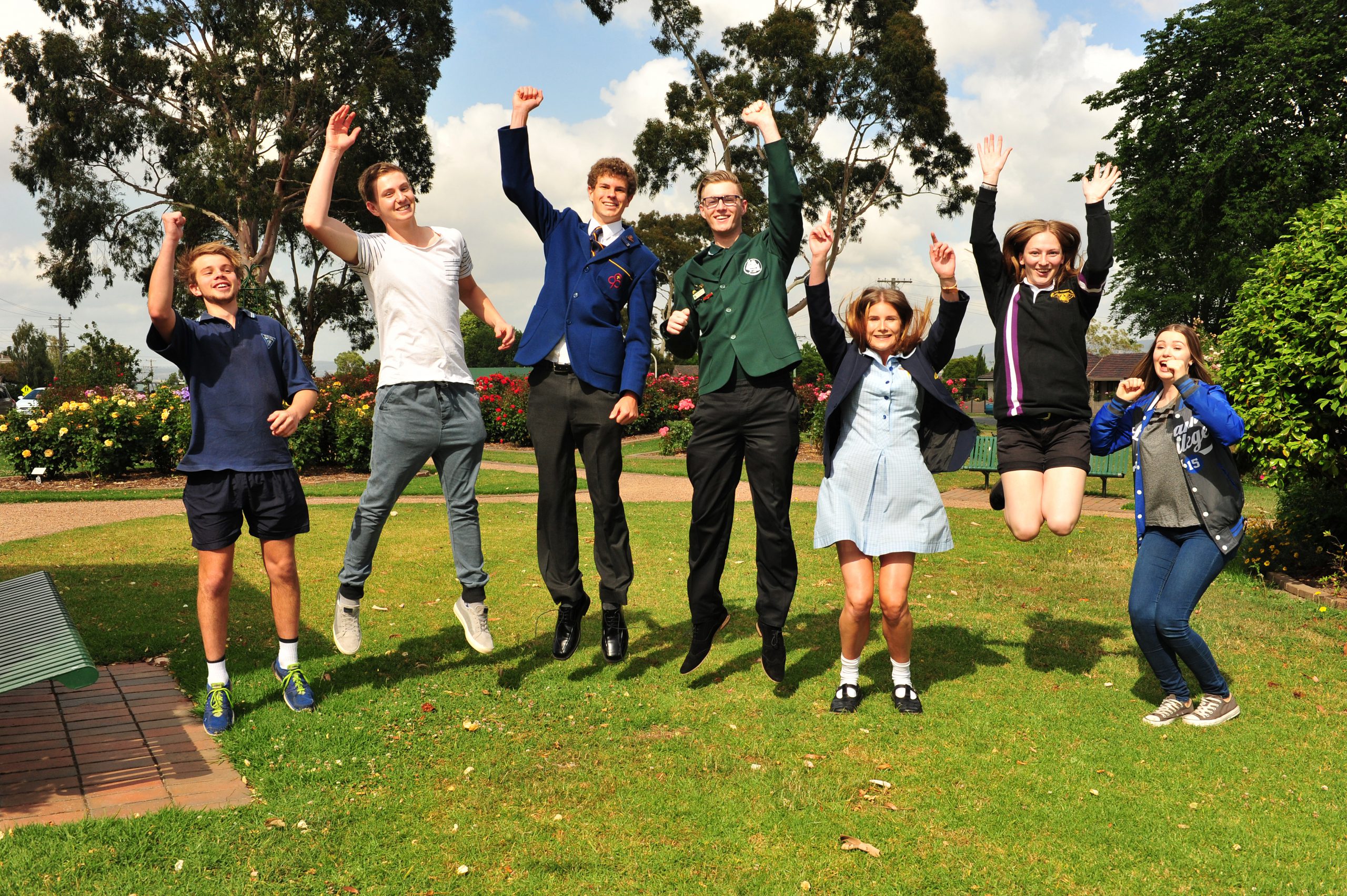 THE nervous wait was over this week for Latrobe Valley's year 12 students with the release of Australian Tertiary Admission Rank scores.
Students excelled across the region's secondary schools as many discovered if they achieved the score needed to study at their preferred university.
For others, Monday's results marked the culmination of their VCE or VCAL studies before going on to immediate employment, apprenticeships or TAFE.
Secondary school graduates planning to continue their studies now face another anxious wait for university or TAFE offers.
Principals across the region were happy with their students' achievements, with most focusing on the opportunities presented by having completed their VCE or VCAL.
"As normal we had a fair spread of scores," Traralgon College principal Paul van Breugel said.
"We try not to focus too much on the scores, but the opportunities the students have. There are lots of pathways open to our students to get to where they want to be."
Kurnai College university campus principal Geoff Block said staff were happy with how students performed.
He said while some students would be pleased and others would have hoped for a higher result, the ATAR score did not define individuals.
It was a sentiment echoed by Mirboo North Secondary College principal Karen Lanyon.
Students at Mirboo North achieved a 100 per cent pass rate for VCE, with 90 per cent obtaining a VCAL certificate.
"People aren't defined by their ATAR scores and this group of students is a great group of students," Ms Lanyon said.
"They will go on and find their niche in life and what it is they are passionate to do in terms of working for the rest of their lives."
Eight Latrobe Valley students' names will go into the history books as the duxes of their respective schools.
At St Paul's Anglican Grammar School, Traralgon student Ashley Barnes was named dux of the school achieving an ATAR of 99, and he was joined closely by Michael Rehfisch (98.75), Timothy Vickery-Howe (98.65) and Ashton Arthur (98.25), all of whom studied at St Paul's School's Traralgon campus before completing their VCE at Warragul.
Lowanna College's top students followed in their siblings' footsteps.
Dux was Gina O'Connor (95.5), whose sister Erin was dux in 2002, while the second-highest placed student was Megan Burns, following on from her sister Lauren, who achieved the same position in 2013.
ATAR: 96
Subjects: English, Math Methods, Legal Studies, Economics, History Revolutions, Psychology.
Plans: Double Degree in Law and Commerce at Monash Clayton.
Study tips: Be an independent learner. Even if people around you are doing different things, focus on your goals. When it comes to the end, practise exams – as many as you can.
ATAR: 95.5
Subjects: Physical Education, Math Methods, Biology, Health and Human Development, English Language, VET Allied Health.
Plans: To study either physiotherapy or radiography.
Study tips: Definitely pick the subjects you enjoy, don't worry about scaling. If you do subjects you enjoy, you're more inclined to study.
ATAR: 95.5
Subjects: Health and Human Development, Further Mathematics, Italian, Biology, English Literature, Anthropology as a university subject.
Plans: Gap year, move to Melbourne and save some money.
Study tips: Work hard but don't close your mind to lessons you might learn outside of school. Not everything you learn is measurable with a number.
ATAR: 91.20
Subjects: Biology, Chemistry, Math Methods, English, History Revolutions, Legal Studies.
Plans: Double Degree in Science and Biomedical Science.
Study tips: Try your hardest and always be confident in your own abilities. Keep up with your homework.
ATAR: 97.85
Subjects: Math Methods, Specialist Maths, Physics, English.
Plans: Engineering/Science at Monash University.
Study tips: Work hard. It's not hard to get (the score needed) if you're committed.
ATAR: 98.45
Subjects: Math Methods, Specialist Maths, Chemistry, Legal Studies, English Language.
Plans: Gap year to earn money and later study Advanced Science at Monash Clayton.
Study tips: Understand the system so you can prioritise your time better. It's important to do well in all the subjects you choose.
ATAR: 99
Subjects: Biology, Chemistry, English Language, Math Methods, Physics, Specialist Maths.
Plans: Bachelor of Science – Advanced Research (Honours) at Monash University.
Study tips: Do lots and lots of practice exams, use your holidays well and study on the bus if you take it to school.
ATAR: 97.35
Subjects: English, Math Methods, Music Performance, Biology, Chemistry and French.
Plans: Study bio-medical science to do a Masters in Medicine.
Study tips: Do your best, and let God do the rest.