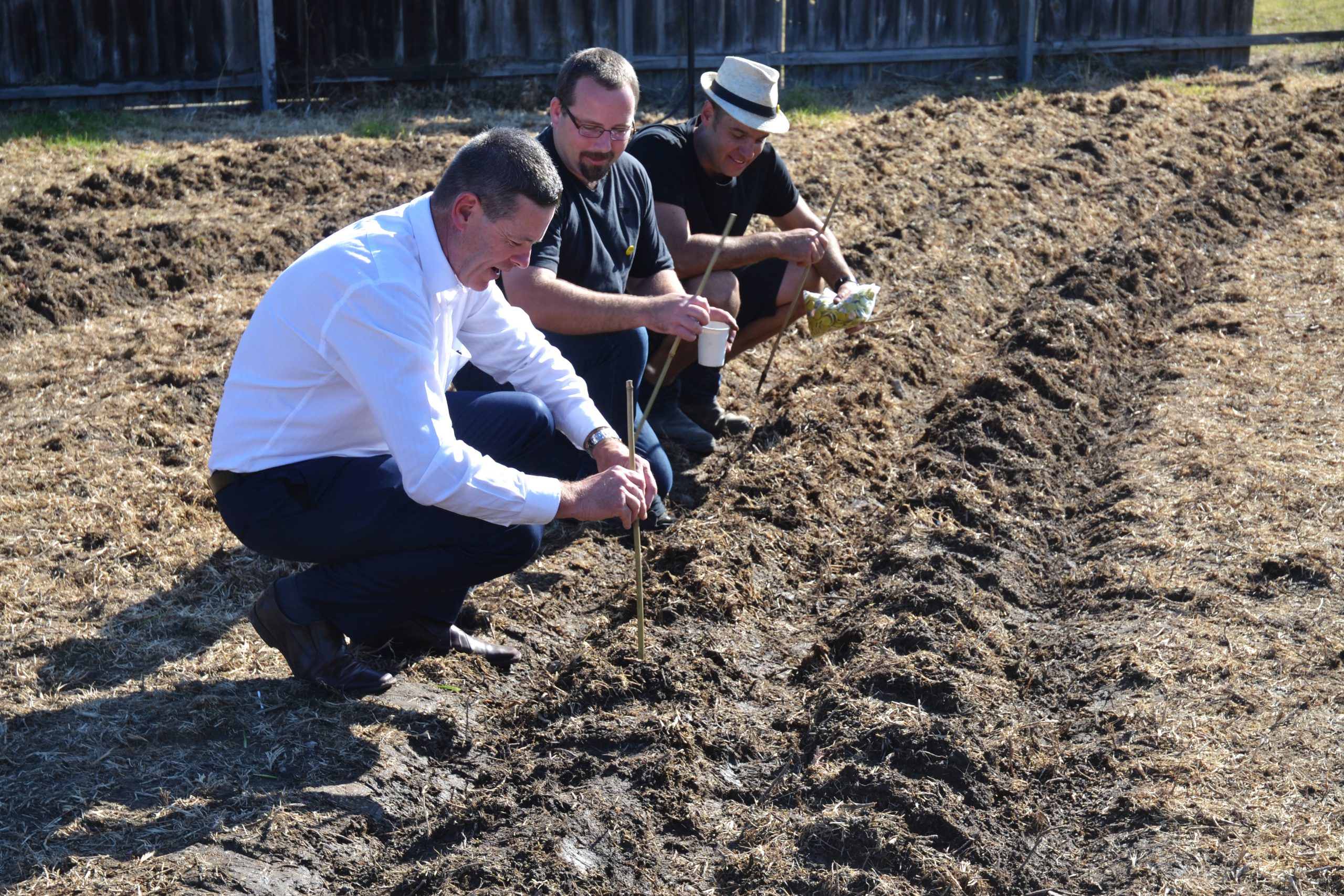 Gippsland politicians have thrown their support behind blooming sunflowers across the Latrobe Valley as students, community groups and service organisations plant out vacant blocks with seeds.
Gippsland Senator Ricky Muir and State Member for Morwell Russell Northe showcased their green thumbs in Morwell last week following a planting extravaganza.
"It's a very simple project in some sense, but it's having a great, positive impact," Mr Northe said.
"The people who are working on these projects, many of them are volunteers.
"They have ownership of it and it's great to see them getting joy out of other people's satisfaction of just having a look at these vacant blocks full of sunflowers."
The politicians' backing couldn't have arrived at a better time for the Get Sunflowered project's steering committee, ReActivate Latrobe Valley, which has a funding application sitting with Regional Development Victoria.
ReActivate Latrobe Valley co-directors Craig Douglas and Rosalea Monacella are negotiating a monetary grant under RDV's Regional Jobs Fund.
Complementing a $12,500 grant from Latrobe City Council for irrigation equipment, the State Government funding is planned to help get a pilot nursery in Morwell off the ground.
"So we're actually looking at growing cut flowers for the local flower market and the Melbourne flower market," Mr Douglas said.
"This is potentially a new economy in the area and a potential to create new employment is really wonderful, so that's what we've been working on.
"I think it's great they (Mr Muir and Mr Northe) are giving us their support and that will hopefully lead to further success in terms of perhaps more funding, more support in other ways that can actually make this happen."
Having recently met with the ReActivate Latrobe Valley to discuss the project's past achievements and future plans, Mr Muir said he would happily support the initiative.
"As I've been saying to a few people lately, Latrobe Valley quite often gets frowned upon, because of the coal industry," Mr Muir said.
"But to people who actually live and work in the Latrobe Valley, we need to be looking at what's possible into the future.
"And I think projects like this are absolutely valuable, as far as showing people what is possible."
The sunflowers are expected to be in bloom by February.
Berry Street's Sean McLoughlin is the project coordinator of Morwell For Kids, a new program aiming to make the town a friendly childhood place.
Morwell For Kids is prompting businesses, governments, community groups and service organisations to think about what "good childhood should be" and how that could be made possible in Morwell.
Mr McLoughlin said Get Sunflowered was the kind of project Morwell For Kids was all about – creating colour and connecting community across town.
"As a resident of Morwell, I love this time of year and I love when the sunflowers are out," Mr McLoughlin said.
"It just adds so much to the town and it adds so much to the Valley."