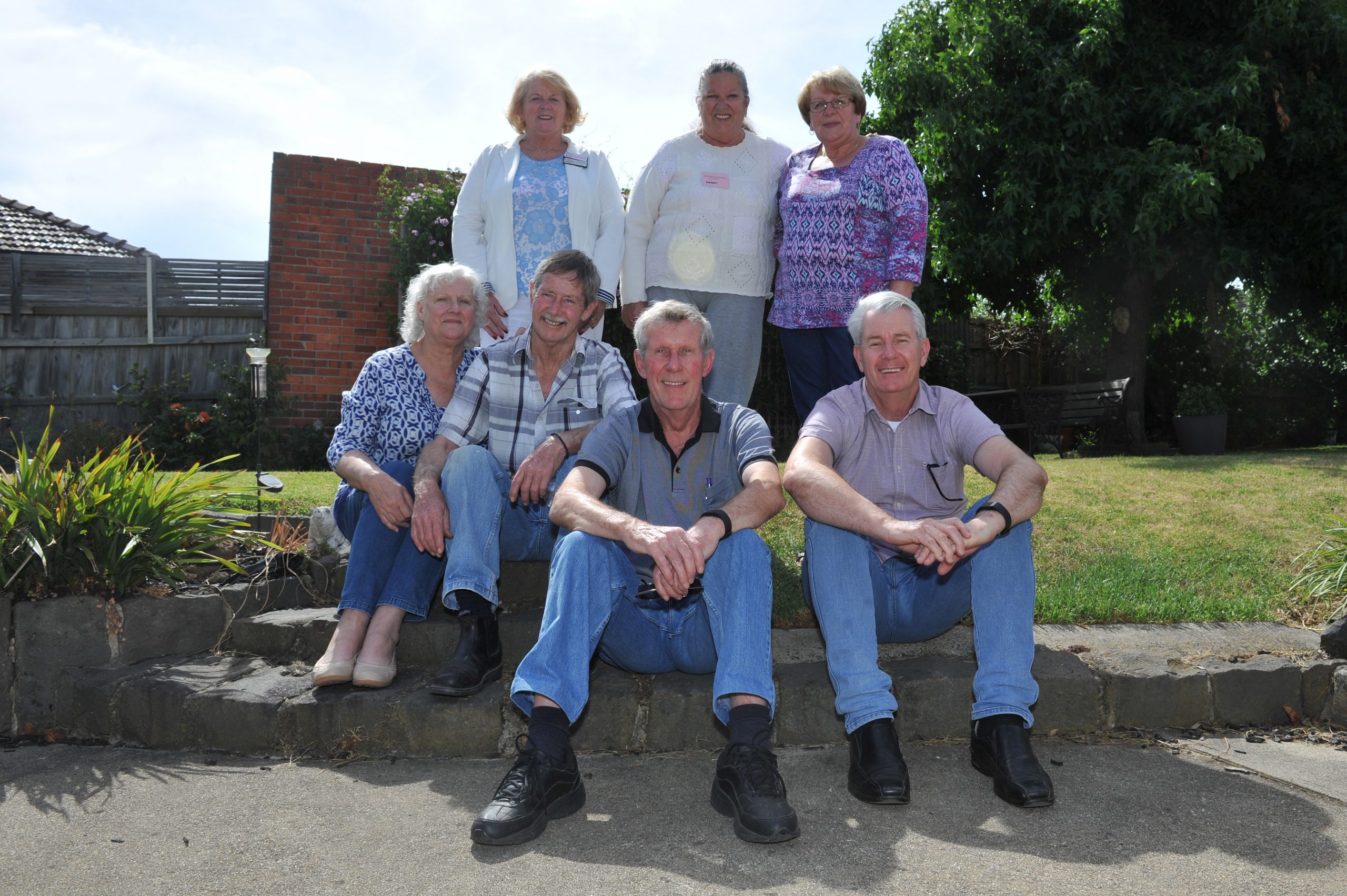 Seven neighbours sit under the carport of a home on Morwell's south side.
Some food has been laid out and coffee mugs are in hand.

There are jokes, laughter and straight talk, here.
It's like walking into a gathering of old friends.
But most of these people were, until recently, strangers to one another.
They want to get things done, and that's what now unites them.
"We wanted to be proactive and do things and make them happen and not just stand around talking about it and saying how good it is and we need it," Colin McCowan said.

"So we offered our services to go around and see what we could find for a walking track in the area."
The neighbours are among those who attended community meetings last year, following bushfire recovery doorknocks by Latrobe City Council and the Morwell and District Community Recovery Committee.
It was here that common interests were identified and the foundations laid for the formation of a walking group and a craft group.
"It was really good, because you naturally found you gravitated to those people in the meetings," Colin said.
"Within a few days of even talking about that, we'd established and gone out there, the three of us."
Colin, George McKessor and Brian Thomson went in search of a site where a walking trail could be established.
"We thought if you're going to have a walk, it would be great to have a nature walk, not just down the streets," Colin said.
"We saw some value about going through a bit of bush."
The walkers want to see a track that incorporates the Eric Lubcke Yarra Gum Conservation Reserve, which sits next to the Princes Freeway, near Club Astoria and the Morwell Recreation Reserve.
A proposal for a walking track next to the reserve and within the sporting precinct has been included in Latrobe City Council's Morwell Recreation Reserve Precinct Master Plan, however it is listed as a medium priority project and therefore unlikely to be funded in the near future.
Colin said group members were keen to lend a hand in any way they could to see the path come to fruition.
"We were hoping we would be able to put small bridges over drainage trenches down those areas.
"We envisaged we would ask for the gear and if plans were appropriate, we would get community involvement to do that.
"You've only got to look at projects like the Town Common and the playground there. Some of us here were part of that building and that process back in those days. Anything like that helps build the community."
In the meantime, the now 31-member-strong 'Rose Garden Walkers' leaves from the Morwell Rose Garden at 9am on Mondays and Wednesdays, walking around the south side of town.
Further east along Commercial Road, a small craft group – 'Crafter's Community Cottage' – is operating from the rear of an embroidery store.
For a while, Morwell resident Ruby Nugent had been wanting to start a craft group, so when council came knocking last year, she jumped at the opportunity to attend a community meeting.
Not shy of a chin-wag with a stranger, Ruby had already done some doorknocking of her own to gauge interest in the craft group.
She said around that time, more than a year on from the Hazelwood Mine Fire, there were people in her neighbourhood uncomfortable about leaving their homes.
"When I got the crafters going, the whole idea was that people could come, have a cup of tea, if they had a problem or they had things they might want a bit of advice on, or just company… and just do a bit of craftwork and talk about things.
"There's too many people sitting at homes on their own and not game to come out.
"If anyone's out in the garden, I'll stop and talk to them… it's just getting the community back together."
At the neighbourhood meeting, Ruby discovered she wasn't the only one who wanted to start a craft group and from there, Crafter's Community Cottage became incorporated.
Now, members of the group say they "wouldn't do without it".
"It breaks the loneliness, it does. Just that one day a week. It makes a big difference," group member Sandy Kimber said.
The craft group currently operates from JM Embroideries and Collectibles on Commercial Road, thanks to the generosity of the owners, however they're hoping to find a larger, more permanent home in order to expand.
"If people want to come and learn, there's something there for them to learn," Ruby said.
Anyone wanting to join the craft group can phone Ruby Nugent on 0431 540 069.
To get in touch with the walking group, phone Suzanne Thomson on 0412 743 538.