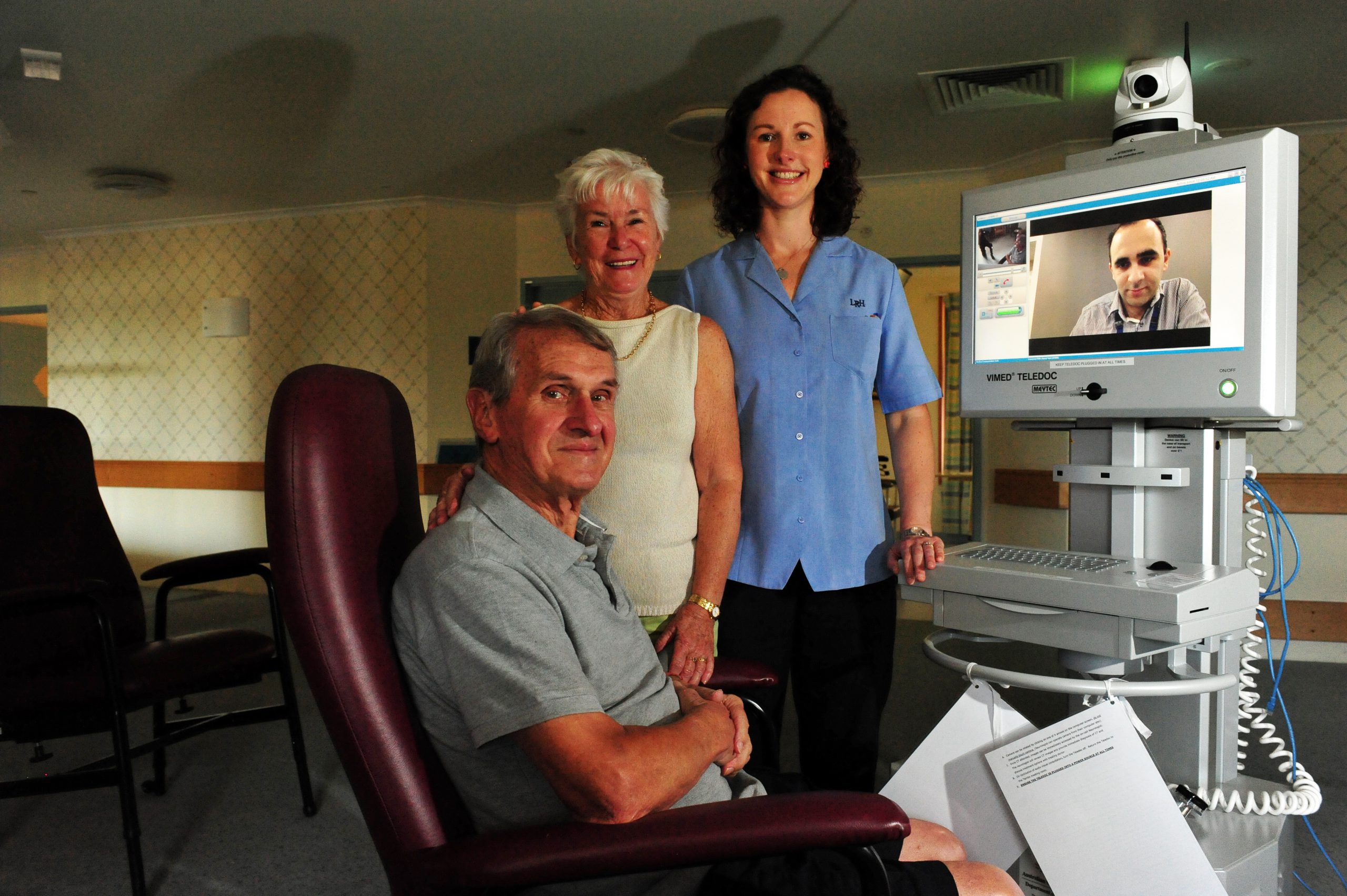 When Stan Niddrie arrived at the Latrobe Regional Hospital emergency department on 15 December, he could not talk or move the right side of his body.
By the next day, the Boolarra man had moved his hand, his leg and he'd spoken.
This remarkably swift step towards recovery from the severe stroke Stan had just experienced was like nothing local medical staff had seen.
It is being attributed to the introduction of new technology at the hospital that's giving regional Victorians access to high quality stroke care.
Through a telemedicine initiative by the Florey Institute of Neuroscience and Mental Health, once a stroke patient is given a CT scan, the image can be sent to a server. An on-call neurologist can assess it immediately to determine the type of stroke and advise the administration of clot-busting drugs, which need to be given within four-and-a-half hours of the stroke. With no onsite neurologist at LRH, previous assessment and interpretation of the scans could take up to an hour.
The new technology also enables real-time video conferencing for the neurologist to conduct a consultation and determine whether the patient is a candidate for endovascular clot retrieval therapy in Melbourne – where the clot is manually extracted.
In a situation where time equals damage to the brain, Victorian Stroke Telemedicine coordinator at LRH, Emma Marino said the new system made a critical difference.
"Due to the six-hour time frame for the clot retrieval to be most effective, some patients may miss the narrow window of opportunity," Ms Marino said.
In Stan's case, he was assessed through video consultation by neurologist Dr Nawaf Yassi, administered the clot-busting drug within 40 minutes of arriving at LRH, and was transferred to the Royal Melbourne Hospital for the clot retrieval therapy within the recommended six-hour timeframe.
"Basically, he had his stroke on 15 December and then he was back here at our hospital on 22 December for rehab," Ms Marino said.
"That's remarkable for him, but also it's better than we've ever seen before. Normally a patient would take a long time to get to the rehab stage, particularly with the severity of stroke that Stan endured."
Dr Yassi said he was more often seeing people have an excellent recovery like Stan's, because of greater access to advanced therapy.
"It's something that in the past would have been available only to people living around a major centre or near a tertiary hospital, it's fantastic to be able to provide the treatment to more and more people," Dr Yassi said.
He said the most important thing was the quick identification of stroke symptoms and immediate call to 000, just as was the case for Stan, whose wife Margaret noticed the change in her husband.
She said they had been doing some work outside to prepare to host family Christmas.
"I can't remember whether he was facing me or whether he turned around when I asked him a question and he didn't respond and he just looked at me and so I joked, 'you're the only one here' and he just continued to look at me," Margaret said.
"I moved closer to him and noticed his mouth had dropped right down and I thought 'he's had a stroke'."
Margaret phoned 000.
Just over a month later, Stan is walking with the help of a walking stick and is planning to spend this weekend at home as a trial.
"I'm feeling really good," Stan said.
When asked what was to come next in his recovery, Stan replied, "enjoying life".