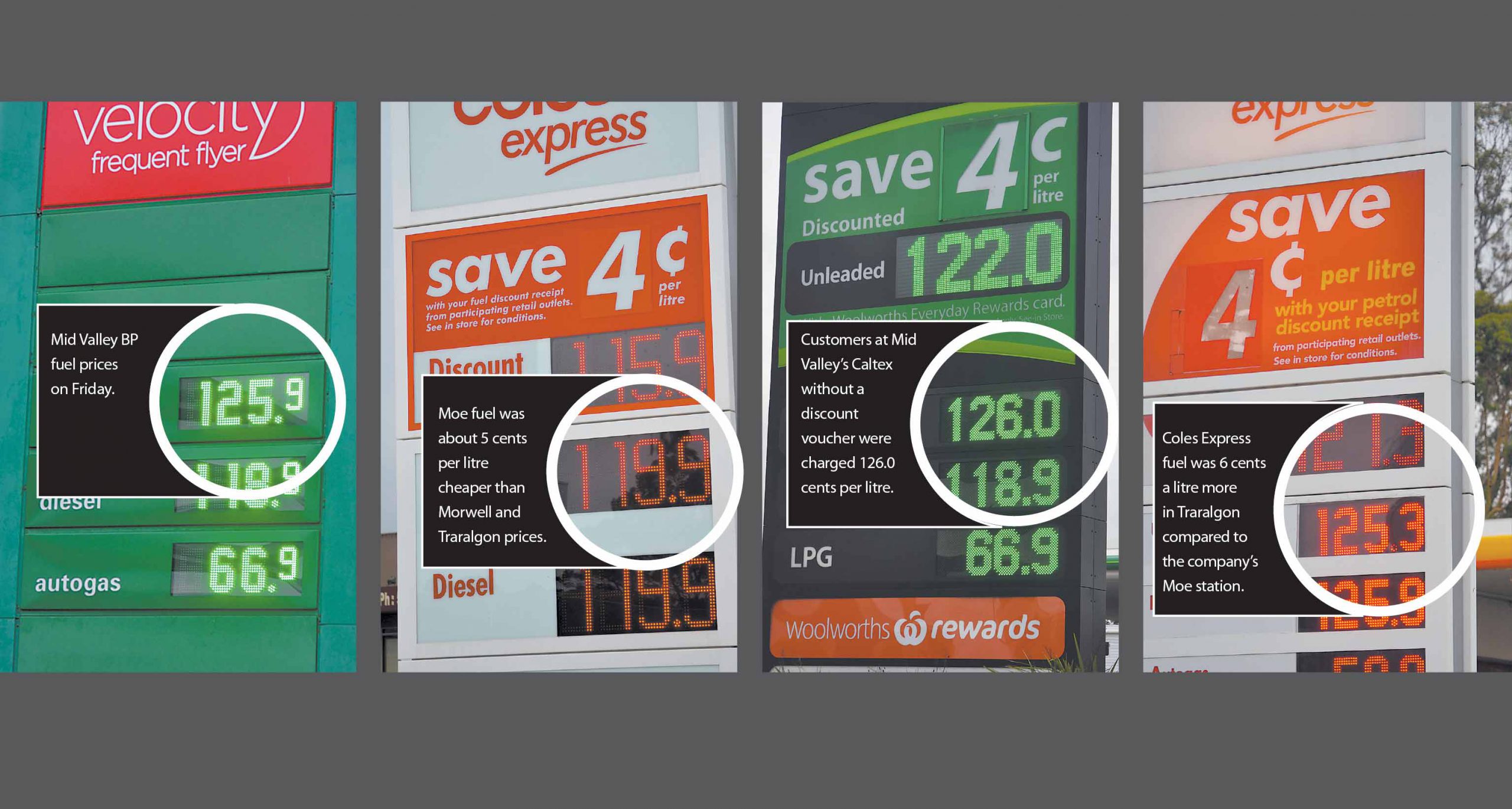 Fuel pricing remains a hot topic for Latrobe Valley motorists who are once again challenging pump prices across the region.
Traralgon resident Rob Timmers said he had just returned from Sydney where fuel prices were below $1 per litre and questioned why regional prices were so high.
"The Latrobe Valley is getting ripped off big time," Mr Timmers said.
"Even at Pakenham, prices are $1.07 while Traralgon is $1.21 with the discount docket."
A spokesperson for the Facebook page 'Latrobe Valley fuel price rip-off', which compares petrol station prices across the region, said while the Valley had always been more expensive than Pakenham, current prices made it seem like it was subsiding the fuel costs of other regions.
"There doesn't seem to be a reason for it," the spokesperson said of current prices.
"You would think competition would drive down the prices a bit, but it doesn't happen."
Friday's fuel prices reflected consumer concerns with Melbourne motorists paying on average 106.2 cents per litre for unleaded, while the cheapest, undiscounted price recorded across the Valley was Albert Street, Moe's Shell and BP service stations at 119.9c per litre.
Morwell
Traralgon
Moe
Traralgon and Morwell's lowest fuel prices were 124.9c at the BP on Princes Highway and 125.9c per litre at the BP near Mid Valley.
However, RACV manager fuel engineering Michael Case said motorists should not compare regional and metropolitan pricing.
"Melbourne has a fuel price cycle of about three weeks which does confuse motorists," Mr Case said.
"It's difficult to compare stable regional prices to the ever changing metro pricing.
"Inheritably regional prices are more expensive, as there is more cost involved, however, transport costs only account for a relatively small amount (of the total price)."
Pricing discrepancies across the Valley were also of concern to motorists, who cited Moe as being significantly cheaper at the pump than Morwell and Traralgon.
"No company wants to be the first to drop prices; they want to keep their profits," the LVFPRO spokesperson said.
They also questioned why Alliance Fuel, who owns two service stations in Moe and Newborough, advertised a nine-cents-per-litre pricing difference between the two on 15 January.
"If the one company owns the two separate servos 12 kilometres apart then why is there such a difference in price?" the group said.
When questioned by the LVFPRO group, Alliance Fuel said while it attempted to match the market, it did not try to actually lead it.
Mr Case said local competition was to blame for the varying prices in the unregulated industry.
"It's basically a free market with competition in retail markets. Individual service stations are able to charge what they want," he said.
"It leaves motorists needing to be aware of the difference in fuel centres."
While oil prices have dropped to about $30 a barrel in recent times, Mr Case said this did not necessarily correlate to cheaper fuel.
"There isn't a direct relationship between world oil prices and regional fuel prices," he said.
"There can be a large lag between the reduction in oil prices flowing through to retail petrol prices."
He encouraged motorists to take advantage of the competitive market.
"Shop around and buy fuel when and where you see it cheap, don't just go to fill up at the same place at the same time," Mr Case said.
The RACV expects Latrobe Valley motorists to experience a reduction in fuel prices in the coming weeks.