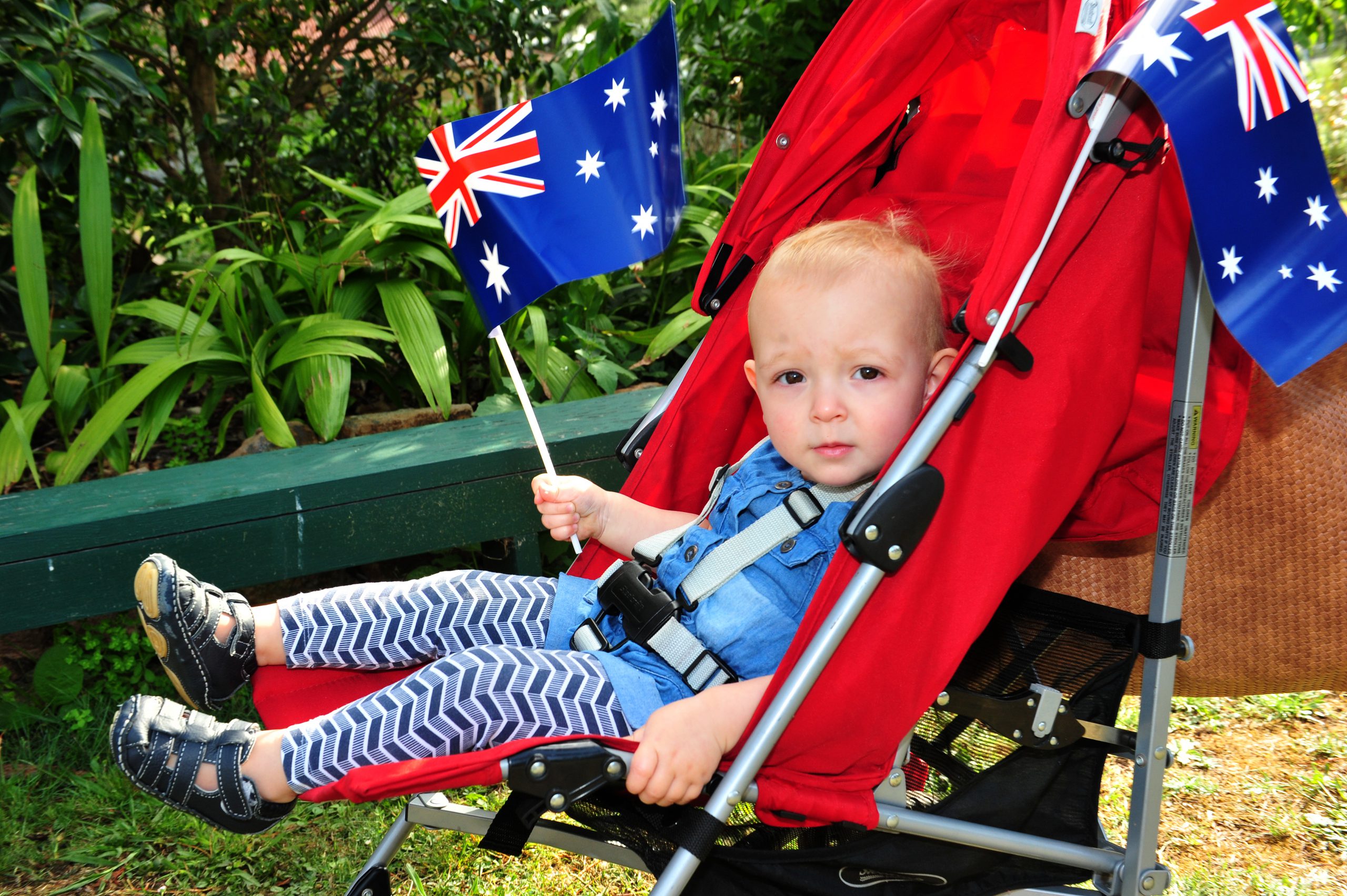 Community spirit shone brightly across the Latrobe Valley on Tuesday as residents converged on town centres for a shared breakfast and to honour those doing great things.
The Paddy O'Dowd Band warmed up the crowd at Moe's Old Gippstown with Australian songs such as Great Southern Land and Down Under before the flag-raising ceremony.
Latrobe City deputy mayor Sharon Gibson told the crowd Australia Day was about "helping your mates".
"I hope you take that on board and let's make this country even better than it is now," Cr Gibson said.
Moe Lions Club awarded its Young Citizen of the Year honour to Hernes Oak twins Amanda and Sophie Fontaine, who last year dressed as Minions to ride their unicycles in the Around the Bay event raising funds to help kids in need, while Citizen of the Year went to Moe surgeon Dr Peter Burke.
Dr Burke said moving to Moe in 1987 was the greatest thing that had happened to him and he was "very honoured".
"Most of the honours one gains in one's life go by effort – you run the hundred yards and win it – but this one, to be awarded by my community, is ultra-special and I'll treasure it forever," he said.
About 2500 people headed to Traralgon's Victory Park bright and early to enjoy bacon and eggs in bread or a sausage or two.
"It's a good way for everyone to come together and celebrate what Australia is all about," Latrobe City mayor Michael Rossiter said.
Traralgon Lions Club volunteer Bill Scott said Tuesday's numbers were the highest in years.
"The weather has been very kind to us and brought out more people and in particular a lot more kids than previous years," he said.
Attendees had the opportunity to participate in a Body Combat class, the annual heart walk as well as being entertained by the City of Traralgon Band.
Meanwhile the iconic colours of Australia's flag transformed the banks of Morwell's Kernot Lake, where the local Lions Club was also thrilled with a record attendance.
From backyard cricket to colouring, best-dressed and thong-throwing competitions – it was all on offer for the young and old while they shared a community breakfast.
Describing this Australia Day as the best Morwell had seen, Lions club member Max Williamson said it was an important day for the entire town to come together.
Smaller numbers may have turned out to Yinnar and Churchill when compared with the larger towns, but the sense of community pride rang volumes.
The car park of the Churchill Hotel filled with a sea of families watching on as students were awarded for their diligence, leadership skills and community spirit.
Eighteen year-old Riley Hogarth was recognised as Churchill's Young Citizen, while the town's former police officer Bob Lowick got a shock when named Churchill's Citizen of the Year.
"I'm an ex-serviceman and I think it (Australia Day) represents a great thing," Mr Lowick said.
"It's acknowledgement of kids and people in society; what they do and don't do. And it's a time to review what we do and look where we're going."
The melodic tunes of local band Destiny could be heard along Yinnar's Main Street as the community shared a barbecue breakfast before Geoff Stolk was named Citizen of the Year.
Yinnar and District Community Association's Herb Smith called on the town to recognise its hard-working youth, which for the second year running, received no nominations.
Upon receiving his award, Mr Stolk said he simply endeavoured to help out where possible and encouraged others to do the same.
"Every little bit helps," he said.
"Do what you can, when you can, if you can. If you can't, it doesn't matter."
About 250 people came together at Toongabbie for a community breakfast hosted by the Lions Club and a flag-raising ceremony.
"The whole community celebrated, the grandstand was full," Toongabbie Lions Club member Peter Feenstra said.
"It was a very, very pleasant day."
Ian Alexander was awarded Toongabbie Citizen of the Year for his work with the Toongabbie Fire Brigade.
Willow Grove community volunteer Andrew Balfour was Baw Baw Shire Council's Citizen of the Year.
Baw Baw mayor Joe Gauci said Mr Balfour, a dairy farmer, had served his community for many years in groups including sporting clubs, schools, the CFA, farming organisations and local government groups.
Trafalgar Community Development Association's Young Citizen of the Year was awarded to Scout Troy Oates while the Citizen of the Year was Trafalgar Victory's Mark Judd.