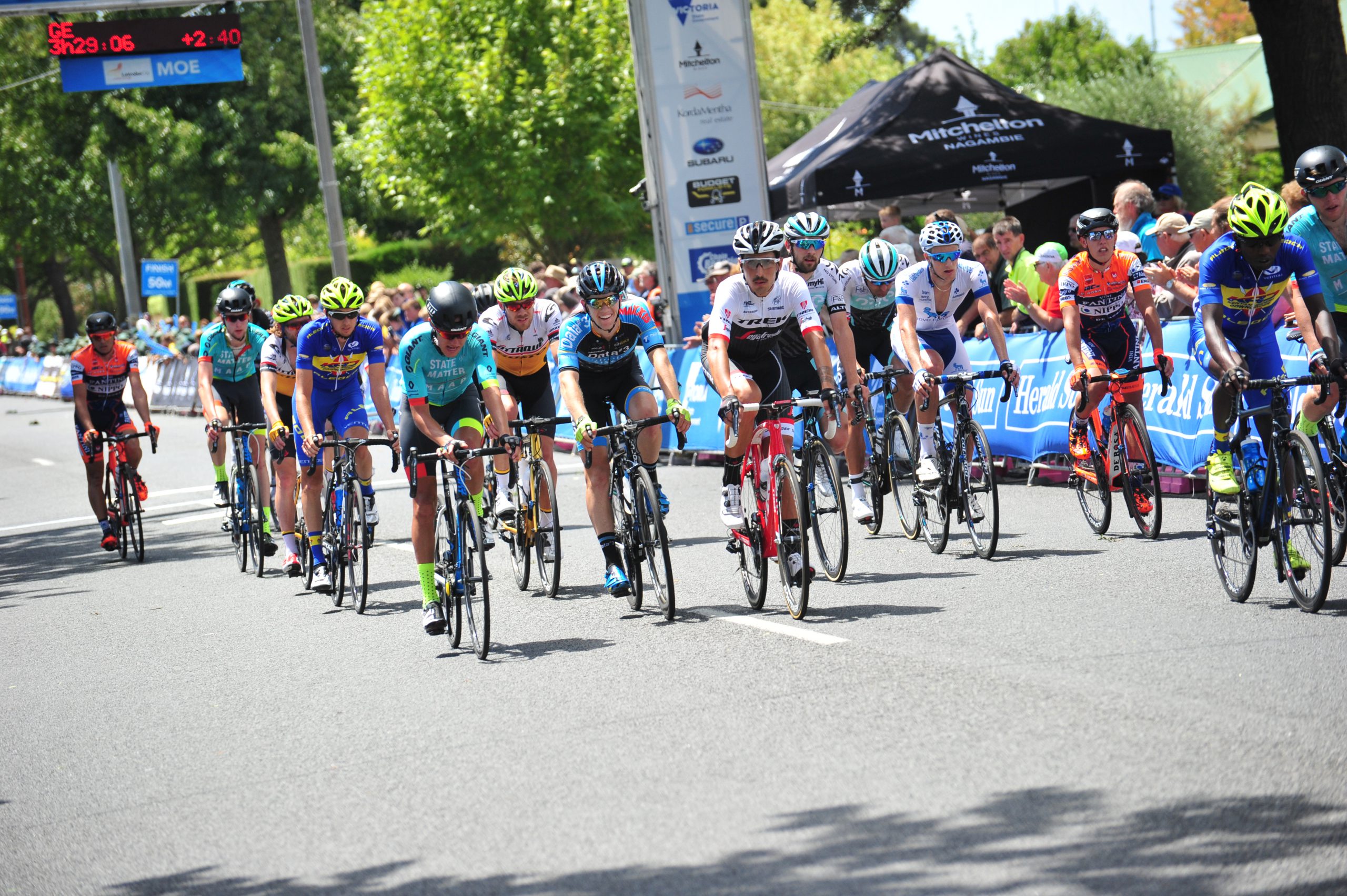 The world's eyes were cast upon the Latrobe Valley at the weekend, when nearly 100 elite cyclists and a 400-strong entourage rode into the region.
Community groups, traders, families and schools gathered on Moe's Moore Street on Friday afternoon to welcome the second stage finishers of the 2016 Herald Sun Tour.
Bringing more than just cyclist enthusiasts to the area, the renowned tour attracted global coverage Latrobe City deputy mayor Sharon Gibson has described as "priceless".
"The national and international coverage of having the best cyclists in the world racing here, viewed all around the world, that's priceless," Councillor Gibson said.
"Not just for now, but for many years to come. You can't put a dollar figure on that."
Cr Gibson estimated the dollar value the tour brought into the Valley was "in the million-plus" range, with cyclists leaving Traralgon's Kay Street to start the third stage on Saturday morning.
Traders in Moe and Traralgon offered significant sales each day, while the cyclists' entourage stayed in local accommodation.
"This will generate a huge amount of economic activity around the town," Councillor Peter Gibbons said.
Traralgon Chamber of Commerce president Darren Howe said on Friday an increase of 15 to 20 per cent in sales was likely. He said although the town's traders were hoping to attract big business, the tour would mainly generate awareness about the region and hopefully encourage people back.
Moe Traders Association secretary Susan Broadbent agreed.
She said feedback from the racing group all remained positive, largely due to the collaborative effort between council, traders and community groups.
"We're giving a great image – they all seem to be really impressed with us," Ms Broadbent said.
"They can't believe how much we've done."
While Cr Gibson said it was a coup to have the tour in the Valley, Cr Gibbons beamed about the region's image projected worldwide.
"Those (footage) highlights worldwide will impress upon people that, at last, they know Moe and they will know Traralgon," Cr Gibbons said.
"It is really wonderful to have attention like this brought to everybody in Victoria, Australia and around the world, and Moe is in the front line, so it is great."
Latrobe City general manager of city development Phil Stone said council had been "building a reputation as the premier regional venue for major events" for some time.
He said this involved updating infrastructure and facilities to host diverse events ranging from volleyball and tennis, to athletics and cycling.
In the 2014/15 financial year, the revenue brought in from such events was more than $9 million for the region.