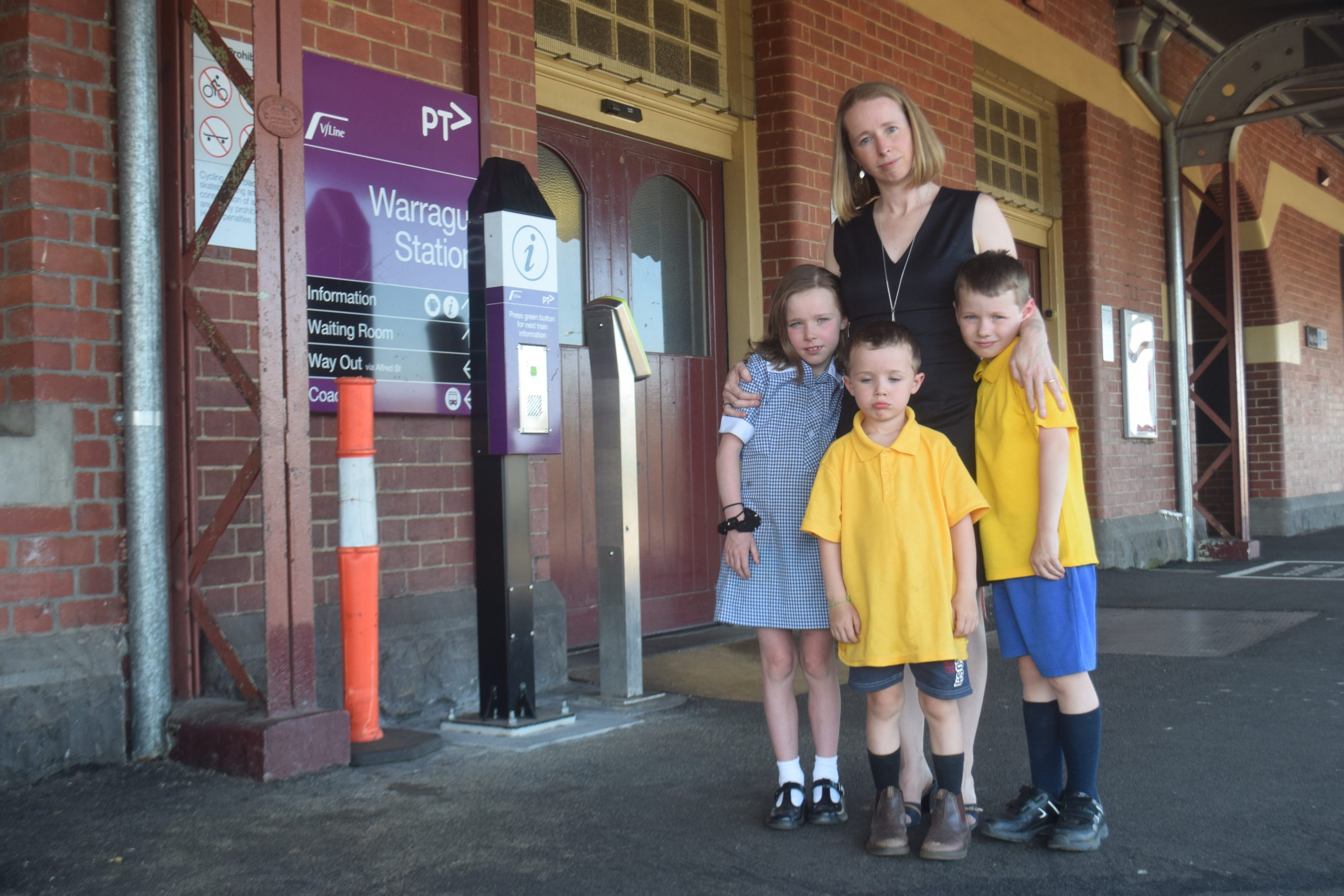 Commuting from Warragul to Melbourne four days a week totals 45 days on a V/Line train each year for this mother of three.
Ellinbank resident and Melbourne professional, Natalie Thorne has done the math, and says the figure has jumped from 26 days since she started her commute to her job in 2008.
"It's been deteriorating progressively over many years and we're now at breaking point," Ms Thorne said.
"I have friends on the train that are looking for other jobs in the country saying, 'I can't do this'."
Ms Thorne, who manages the Gippsland V/Line Users Group Facebook page, has become a voice for the thousands of commuters whose lives have been thrown into disarray in the ongoing V/Line crisis.
Sharing commuters' stories, news articles and government announcements, the page has doubled in followers since a high-speed train failed to trigger a boom gate at Dandenong on 15 January.
Public Transport Minister Jacinta Allan has said the restrictions on the Gippsland line between Pakenham and Melbourne would be lifted by mid-March, but normal services are not expected to resume until June.
Ms Thorne said the average Gippsland commuter was spending 30 to 40 minutes longer on the train each day and personally attested to arriving at work late each day and missing dinner with her family each night.
"My eight year-old daughter said with tears in her eyes, why aren't you home to read books to me anymore Mummy? Why is the train always late now?"
The V/Line issue has also created discussion about the commutability and growth of the Gippsland region.

Rapid housing expansion, coupled with many families committing to a country home and a professional job in the city, has become a complex lifestyle.
Ms Thorne said in 2008 the lifestyle concept was feasible and made the decision to make a family home outside of Warragul.
"How will we be able to grow Gippsland and accommodate the hundreds of houses without having the avenues for people to seek professional jobs in the city?"

Fellow Melbourne commuter and Gippsland V/Line Users Group member Hayden Opie, who is waiting for hip surgery, said train replacement buses were unsuitable for people with disabilities.
"I can't travel on the bus and sometimes I've had to stay in Melbourne," Mr Opie said.

He said Gippsland people working in Melbourne were a vital export bringing incomes back to the region.
The State Government has announced plans to remove nine level crossings between Caulfield and Dandenong by elevating sections of the Cranbourne-Pakenham line.
From today, two additional morning and evening peak-time train services will also run between Pakenham and Flinders Street stations.
Member for Eastern Victoria Harriet Shing said Gippsland services depended on the Cranbourne-Pakenham line and the removal of these crossings would improve the safety and reliability of Bairnsdale and Traralgon services.