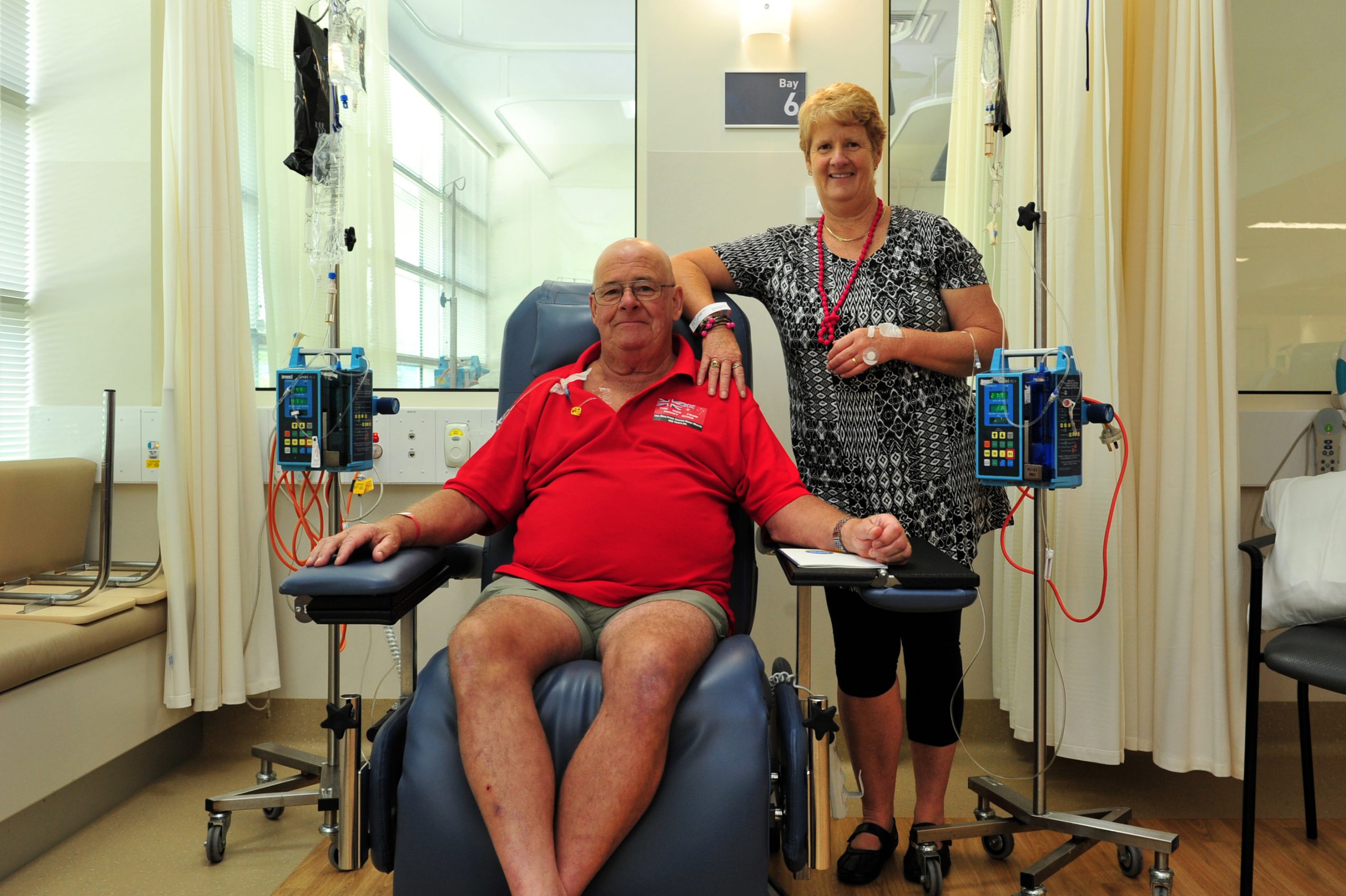 As prolific as cancer is in the community, it's not often you find a married couple attending chemotherapy treatment together.

Every 21 days, Max and Rhonda Stuart sit in lounge chairs facing each other at Latrobe Regional Hospital for about five hours as the drugs are slowly released into their system.
On Friday Max, 65, had his second round of chemotherapy to treat stomach and lung cancer, while Rhonda, 60, had her first treatment for breast cancer.
The Denison couple of about 40 years were shocked to discover their joint cancer battle, but considered it an opportunity to face the disease together.
"Maybe others are not quite in the same situation as what we are in, but there's usually someone supporting a family member," Rhonda said.
"We're just lucky we can support each other."
Max called the situation a "team approach".
"We don't know what's going to happen in the next few days, but one way or another we have plans to deal with the issues if they arise," Max said.
"It could be that I'll get through this episode well and Rhonda might not be so well, or vice versa."
In any case, the couple said they had the support of family, including daughter Cassandra, who works as a nurse in the Central Gippsland Health Service, Sale's emergency department.
"It's stunned a lot of people; there's disbelief, but we can't do much about that. We have amazing support," Rhonda said.
Max, a retired State Government logistic officer, said he experienced pain in his stomach while working at his hobby dairy farm in Denison. He said he initially thought it wasn't anything to worry about, but tests proved him wrong.
"We had as many tests as we possibly could, went to specialists, we didn't wait on it and got a diagnosis in early November," he said.
Doctors told him he had two years to live, but Max said he was determined to prove the professionals wrong.
In that same month wife Rhonda, a welfare officer at Heyfield Primary School, found a lump in her right breast not long before her scheduled two year mammogram.
She received a call back, a biopsy, numerous tests and underwent surgery to remove the lump and lymph node in January.
As a precaution, chemotherapy, radiotherapy and five years of hormone tablets were recommended. The couple said they wanted to share their story to remind others to get regular checks and seek medical treatment.
Rhonda likened regular health checks, blood tests, mammograms and pap smears to "spring cleaning".