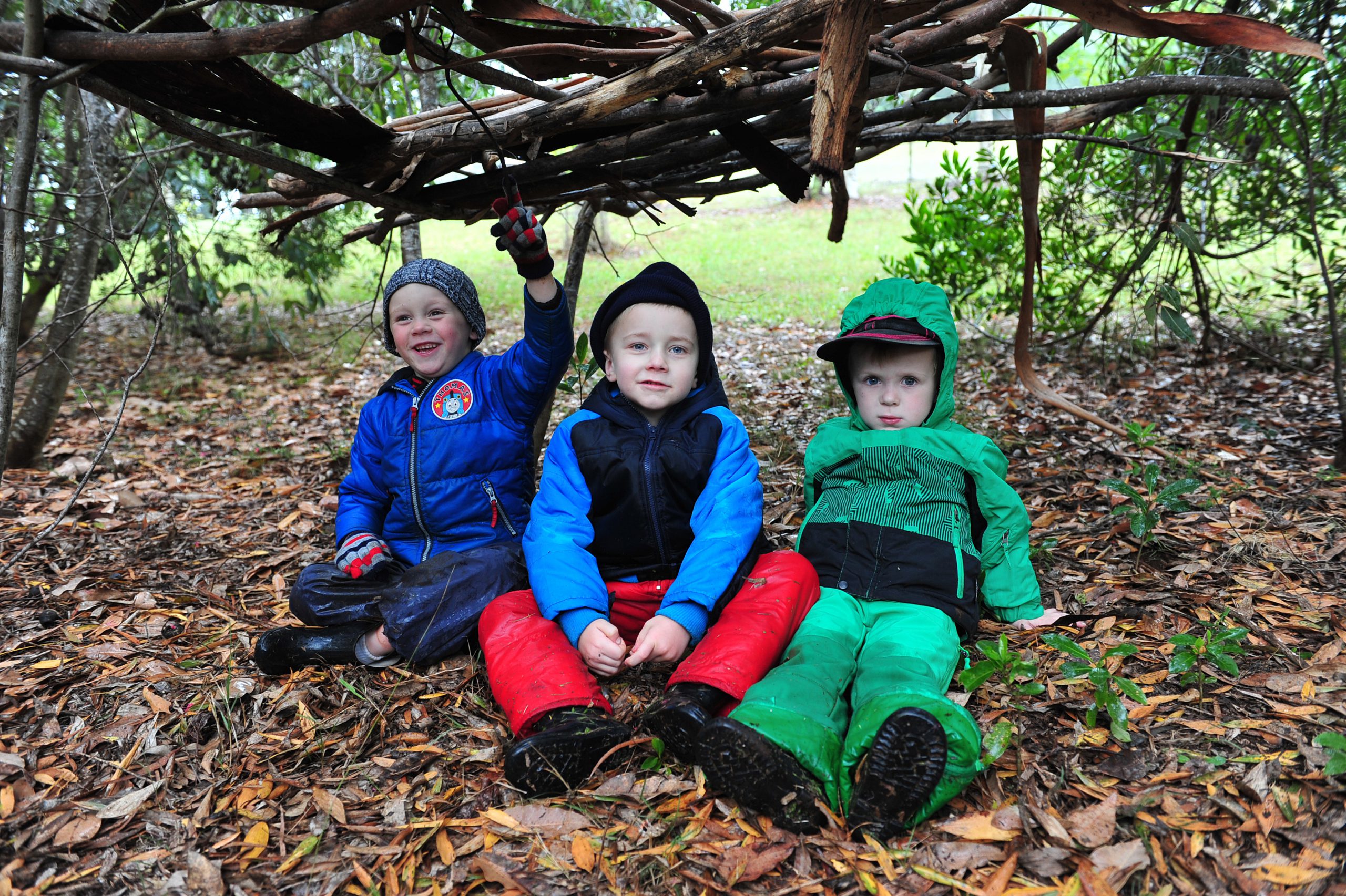 Imagine being outside whether it's rain, hail or shine.
Splashing through puddles, climbing trees and building shelter out of bark and leaves.
A group of children, aged four years old, are doing just that as part of their bush kinder program at Erica Preschool.
They are surprisingly eager to run about outside, forever stopping in their steps to notice a new animal track or to name an indigenous plant.
If it's pouring rain, they rug up in warmer clothes, raincoats and gloves. If the sun is shining, they apply sunscreen, shades and wear their hats. Early childhood educator Tracey Coutts is basing the program on an international forest preschool approach that says there is no such thing as bad weather, just the wrong clothes.
"The weather shouldn't stop you going outside and being in nature – you should just get the right clothes and embrace it, enjoy it," Ms Coutts said.
"That (view) really challenged my co-worker and myself (as to why) we weren't going outside. It was us saying it was too cold, too wet. The kids didn't care."
As of term four last year, the four year-olds at Erica Preschool roam the neighbouring bush for a session each week to learn about animals, insects, birds and plants.
The three year-olds take part once a month too, with parents and community organisations lending a hand or donations where needed. More than just a nature walk, Ms Coutts said the children were constantly initiating their own learning.
That could involve assessing the risks of climbing a tree and working out how to get back down safely. Or it could be something as simple as measuring the depth of a puddle to check if it's too deep to walk through.
Ms Coutts said the change in the children as they became more engaged with the natural environment was a stand-out factor of the program.
"We have just found it, as educators, amazing what the children are saying," she said.
"We might have been singing a song about Australian animals and the next day there's a child saying, 'I can see a wedge-tailed eagle'.
"They are killing themselves with laughter, rolling down the hills."
Parent Bec Rotheram enrolled son Jeremy in the centre last year having just moved to the area.
She said Jeremy, now a prep who attends school in Rawson, was eager to explore the outdoors and had a stronger appreciation of nature.
Ms Rotheram said the program, which didn't limit children to an indoor classroom all day, was well worth that extra drive for families outside of Erica.
"This sort of program helps get them (the children) out in the fresh air and just teaches them those other life skills you don't sort of learn in the playground," she said.
"I think it does give them that extra bit of respect for nature and the bush and they can grow up even thinking about preserving the environment.
"Besides that, they obviously love it. I suppose it strengthens their coping mechanism with things… it really just puts them out in the elements and I think it's fantastic."
Setting off in the morning to explore, the children and educators return to kinder in the afternoon to debrief and research what they've found outdoors. The children document what they've learnt through drawings, collages or photographs and use books or online search tools to answer any questions.
Ms Coutts said a regular connection with nature benefited a child's development in terms of enhanced motor skills, language, creativity, social skills and fewer allergies.
She boasts of the shared learning journey between the children, parents and broader community and hopes more Latrobe Valley families will drive that extra distance to see what the kindergarten offers.
For more information about the preschool's program, phone 5165 3331 or email erica.kin@kindergarten.vic.gov.au