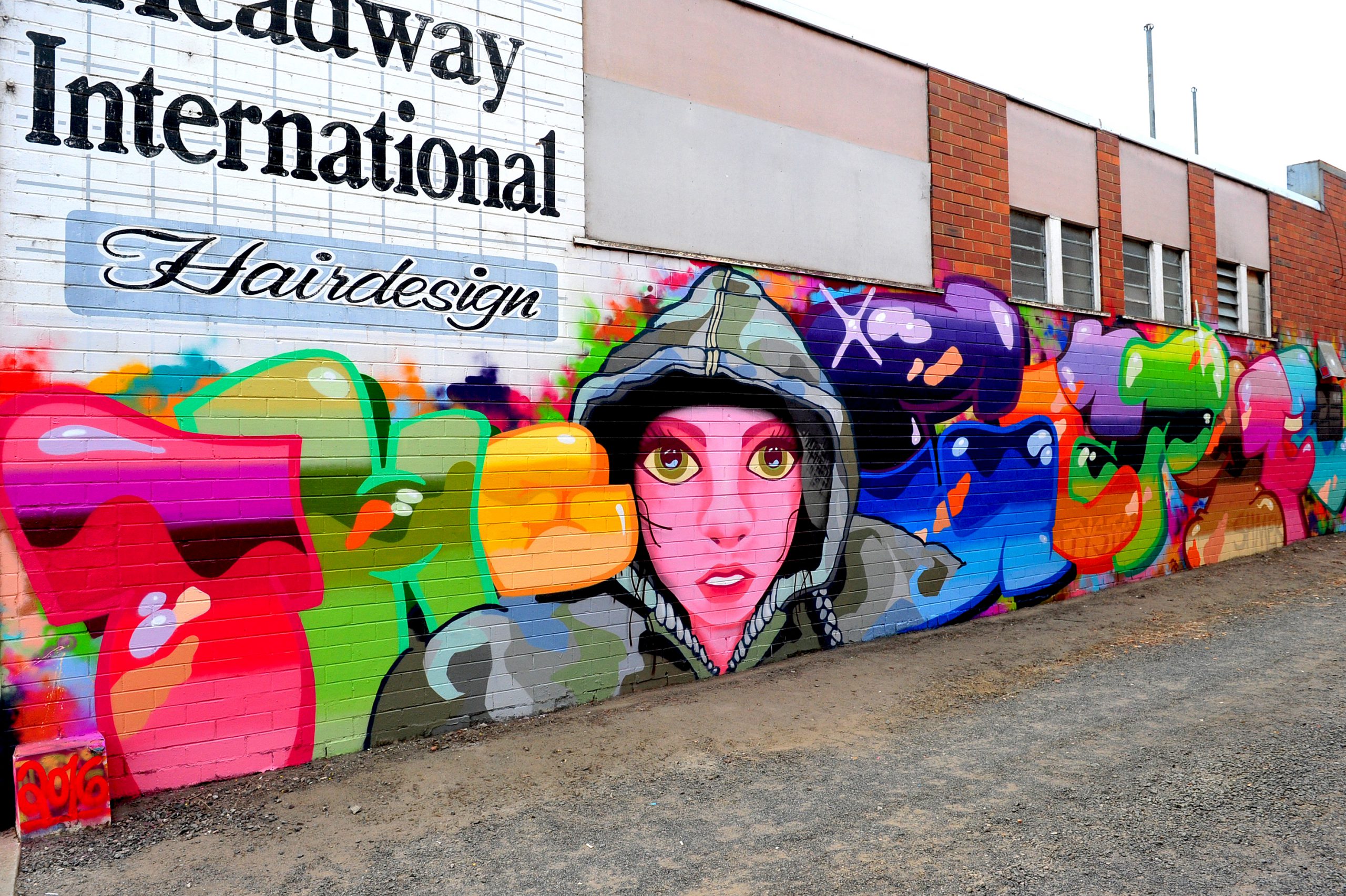 More than 100 colours have been sprayed to create a technicolour spectacle in the latest street art mural to brighten Morwell's forgotten laneways.
A crew of street artists using near-empty spray cans filled the expanse of a brown brick wall along Valley Headway International Hairdesign in George Street over Good Friday and Easter Saturday.
The work, featuring a woman in a hooded jumper, is the third public mural in town.
It follows a tribute piece to the late David Bowie at the entrance of Gippsland Centre Against Sexual Assault's new multidisciplinary centre in Buckley Street and an Advance Morwell-commissioned rose thicket mural featuring a Day of the Dead figure along the brick wall of a trophy shop in George Street.
Project coordinator and local street artist Ryan Beckett, also responsible for a mural at Traralgon's Little Prince restaurant, said he was approached by a local business owner to create the recent work.
Valley Headway International Hairdesign owner Paul Guarascio said he had been looking at the "dirty brown wall" for 25 years, but hadn't known who to speak to, until seeing Beckett's mural in the south side of Morwell.
"It's only been done since Saturday, but the amount of people up my alleyway that have gone to have a look, take photographs, has been insane," Mr Guarascio said.
"Not even a paid advertisement could do that; it's just attracting people to the town and brightens the whole town up."
He said he was now working with Beckett and other businesses in the laneway, hoping to see the area become a street-art alleyway like those in Melbourne.
"The laneway is perfect for it. I'm getting in touch with other owners of the buildings about doing more street art," Mr Guarascio said.
Beckett said he had been working with two other street artists, and had known 'Skot' – a contributor to the latest work – for 25 years after growing up together in Moe.
"The Morwell public has been great. We enjoy doing what we're doing in Morwell and would like to see it go further if anyone has got walls we can spray," he said.
To express interest in getting involved with future mural projects email
news@lvexpress.com.au