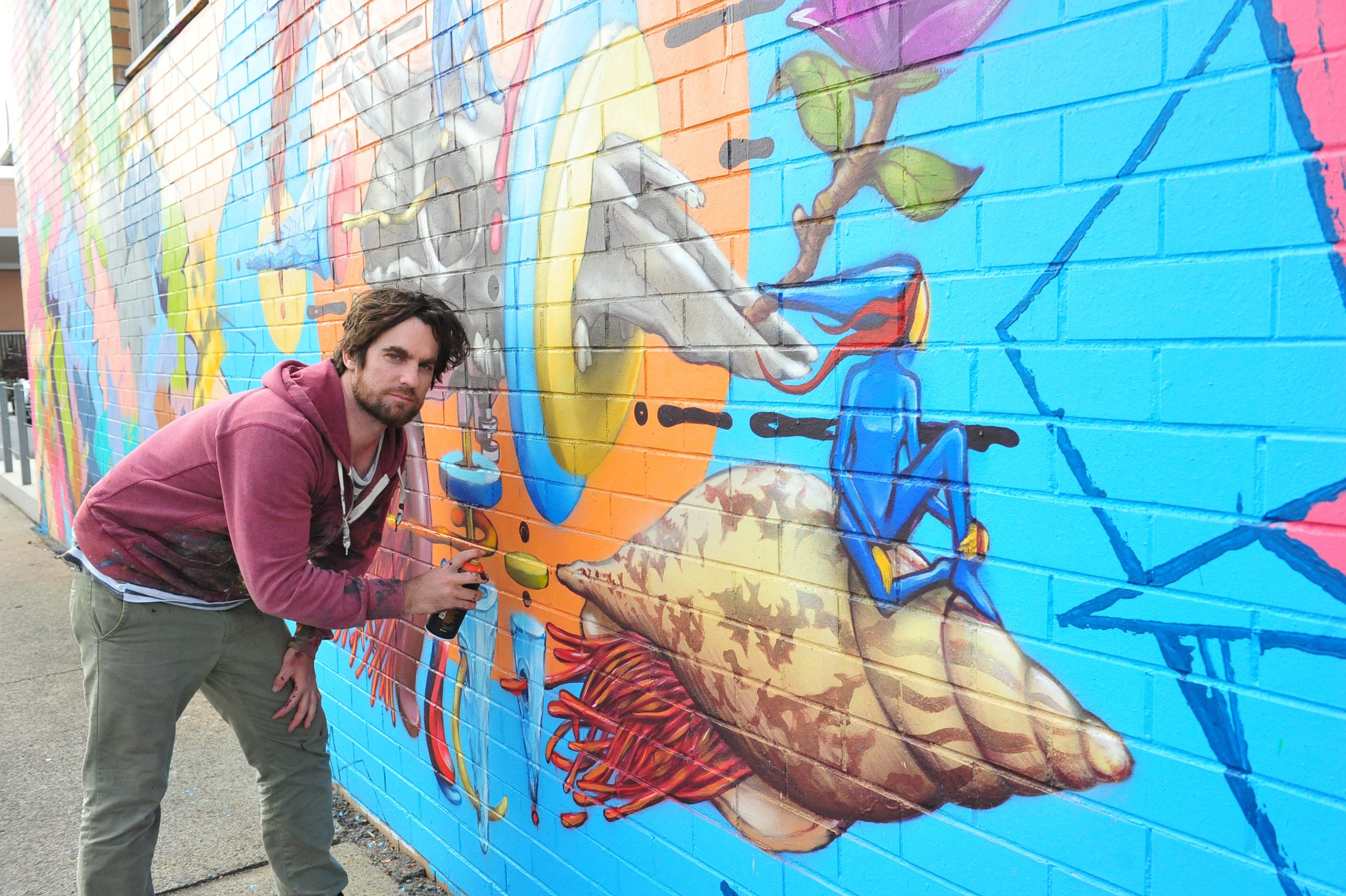 A surrealist mural has appeared on the wall of a Buckley Street caf , the latest in a series of Morwell street art projects.
Melbourne artist Hayden Dewar has returned to town after producing a tribute mural to the late David Bowie with the iconic lightning-bolt image of the musician's album, Aladdin Sane, at the entrance of Gippsland Centre Against Sexual Assault.
A new brushwork and spray-paint piece along Peckish Caf 's brick wall has a surrealist quality, including figures riding a horned skull and sea shell, as well as floating ice cut mountains.
Other street artists have contributed to the wall, creating misty, multi-coloured clouds, graphic lettering and angular line work.
Project coordinator and local street artist Ryan Beckett said the landlord contacted him for the commissioned piece about three weeks ago and they started the work last Tuesday.
The artist said it was the fourth mural in Morwell and the feedback from the public had been "awesome".
He said many locals had come to watch the mural take shape with comments such as, "it's great to see this in Morwell" and, "it's about time someone did this".
"Everyone asks us where do you get your ideas from, but I don't know what to tell them," he said with a laugh.
"It's just what we do."
Building owner Jo-Ann Totman said she commissioned the work after seeing the David Bowie mural, wanting to spruce the side of the building covered in ugly graffiti.
She said she gave the artists "free rein" to use their imagination without seeing a draft of their design.
"I had faith in them and it's paid off because it looks amazing," Ms Totman said.
"It's a good thing for Morwell to have something different to look at."
Anyone interested in future mural
projects in Morwell is asked to email The Express at
news@lvexpress.com.au